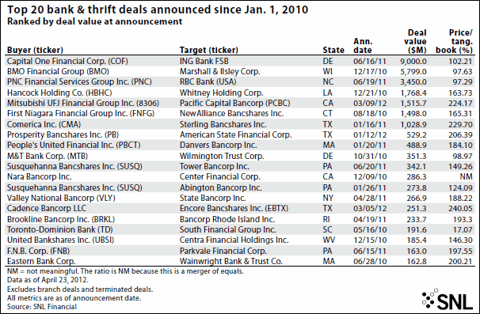 Perhaps going unnoticed is that bank deal activity has been increasing since 2012, according to SNL Financial: 58 bank and thrift mergers announced through April 23 totaling an aggregate deal value of $3.15 billion. Note the acquiring is evidently making up for the loss in not making as many loans as in the past.
SNL Financial reports, "Last year saw 176 announced transactions with a total deal value of $17.02 billion, compared to 215 in 2010 valued at $12.32 billion. Pricing declined in 2011. The median price to tangible book value was 106.74% in 2011 for 99 deals with disclosed terms, compared to 115.98% in 2010 for 119 deals with terms disclosed.
"The most expensive bank deal since Jan. 1, 2010, was announced March 5, when Houston-based Cadence Bancorp LLC said it would acquire Houston-based Encore Bancshares Inc. for $251.3 million. The deal was valued at 171.1% of book and 240.1% of tangible book.
"Following Cadence on the list was another Houston deal: Dallas-based Comerica Inc.'s agreement to acquire Houston-based Sterling Bancshares Inc. for about $1.03 billion.
"The largest bank deal since Jan. 1, 2010, was McLean, Va.-based Capital One Financial Corp.'s June 16, 2011, agreement to buy Wilmington, Del.-based ING Bank FSB for $9.00 billion, representing 102.21% of the target's tangible book. This also marks the largest bank deal since 2008, when Wells Fargo & Co. acquired Wachovia Corp. for $15.1 billion."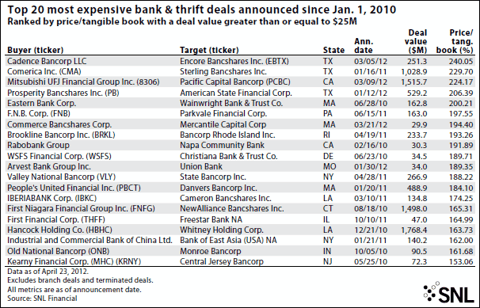 The most recent bank and thrift deals, announced in the period from April 1 through April 23, were:
* Texas City, Texas-based Texas Independent Bancshares Inc. unit Texas First Bank has agreed to acquire Pasadena, Texas-based Texas Coastal Bank ($29.3 million), according to an April 19 report by The (Galveston County, Texas) Daily News. The deal is subject to regulatory approval and expected to close by August, the news outlet reported. Terms of the transaction were not disclosed.
* Dripping Springs, Texas-based Pioneer Bank SSB will acquire La Grange, Texas-based La Grange Bancshares Inc. according to the Austin (Texas) Business Journal, which initially reported the deal April 13. Terms of the deal were not disclosed.
* Victoria, Texas-based First Victoria National Bank, a unit of FVNB Corp. agreed to acquire New Braunfels, Texas-based First State Bank ($272.7 million), a unit of Capitol Bankshares Inc., The Victoria Advocate reported April 12. The merger is expected to be completed in the second quarter, subject to approval by shareholders and regulatory agencies, the news source said. Terms of the deal were not disclosed.
* Portland, Ore.-based Umpqua Holdings Corp. said April 10 that it will acquire San Luis Obispo, Calif.-based American Perspective Bank ($259.2 million) for $44.7 million in cash. The deal value represents 101.2% of book and tangible book, on a per-share basis.
* Washington-based Jefferson Bancorp Inc. agreed April 8, to merge with Columbia, Md.-based Carrollton Bancorp ($365.4 million). The transaction, which is structured as a tax-free reorganization, is valued at about $25 million in stock and cash, representing $15.4 million in consideration to Carrollton shareholders and repayment of $9.1 million in TARP funding to the U.S. Treasury Department.
* Bellevue, Wash.-based GWY LLC said April 5, that it will acquire Lake Oswego, Ore.-based Northwest Bank ($104.4 million). The terms of cash and stock deal were not disclosed.
* Seattle-based Washington Federal Inc. announced April 4 that it will acquire Klamath Falls, Ore.-based South Valley Bancorp Inc. ($859.5 million) in a deal valued at $72.7 million. The deal value includes contingent cash earn-out payments of up to a maximum of approximately $39 million based on collections of a specific pool of South Valley's assets. The deal values at 105.6% of book and 109.5% of tangible book, on an aggregate basis.
Disclosure: I have no positions in any stocks mentioned, and no plans to initiate any positions within the next 72 hours.