As reported here in previous blogs, the failure of banks has resulted in many bargain purchase gains with the FDIC often sharing in any losses or assuming good portions, utilizing their insurance, as a negotiating tactic to find a financial institution to take over a bank that is being closed.
Under FAS 141(R), which took effect in 2009, "bargain purchase gains" must be reported for deals with discounted purchase prices. The accounting rule requires banks to report a one-time gain in the current quarter, which flows to retained earnings, increasing capital levels. Prior to the change in accounting, companies reported the discount as negative goodwill.
Note the number one bank chosen in growth by SNL is on this list (1)Bank of the Ozarks Inc., Little Rock, Arkansas, which has gobbled seven failed banks, resulting in a combined gain on bargain purchase of $100.7 million. This represents 21.61% of its most recent Tier 1 capital of $466.0 million. Next was Lake Forest, Ill.-based Wintrust Financial Corp., which has acquired six institutions, gaining $71.3 million. This marks 4.82% of its most recent Tier 1 capital of $1.5 billion.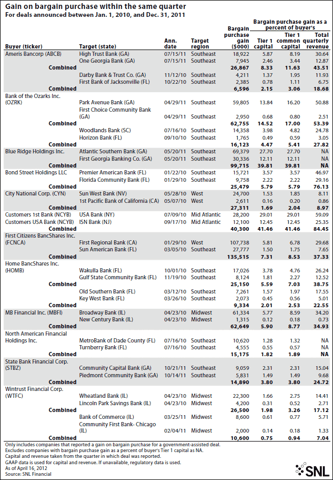 Not all is fully disclosed on this chart as it shows the Tier 1 Capital and Total quarterly revenue is low and the asset loss is not recorded, as well of the 239 bank failures between Jan. 1, 2010, and Dec. 31, 2011, excluding liquidations, 103 had made public disclosure of a bargain purchase gain.
For 13 buyers included in SNL's analysis, the bargain purchase gains represented more than 10% of the companies' Tier 1 capital. In comparison, among the 97 failures since 2010 for which the information was publicly disclosed, the bargain purchase gains represented a median of just 2.11% of the buyer's Tier 1 capital.
Again, the SNL's analysis only includes companies that publicly disclosed gains on bargain purchases; however, the numbers are still meaningful, showing that these failed banks have value to those who have purchased them

(1) Bank of Ozark Top Dog
SNL's 2011 regional bank ranking
http://leasingnews.org/archives/Apr2012/4_18.htm#snl
Disclosure: I have no positions in any stocks mentioned, and no plans to initiate any positions within the next 72 hours.