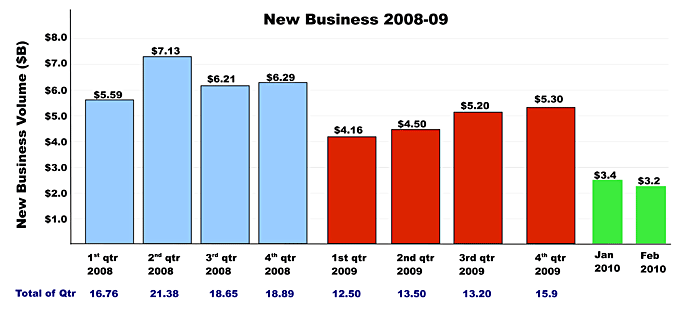 (Leasing News Chart)


Despite the effort to be positive about the change in equipment leasing, the trend continues down, not up. It went from $3.4 million in January to $3.2 million in February. Regrettably that is far below any of the four quarters in 2009, let alone 2008.
 
So while the recession appears to be technically over, there is no joy in Mudville as leasing is still striking out.
Banks remain tight and concerned about their own liquidity and seem to be more active in purchasing banks in trouble from the FDIC (some are being arm twisted). These failing banks the FDIC are closing mostly have not had a profit in two years, some in three years, equity has really decreased, Tier 1's are a mess, some even negative, and the main culprit from Bank Beat observation are commercial real estate and development loans, and individual loans, not just foreclosed residential mortgages that are plaguing the major financial mortgage industry. Until the banks are more "comfortable," look for securitization and even private money to remain "conservative" for use of perhaps a better street description.
The quote in the Equipment Leasing and Finance Association (ELFA) February MLFI-25 report from Thomas Jaschik, President, BB&T Equipment Finance, Towson, MD., who is also on the ELFA board of directors, basically sums up the MLFI-25 report findings very well plus expresses what those in the industry also are feeling:
"The fact that February new business volume is down compared to February 2009's anemic numbers tells you that we still have a long way to go in the economic recovery," he said.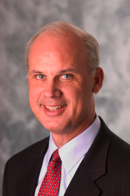 "Businesses continue to lack the confidence to make substantial investments in capital equipment. The increase in delinquencies and charge-offs from January to February has a seasonal factor associated with it, but is not a trend you like to see given the run up in these two items in 2009."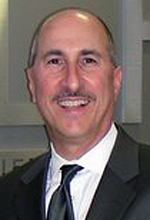 Ralph Petta, ELFA interim President. said: "Hopefully, as we move in to the second quarter of the year and beyond, this growth trend continues and is sustainable."
New business volume is February data showing a noticeable increase in delinquencies.
 
Receivables over 30 days rose significantly when compared to both the prior month and year-earlier period.

(ELFA Chart -click image for larger view)
Charge-offs increased to 1.89 percent, up from 1.68 percent in the prior month.
 

(ELFA Chart -click image for larger view)

Credit approvals decreased to 69 percent in February, up from 65.0 percent in the same period the prior year. Almost half of participating organizations reported submitting fewer transactions for approval during the month.
 

(ELFA Chart -click image for larger view)

Total headcount for equipment finance companies decreased by one percent in the January-February period.
 

(ELFA Chart -click image for larger view)

And, once again, the construction and trucking transportation industries led the underperforming sectors.
 

(ELFA Chart -click image for larger view)


(ELFA Chart -click image for larger view)

As reported in Monday's edition, the Equipment Leasing & Finance Foundation's Monthly Confidence Index (MCI-EFI), for March was down slightly to 60.1, compared to February 2010 index of 60.6:
http://leasingnews.org/archives/Mar2010/3_22.htm#elff
 
ELFA MLFI-25 Participants
ADP Credit Corporation
Bank of America
Bank of the West
Canon Financial Services
Caterpillar Financial Services Corporation
CIT
De Lage Landen Financial Services
Dell Financial Services
Fifth Third Bank
First American Equipment Finance
GreatAmerica
Hitachi Credit America
HP Financial Services
John Deere Credit Corporation
Key Equipment Finance
Marlin Leasing Corporation
National City Commercial Corp.
RBS Asset Finance
Regions Equipment Finance
Siemens Financial Services
Susquehanna Commercial Finance, Inc.
US Bancorp
Tygris Vendor Finance
Verizon Capital Corp
Volvo Financial Services
Wells Fargo Equipment Finance
 
Disclosure:
no stock positon