By Kevin Dobbs and Tyler Hall
SNL Financial

Quarter 1, 2012 vs. Quarter 4, 2011


For many banks and thrifts, the worst of the credit troubles stemming from the last downturn are behind them, putting the focus back on driving profits.
But central to that drive is loan growth, and it remains hard to come by for many community lenders.
"It is a challenging environment out there in a lot of ways, including on loan growth," Michael Sand, president and CEO of Hoquiam, Wash.-based Timberland Bancorp Inc., told SNL, summing up the difficulties lenders face trying to expand loan books in an era of heightened regulatory scrutiny, slow economic growth and, in many swaths of country, anemic loan demand.
An SNL Financial analysis of first-quarter call report filings among banks under $10 billion in assets found that loan books actually shrunk nearly 1% from the end of 2011 and were down from the same quarter a year earlier.
Sand's thrift operates in a variety of markets in the Pacific Northwest, from rural to urban communities, from markets heavy on private industry to others that are influenced by military spending. As such, he views the lender's footprint as a good barometer of overall conditions. And the reading so far this year boils down to this: Local economies are healing enough to juice loan demand modestly, but not enough to drive robust loan growth.
"We are out there picking up credits," Sand said, adding that he expects at least high single-digit loan growth this year after a "flattish" 2011. Sand noted multifamily housing as a source of strength, given the slowdown in single-family home sales in favor of more apartment complexes in the wake of the housing bust.
Particularly when compared with a year earlier, multifamily lending was a bright spot for the community banks with more than $1 billion in assets in the latest completed quarter.
Quarter 1, 2012 vs. Quarter 1, 2011


But runoff rates remain high, as many borrowers continue to deleverage and pay down debts. And, increasingly pressing, competition for coveted customers is fierce, meaning conservative lenders have to back away from a fair number of credit deals because of downward pressure on pricing.
"It is very competitive out there, and at times you just can't go down on price to keep certain credits, so I don't think we're different than most everybody else in that we're not going to avoid some runoff," Sand said.
But there is a silver lining within all of that from community bankers' perspective, Sand said. "Many customers are telling us they are tired of working with the really big banks - and that is a big source of the competition out there - and they are tired of the service they are getting," Sand said. As such, community banks, which strive to be long on personalized service and local expertise, are finding they can pluck away good customers from larger lenders, he said.
"Community banks, certainly, can't provide all the products and services of a big bank, but with technology today, we can provide many of them," Sand said. "Not everything, but most people don't need everything. If they can get what they need, and get it with really good service, that becomes very appealing."
Stealing share from lenders is a big reason why Sand anticipates some loan growth this year.
"It is pretty significant," Sand said. "Some of the nicer credits we've been able to get recently have come from the big banks."
Stealing share is particularly important in areas where, as Chico, Calif.-based TriCo Bancshares President and CEO Richard Smith put it, "economic malaise drags on" and continues to negatively affect the psyches of both businesses and consumers.
Alvin Kang, president and CEO of Los Angeles-based BBCN Bancorp Inc., shared many of the same concerns while speaking at the D.A. Davidson conference.
BBCN Bancorp caters to Korean-American communities, but Kang said the challenges of modest loan demand ring true for a niche operation like his in much the same way as they do for banks with broader customer bases. BBCN has operations along the West Coast, as well as in Illinois, New York and New Jersey.
Kang said the company's loan pipeline is building up, but loan growth so far this year "is really low to mid-single digits."
"We have quite a bit of capacity lending-wise," Kang said. "But there is still a sense of caution" among customers due to economic sluggishness.
And Kang is worried that as baby boomers begin to retire en masse in coming years, they will slow their spending, adding a new drag on businesses and, by extension, the banks that lend to them.
"I'm very concerned about our economy," Kang said.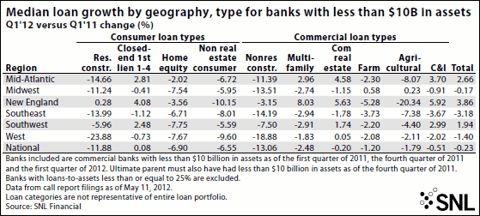 Disclosure: I have no positions in any stocks mentioned, and no plans to initiate any positions within the next 72 hours.