Alabama Trust Bank, National Association, Sylacauga, Alabama, was closed with Southern States Bank, Anniston, Alabama, to assume all of the deposits. This small bank was founded April 14, 2000 and as of December 31, 2011 it has 10 full time employees. December, 31, 2007 it had 33 full time employees.
Sylacauga 2000 census shows a popular of 12,616. The city is roughly 51 miles southeast of Birmingham, 63 miles north of Montgomery, and 40 miles southwest of Anniston, Alabama.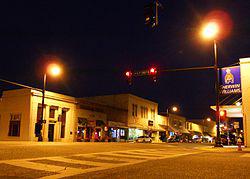 Downtown Sylacauga by Night
The city is known as "The Marble City" as the finest white cream marble in the U.S. comes from here, as just one deposit is 32.5 miles wide and 400 feet deep. Sylacauga was first mentioned in Fernando DeSoto's records in 1540. It was later listed in the French territorial records in 1759 as being a town inhabited by 50 Shawnee Indian Warriors, and the name then known as Chalakagay, land of the Chalaka Tribe. Late in the summer of 1836 all of the Indians remaining in Alabama were taken west by the United States Government.

After raising $3.5 million, 2008 appears a number of people with the last name of Allen acquired voting shares of the bank via Guardian Bancshares June 3, 2008. It was the last year of profit for the bank.
www.gpo.gov/fdsys/pkg/FR-2008-06-03/pdf/...
It appears the group began in 2006, and according to the Birmingham Business Journal "...collectively will buy up new stock issued by the bank for $3.5 million to become, as a group, its single largest shareholder... 'They don't want to own a bank, they don't want to run a bank; they would just like to refer business,' Jim Clark, Alabama Trust's CEO, said of the Arlington group. That year they put two on the board.
www.bizjournals.com/birmingham/stories/2...
June, 2009 the Office of the Comptroller took enforcement actions, which resulted with two founding members of the Board of Directors, James Clark and bank president Harold Dickson, resigning ten days after the order.
www.dailyhome.com/view/full_story/401018...
According to The Daily Home, James Clark said they had been several loans between a person at the bank and a relative. "When asked if the officer was the man who left the bank the same day, Clark said yes.
Dickson said there was a disagreement between him and others about the loans. 'I don't believe I did anything inappropriate," Dickson said.
www.dailyhome.com/pages/full_story/push?...;
;id=4010187-Sylacauga+bank+cited+by+feds&instance=home_right
In 2008 the bank charged off $87,000 in individual loans, $413,000 in 2009, and by year end, 2010 there were $1.4 million in charge offices. The Comptroller of Current on December 17, 2010 issued a 35 page plan calling for a sale or merger of bank with many other requirements.
The loans to individuals were very high in 2011 with charge offs of $235,000 to individuals, as well as the residential mortgage foreclosures and by March 31, 2012 the net equity of the bank that was a high $10 million year-end 2007 was at $111,000 March 31, 2012.
The Tier 1 risk-based capital was .025%
(in millions, unless otherwise)
Charge Offs
2006 $72,000 ($47,000 loans to individuals), $25,000 commercial & industrial loans)
2007 $64,000 ($48,000 nonfarm/nonresidential, $16,000 loans to individuals)
2008 $178,000 ($115 nonfarm/nonresidential), $87,000 individ., -$24,000 commercial)
2009 $1.3 ($413,000 invid., $385,000 commercial/ind., $324,000 1-4 family, $103,000 multi-family,
$86,000 nonfarm, $31,000 other loans)
2010 $1.4 ($495,000 commercial/ind., $232,000 consumer, $230,000 multifamily, $169,000 construction/land, $158,000 nonfarm/nonres./$134,000 1-4 family homes)
2011 $2.8 ($1.0 1-4 family homes, $413,000 construction land, $325,000 loans to individual,-$79,nonfarm.)
3/31 $902,000 ($900,000 commercial/industrial, $2,000 1-4 family homes)
Construction and Land, 1-4 family multiple residential, Multiple Family Residential, Non-Farm Non-Residential loans.
(in millions, unless otherwise)
Net Equity
2006 $6.74
2007 $10.28
2008 $6.2
2009 $5.2
2010 $3.2
2011 $1.3
3/31 $111,000
Profit
2006 $632,000
2007 $531,000
2008 $651,000
2009 -$1.3
2010 -$1.7
2011 -$1.9
3/31 -$486,000
Non-Current Loans
2006 $709,000
2007 $1.09
2008 $787,000
2009 $4.3
2010 $1.2
2011 $3.
As of March 31, 2012, Alabama Trust Bank, National Association had approximately $51.6 million in total assets and $45.1 million in total deposits. In addition to assuming all of the deposits of the failed bank, Southern States Bank agreed to purchase essentially all of the assets.
The FDIC estimates that the cost to the Deposit Insurance Fund (DIF) will be $8.9 million.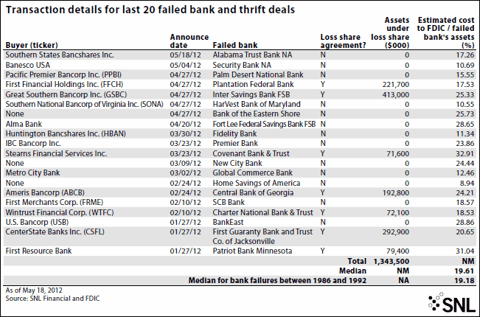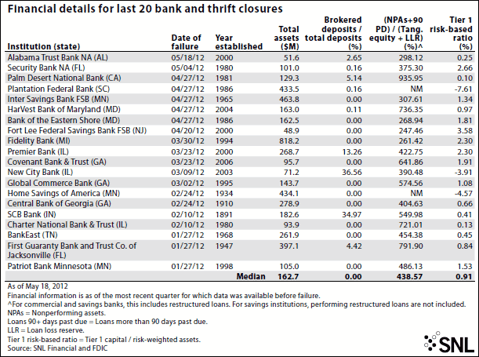 List of Bank Failures:
http://www.fdic.gov/bank/individual/failed/banklist.html
Bank Beat:
http://www.leasingnews.org/Conscious-Top%20Stories/Bank_Beat.htm
Disclosure: I have no positions in any stocks mentioned, and no plans to initiate any positions within the next 72 hours.