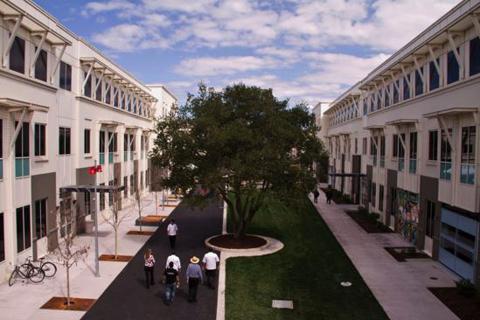 (Photo: Facebook Campus)
You take the Willow Street exit off Highway 101 right on the freeway at the border between Santa Clara County and San Mateo County. You meander through East Palo Alto, some old time places, until Menlo Park where there are more modern stores and appearances--drive straight until the road ends at the Bayshore.
To readers not familiar with the San Francisco Peninsula, it is 31 miles south from where my best friend's eldest son lives in San Francisco, around 45 minutes, including the walk to the Facebook shuttle that picks up employees in his area. The shuttle is a modern bus that has Wi-Fi and other amenities.
I was surprised to learn Facebook prefers you not to work at home, so the trip to work in the morning is getting ready, he says. He really looks forward to the commute. He even likes to come in early, work out at the gym, take a shower, and be ready to go all day with a lot of energy.
The Menlo Park Facebook Facility was formerly Sun Microsystems, their major site on the San Francisco Peninsula; ironically not far from the headquarters of Oracle, who purchased the company. The layout reminds me of a college campus with many bicycles around for employees to ride as the promenade is very long, at least six or seven football fields, maybe longer, well planted with trees and open space. There are murals, paintings, and it really looks like a fun place to work.
Everyone dresses as if they are at home, meaning no ties, no white shirts, and looking very young (which most are). Don't get me wrong, they are clean cut, attractive, but to a guy who wore a suit with tie to work for almost 30 years, it sure is a definite change.
Esprit de corps was very high, actually people laughing and smiling, enjoying each company as they were walking to where they wanted to go. All for free: a Mexican place (burritos/tacos), a BBQ joint (ribs, pulled pork, chicken, pizza by the slice, and a place that changes menus such as having), a Japanese food or super healthy menus. All the drinks are free.
They have dry cleaners available, as well as a dentist. Gyms, as well as treadmills with a workstation on top so you could run or walk and work at the same time.
Not all the buildings are occupied, according to the Facebook Menlo Park Campus web site. Facebook has publically purchased surrounding land and as the statistics show the long term goals are 9,400 people at this location. They are seeking to get permits from the Menlo Park City Council and become the jewel of the city.
He works in the real estate department and they are involved in leases, purchasing, designing, planning, and facilities all over the world. I don't know what he does there, as he says he prefers to keep all information private. They all look very busy, and I even met a department head who was over 30 years of age. He took his father, my best friend since 1963 when we met at KFRC radio in San Francisco, on a tour and out for lunch (we had Mexican. Fresh home made chips, too.)
Security is very strong. It was funny to get the badges as the monitors of the "sign in line" show Apple, HP, and Dell labels. Now that is public relations, nothing overlooked. I also think the security men walk in pairs, and were the only ones wearing sports type jacket. All the Silicon Valley companies are very security conscious. You definitely are safe working here!
I can't tell you how much I was impressed with the "vibes" of the young people and the enjoyment they exhibit working here. It seems not only the money, the stock options, the free food, transportation, but the general sense of being part of Facebook.
I view Facebook as a worldwide television network (they have no real competition in this concept that have the number of members and ease of use, larger than CBS, NBC, and ABC combined). I think the social media has value for personal contacts, photo's, information to friends and relatives who you don't see very often or would like to see more often, as well as products for sale, promotions of events, activities. With all the other extras, it competes for not only other internet time, but radio, TV, and cable television. For businesses, you also don't have to pay to advertise, meaning you can construct your own page and build up your own following---or you can pay to advertise or promote, too. You win ether way.
Netlingo.com says "Primarily, social media depends on interactions between people as the discussion and integration of words builds shared-meaning, using technology as a conduit. Among overall online users, reading others' comments on a Web site and reading blogs are the most popular social media activities."
There seems to be generations divide between, as noted in:
Doing Business with Different Generations
http://leasingnews.org/archives/May2012/5_18.htm#generations
From what I could see at the Menlo Park Facebook campus, there are more things to come this year and several years to follow as this team is working creatively together and most important, looking very forward to going to work at Facebook each day.
Disclosure: I have no positions in any stocks mentioned, and no plans to initiate any positions within the next 72 hours.