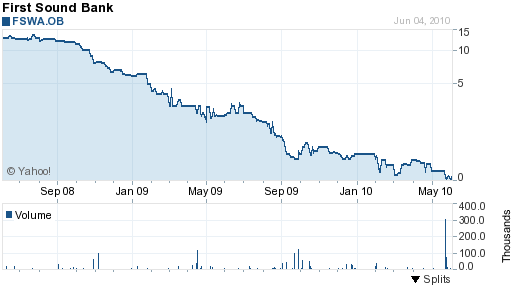 Last Trade: 0.04
Trade Time: Jun 4
Change: 0.04 (50.00%)
Prev Close: 0.08
Open: 0.05
Day's Range: 0.04 - 0.05
52wk Range: 0.03 - 3.25
Volume: 11,000
Avg Vol (3m): 7,525
Reportedly no investors or buyers for First Sound Bank; not even one bid, a highly reliable source told Leasing News. The Washington Department of Financial Institutions reportedly has been talking to the Federal Deposit Insurance Corporation as receiver. It may come to the point of just closing the bank operation down.
 
Chairman, CEO Don L. Hirtzel, President, COO Steven M. Shaughnessy as well as the board of directors had their chance and blew it. It's not just my opinion, the investors voted by selling their shares down to four cents last Friday, basically worthless.
It is not just handling the Pugent Sound Leasing matter improperly, but bad real estate and other commercial loans, as well as expanding at the wrong time. It's just plain bad bank management. The numbers speak louder as reported to the FDIC as part of their agreement for insurance for depositors:
March 1, 2008 First Sound Bank (an anachronism) purchased Larasco dba Pugent Sound Leasing. The lawsuit against the Larasco and the Secords saw the equity had dropped from $30.6 million to $24.7 million the end of year 2008. Profit had gone from $1.73 million 2007 year-end to a $20 million loss. Non-current loans and leases from $550,000 to $9.2 million. The loss comes from a pre-tax net operating income of $13.8 million and a net gain loss of $6.2 million. The actual charge offs were $1.73 million ($1.16 lease receivables, $300,000 commercial and industrial loans, $247,000 construction and land development. During the same period the bank increased employees from 34 to 83 full time employees.
Year-end 2009 found 61 full time employees with bank equity dropping to $5.8 million after posting an $18.9 million loss. Non-current loans and leases were $44.5 million, a major jump from the prior year of $9.2 million. Pre-tax net operating income was a negative $18.9 million. Net charge offs were $10.19 million ($5.3 million in lease receivables, $4.3 million in commercial and industrial loans, $504,000 in construction and land development). Tier 1 risk-based capital ratio: 3.02%
 
The FDIC was writing "cease and desist orders."
March 31, 2009 the bank is down to 50 full time employees. Equity is $5.1 million with a $1.1 million loss for the first quarter of the year. Non-current loans are $30.78 million with net charge offs $3.79 million (commercial and industrial loans $3 million, lease finance receivables $632,000). Tier 1 risk-based capital ratio 2.96% FDIC files tells bank to sell or raise capital by May 28, 2010.
First Sound Bank issues press release:
"First Sound Bank has informed the FDIC of its pending lawsuit with LARASCO, Inc., which is scheduled for trial commencing June 1, 2010, and believes they will not take any further enforcement action until the lawsuit has been resolved — provided the bank maintains a Tier 1 Capital Ratio of not less than 2.5 percent."
(It should be noted that perhaps that was a "verbal guideline" as this does not appear in the 28th of April, 2010 directive signed by J. George Doerr, Deputy Regional Director, Division of Supervision and Consumer Protection.)
"Chairman and CEO Don Hirtzel noted, 'First Sound Bank faces a unique problem stemming from the acquisition of LARASCO, Inc., a leasing company formerly known as Puget Sound Leasing. We hope to resolve this dispute shortly and then intend to recapitalize the bank through additional support from our shareholders."
Perhaps over a million dollars in attorney fees, not counting time away from bank matters, or reputation with other bankers, and the board is still stuck in a mode that got them into trouble in the first place May 27 Larasco files bankruptcy. May 28 both Secords file bankruptcy, June 1, court "stays" trial pending bankruptcy proceedings.
In a similar situation involving NetBank which also assumed CMC debt, allegedly secured by insurance, the bank was closed by the FDIC with EverBank (EverBank May 21, 2007 acquired approximately $700 million of NetBank mortgage assets but in September terminated its agreement to acquire NetBank's consumer deposit accounts, business finance division and other assets under the transaction announced on May 21, 2007. "This decision comes after it became clear that NetBank would not be able to complete certain conditions required to close and receive regulatory approval,' they reported. February 9, 2010 EverBank completed its acquisition of Tygris Commercial Finance.) During this initial time, NetBank Business Finance, operated by Dwight Galloway in Columbus, South Carolina was placed under FDIC control and became the first leasing company in history to be "operated and controlled" by the FDIC. Dwight Galloway explains that the company operated as if its parent were still in control, but it was the FDIC who was on the premise everyday and he reported to them as he did his parent in the continued operation of the company.
NetBank Business Finance was eventually set out to bid by the FDIC and Resource America subsidiary LEAF Financial was awarded the best bid (a federal government insider told Leasing News there were three bids). In January, Dwight Galloway's operation now called LEAF-Specialty was told to find a buyer or close down within three months. a well informed source told Leasing News. Finding no buyer, the company stopped funding new leases and has been servicing the existing portfolio, looking for a buyer of the portfolio or the operation, Ironically, a real estate agent called Leasing News as they had a major tenant for part of the 21,000 square feet lease (originally this was to be an expansion into the brokerage marketplace instead of the former operation on the West Coast run then by Paul Menzel, CLP.) He called to find out how true it was about LEAF Financial condition as they said they could not contribute anything to a sub-lease situation, as the real estate brokers relied that they did not have the cash, and he wanted to know if LEAF Financial was close to bankruptcy, as that was the impression he received after reading the articles in Leasing News and what he was being told about what was available to help make the sub-lease happen.
While this appears to be a transgression from the original article, it is not, as there are definite similarities between the situations with First Sound Bank and Pugent Sound Leasing.
Going back to the beginning of the purchase, Chairman/CEO Don Hirtzel stated in the press release announcement of the leasing company: "Subject to the terms of the asset purchase agreement, Messrs. Secord, who are the principal owners of Puget Sound Leasing Company, Inc. and currently own four percent of First Sound Bank stock, will receive a combination of First Sound Bank stock and cash at closing. Upon closing, Messrs Secord and their related interests will collectively own 16 percent of First Sound Bank stock and also will receive a fixed percentage of future profits of the Puget Sound Leasing Division for a period of six years. The transaction will dilute current First Sound Bank shares by approximately 13 percent, which is expected to be offset by EPS accretion post closing."
What then happened, according to all the depositions and testimony to date was a clash of a well-regulated bank with an unregulated leasing company where agreements made to non-recourse funding sources of portfolio's would make a "zero loss factor." The Puget Sound Leasing portfolio's were highly in demand by other leasing companies and banks, according to the declaration of Rob Yohe (1), well received by all the banks involved, who looked forward to purchasing additional portfolio's due to the performance of the leases. At the same time, the standard of security deposits, evergreen and winter green lease clauses, in a unregulated industry helped to create the low loss factor, as well as the relationship with those in the leasing industry of what was common to them but uncommon to Don Hirtzel and his followers. Ironically, the man who was the banks largest stockholder, and a founding director who raised capital through his friends for the bank, who had a definite interest in keeping the bank stock high, and understood the operation of the leasing company, what happens?
He is unceremoniously kicked off the board of directors (reportedly physically escorted out of the building from the board meeting and told the board is going to "get him." CEO Hirtzel's first mistake: making it personal, instead of business. He second: the Secords are "street fighters." The third: not understanding the leasing business.
The Secords certainly had two years to move assets around legally, and more importantly, who was in a better situation to settle the entire matter. Certainly has not been the First Sound Bank Board of Directors.
(1) Rob Yohe Declaration:
http://leasingnews.org/PDF/RobYoheDeclaration.pdf
 
Previous Leasing News articles:
http://leasingnews.org/archives/Jun2010/6_01.htm#first_sound
http://www.leasingnews.org/Conscious-Top%20Stories/pugent.htm
 
FDIC First Sound Bank Directive:
http://leasingnews.org/PDF/First_Sound_Bank.pdf
 
LARSASCO BK Filing:
http://leasingnews.org/PDF/Larsaco%20Response.pdf
 
Louis A. Secord BK:
Chapter 11 Voluntary Petition. Schedule A due 06/14/2010. Schedule B due 06/14/2010. Schedule C due 06/14/2010. Schedule D due 06/14/2010. Schedule E due 06/14/2010. Schedule F due 06/14/2010. Schedule G due 06/14/2010. Schedule H due 06/14/2010. Statement of Financial Affairs due 06/14/2010. Chapter 11 Current Monthly Income Form 22B Due 06/14/2010. Summary of schedules due 06/14/2010.Incomplete Filings due by 06/14/2010, Filed by Gayle E. Bush on behalf of Louis A. Secord (Bush, Gayle) (Entered: 05/29/2010 at 11:20:05)\
http://leasingnews.org/PDF/LSecordBK.pdf
Application to Extend Time for Credit Counseling (BK Requirement)
http://leasingnews.org/PDF/LSecordCredit.pdf
 
Richard A. Secord BK:
Chapter 11 Voluntary Petition. Schedule A due 06/14/2010. Schedule B due 06/14/2010. Schedule C due 06/14/2010. Schedule D due 06/14/2010. Schedule E due 06/14/2010. Schedule F due 06/14/2010. Schedule G due 06/14/2010. Schedule H due 06/14/2010. Statement of Financial Affairs due 06/14/2010. Chapter 11 Current Monthly Income Form 22B Due 06/14/2010. Summary of schedules due 06/14/2010.Incomplete Filings due by 06/14/2010, Filed by Gayle E. Bush on behalf of Richard A. Secord (Bush, Gayle) (Entered: 05/29/2010 at 11:08:34)
http://leasingnews.org/PDF/RSecordBKfiling.pdf
Certificate of Credit Counseling for Debtor (BK requirement):
http://leasingnews.org/PDF/RichardSecordapp.pdf
Disclosure:
no stock position