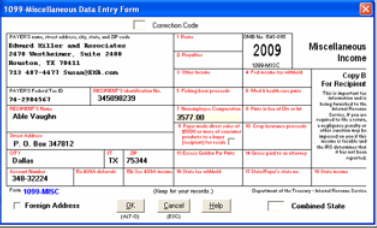 The expansion of Form 1099-MISC reporting is now enacted into law.
Prior to this date, all companies reported non-corporate payments, meaning to proprietorships and partnerships the amount of money expended in the preceding year. There are other forms, W-9, for paying employees or individuals in excess of $600 per year. Technically also many states require reporting the sales tax not paid on internet transactions, as they require that you pay them, although this is generally not followed as to the many exceptions such as the first three sales of a consumer not being recorded, some states 12, some states exempt garage sales, and for the last several years the Streamline Sales Tax Group has been working on making these state laws more uniform.
The new law in effect January 1, 2011 will require 1099-MISC reporting to all except non-profits. Payments to corporations, partnerships, and sole proprietorships will require 1099-MISC reporting.
It's the end of the "goods and merchandise" exception. You'll be reporting vendors from whom you only buy supplies, materials, equipment, etc. Gross proceeds payments will be reportable on the 1099-MISC.
Many funders as well as broker/lessors use these forms for commissions and other payments, whether a corporation or proprietorship or partnership.
Most accounting software programs can automatically comply with these forms, not only adding up the category, but fitting it to the form, including all information such as name and address of the company paid to, as well as a cc: form to the company. Quick Books makes it quite simple to use. Undoubtedly there are many who may file electronically. Many other software programs such as TurboTax or specific programs such as from Realtaxtools.com or www.1099express.com or www.buytaxforms.com or Office Depot.
 
Ask your accountant for advice.
If you do not have the party's Federal ID number, you will have to ask them for it. Many companies provide it with their invoice. The Federal ID is how the IRS will be tracking these, which will also be used in confirming that all income is being reported.
 
W-9 Form: http://www.irs.gov/pub/irs-pdf/fw9.pdf
 
Smaller companies that use a hand written general ledger can also purchase specific software from many major stationary stores as well as the forms. It is assumed they have been reporting non-corporate and W-9 and this now adds corporations (except non-profits).
Retailers, including restaurants, already report credit card sales. In the past, smaller companies would estimate credit card sales, but under the new law, Plus, a major change goes into effect January 1, 2011, for payments received by credit cards, including PayPal.
From Wikepedia
"IRS Form 1099-K ensures that small business owners who don't declare all of the revenues they receive via credit cards, debit cards, gift cards and services like PayPal will no longer be able to hide those revenues from the IRS.
"In the years to come, IRS scrutiny will be more intense for small businesses and entrepreneurs that accept credit cards, debit cards, gift cards, PayPal or similar electronic payments.
"Historically, the revenues that small businesses receive through these payment processors have not been readily visible to the IRS.
"Starting in 2011, the gross amount of payment card and third-party network transactions will be recorded on a new IRS form, form 1099-K.
"In rolling out the new 1099-K form, the IRS is attempting to improve voluntary tax compliance by business taxpayers.
"Currently, the tax system is more of an honor system than most might like to admit. Without visibility into a small business' credit card revenues, the IRS must take the business owners word that they are reporting all taxable revenues.
"In lieu of the IRS having access to information about credit card revenues and other electronic payment processing revenues, the IRS only has one tool to combat tax cheats who underreport revenues: an IRS audit. However, this is not a foolproof system because it requires scarce human resources to conduct a thorough IRS audit.
"Time and time again, we have seen that better information reporting helps the tax system work better by ensuring that everyone pays what they owe," said IRS Commissioner Doug Shulman.
"On the IRS website, you can view a draft version of new Form 1099K, Merchant Card and Third-Party Payments, which will be used to make these reports."
Yes, Congressman Charles Rangel voted for this.
Disclosure:
no position