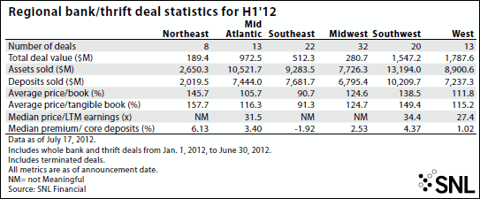 The volume and the size have increased, according to SNL Financial. There were 48 branch deals announced in the first half of 2012, an increase of four deals compared to the same period a year earlier. A total of 230 branches and $6.9 billion of deposits were transferred during the six months ended June 30, 2012, more than double the 108 branches and $2.8 billion in deposits a year ago.
The volume of FDIC-assisted deals continued to plummet as fewer banks are failing this year than last: 28 banks have failed in the first six months of 2012, down by 18 failures from the year-ago period.
The larger banks and larger states did very well, and not the bank failure states labeled "Government assisted:"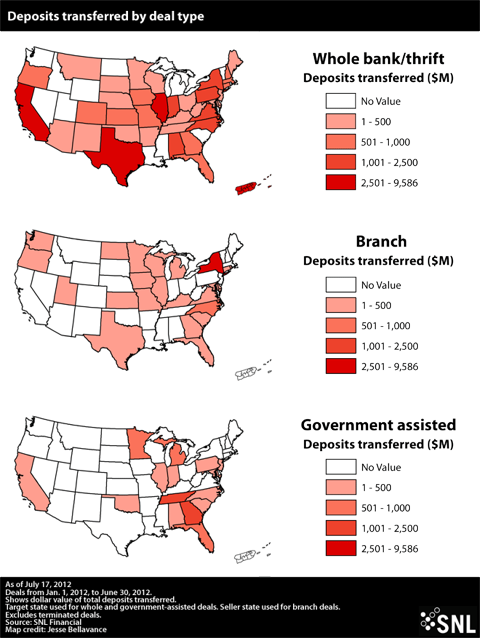 During the first six months of 2012, the Midwest was the most active of all regions in terms of number of deals with 32 deals, followed by the Southeast and Southwest with 22 and 20 deals, respectively. The West witnessed some of the biggest deals, with total deal value aggregating to $1.8 billion for 13 deals. The valuation was highest in the Northeast with an average price to tangible book ratio of 157.7% for eight deals, whereas it was lowest for the Southeast with a discount of 8.7% on average for the 22 deals.
Open Market Transactions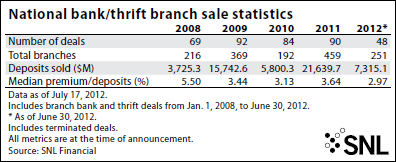 Bank Failure FDIC Assisted Sales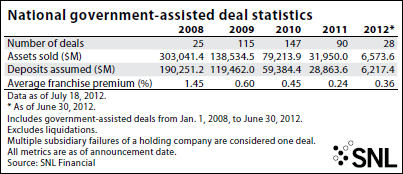 Disclosure: I have no positions in any stocks mentioned, and no plans to initiate any positions within the next 72 hours.