By Sam Carr and Matt Blumenfeld, SNL Financial
Credit card delinquency and charge-off data
continue to hit record lows.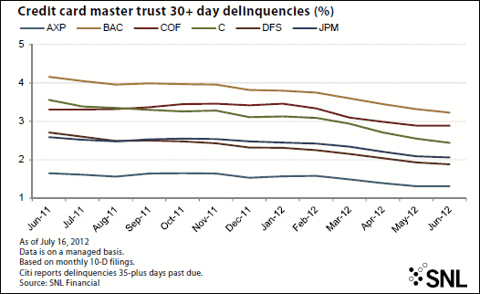 Delinquencies in June either marched in place at their lowest points in at least a year or fell to new lows at all six card issuers.
American Express Co.'s delinquency rate remains well below the rest of its competitors, as it held steady at 1.31% during the month. Capital One Financial Corp.'s rate also did not budge, remaining at 2.89%.
Discover Financial Services continued its trend of moderate improvement as its delinquency rate edged down to 1.88% from 1.93%.
The big banks all posted declines. Bank of America Corp.'s delinquency rate dropped to 3.23% from 3.32%, JPMorgan Chase & Co.'s rate inched lower to 2.06% from 2.09% and Citigroup Inc.'s 35-plus-day delinquency rate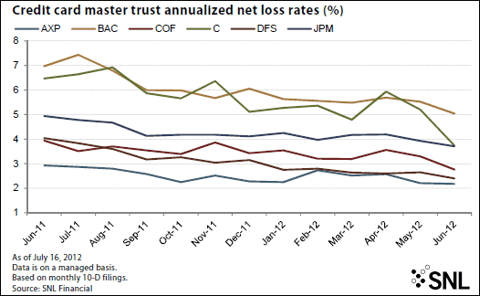 Charge-offs were down across the board
Bank of America, Citi and Capital One all logged substantial decreases in the month. Bank of America's rate tumbled to 5.04% from 5.52% in May, Capital One's slid to 2.76% from 3.30% and Citi's dropped to 3.74% from 5.20%.
Discover's charge-off rate dropped to 2.40% from 2.65% in the prior month. American Expess saw its annualized default rate, net of recoveries, tick down 3 basis points to 2.18% in June.
Net credit losses in JPMorgan Chase's master trust fell to 3.71% from 3.93%.
Portfolio yields were generally lower in June than the previous month.
Bank of America was the lone exception, as its yield edged up to 17.21% from 17.11%.
American Express' yield dropped to 19.89% from 20.41%, Discover's slid to 18.55% from 19.19% and Capital One's declined to 20.11% from 20.63% in May.
The yield of JPMorgan Chase's master trust portfolio fell to 17.40% from 17.56%, and Citi's dropped to 15.64% from 16.41%.
Disclosure: I have no positions in any stocks mentioned, and no plans to initiate any positions within the next 72 hours.