Being the world's largest democracy with less than one-fifth of the world average per capita income (nominal), India is not new to 'political' slogans, so to speak, more in line with things related to poverty elimination, and therefore, related to affordability. The latest of this sloganeering or initiative, as one may see it, has been on the Digital India campaign of the government of India. Objective of 'Digital India' is to make much of India's 1.25 billion people connected to the Internet, ensuring accessibility and affordability. Recent demonetisation move in India has lead to a radical shift in the government's policy to user adoption towards a cashless economy.
Presently India has around 400 million internet users, depending on whom one believes and what the definition of an Internet user is (usage frequency and minimum age). Most of these 400 million users access internet as infrequently as once in a month; around 100 million of these 400 million use internet on a daily basis, as per industry estimates. Access of Internet can be done from various devious ecosystems (computer, TV, mobile and through broadband connection, WiFi access, smartphones, etc.), and affordability depends on price-points at which Internet connections are made available, that is the data cost on regular usage basis, other than the device ((handset/computer) costs.
One cannot find fault with the government of India for its 'Digital India' campaign - slogan or genuine whatsoever it be. India has leapfrogged in many ways - it has not been surprising in India to find mobile connected homes but without electricity connection.
It has been more than a decade now when researchers have found evidence of 'multiplier' effect from mobile access, as it has been found from any other soft and hard infrastructure. Back in 2005, it was estimated that every 10% increase in mobile penetration leads to a growth of nearly 0.6% in GDP in low-income sample countries, whereas a World Bank study (2009) highlighted higher impact for Internet, for every 10% increase in Internet access results in more than 1.3% GDP growth in developing nations. Since then, various studies have confirmed this trend; lately various countries have treated telecom sector extremely critically as its absence can make the nation backward in the competitive global landscape where information and knowledge are of paramount interests.
Like rest of the world, India witnessed huge growth in penetration of mobile phones, as accessibility improved and costs plummeted improving affordability too. Many believe, legitimately, that India now stands in one such inflection point when it comes to growth in Internet user base. Expectedly, mobile phones and smartphones have the lion's share, as less than 3% of all phones in India are wired phones, and when it comes to broadband, around 89% are through wireless broadband.
Present government, with its 'Make in India' focus have made certain progress in creating an environment where more and more mobile phones, including smart phones are now locally made in India.
The definition of a smartphone, at this point may be necessary, as many may think that by virtue of the word 'smart' here, smartphones are, by default 3G or 4G enabled. A workable definition of smartphone is: 'a mobile phone that performs many of the functions of a computer, typically having a touchscreen interface, Internet access, and an operating system capable of running downloaded apps.'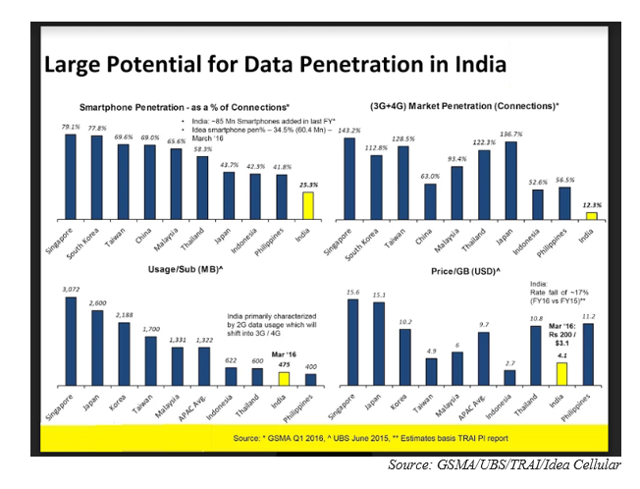 The difference is evident from above figure, indicating that more than 50% of smartphones in India in use, by the middle of 2016, were not 3G or 4G enabled whereas nearly 75% of all mobile devices were feature phones, not suitable for internet access in a practical sense. To understand what affordability of a device to an average Indian means, in spite of 4G enabled smartphones being available at less than $50 a piece lately, a feature phone user needs to pay more than a dollar in monthly outgo for three years to update to a smartphone. And, data/video experiences in low-cost smaller screen smartphones have not been good.
In a workable sense, to improve internet users and regular usage, one needs affordable smartphones and cheaper data plans with decent speed.
When it comes to data, India's telecom sector may be at an inflection point now as Reliance Jio has made its formal entry, after years of speculation and being tagged as the $22 billion start-up. There has been a war of words between Reliance Jio with the regulator in its side and the incumbents on the other side. However, on another less focused area, both the incumbents and Reliance Jio agree on one thing, and that is the 'Sin Tax' on telecom services in India - nearly at 30% - which covers both voice and data.
Unfortunately, telecom is one such sector in India, deprived of having its legitimate status as an infrastructure sector to lower its costs of capital - the sector being capital-intensive, to being taxed heavily. This is known as 'razor and blade' strategy, the reverse of which was followed by Apple in 2001-2 while pricing songs low (with no margin for itself) and making money from the device (original case here, paid content). This affects the health of the companies providing the services, including that of state-owned ones which have been reeling under heavy cumulative losses over the last decade. Much of India's mobile connectivity and data connectivity, the 'Digital India' achieved so far, has been achieved by private players, as state players not only failed to do its due; state players rather needed huge bailout to survive, unlike the experience of China.
Market forces have thankfully been working in making smartphones cheaper. Majority of new smartphones in Indian market over the next few years would be 3G/4G enabled, access costs - be it voice or data is now one of the lowest in India. The content part, due to India's linguistic diversity and more than 90% of population not having English as first language is also being taken care of, with regional news or entertain packages. Indus OS, the second most used mobile operating system in India, is another example of that market forces innovating in the right direction, to address the linguistic diversity part with 'App Bazaar' in local languages.
One can read the government's and that of regulator's attempt of lowering already lowered voice or data rates of India, as Reliance Jio intensifies the competitive intensity. If one compares 'Digital India' with Deendayal Upadhayaya Gram Jyoti Yojana, one could see reach of mobile connectivity has been comparatively better, but without any of the infrastructure status benefits that power sector, generation to transmission to distribution gets.
Government's apparent step-motherly attitude, if true, can be explained by the fact that in power sector, government companies have significant presence (and a vast majority of them in distribution - the SEBs in poor financial health, for which UDAY has been launched), in case of telecom - it is negligible.
If there is one sector in India where private sectors have done wonders, in spite of repeated government failures with policy uncertainties and blatant cronyism - it is the telecom sectors. Consumer's facing speed-related constraints or on call drops have been there in all markets. Due to the nature of the sector (mobile battery and interconnection is now viewed by netizens to be as important as water, and other basic necessities - if not more), consumers would always ask for better and better speed with 100% coverage gaps.
Consumers in the US pay, on an average, around $50 a month or more to get services that have significant deficits too, both in speed and call drops to inter-carrier connectivity of VoLTE calls, in India - consumers pay less than 10% of that. Point is - in capital intensive sectors - be it electricity or automobiles, we have not been able to provide similar efficiency, our costs have been more or less similar to the US in per unit cost of power or when it comes to similar models of cars, that too without the regulatory safety features.
TRAI, to Department of Telecom and government have often expressed its desire on the quality of service in telecom. Unfortunately, it is Economics 101 that tells us one cannot keep quality of service independent of the price of the service.
One needs to be mindful about the difficult tight-rope walk that the government has been undergoing to meet its fiscal deficit target, where telecom sector has been one of the easy targets for the government.
However, the solution is neither in taxing an infrastructure industry as the 'devil industry' nor in continuing policy-uncertainties and cronyism by favouring new entrant/s once in every few years to lower the costs the consumers pay. An unhealthy telecom industry is not good for the nation, nor its users. Market forces have so far been successful, it is time government also walks its talk by lowering the tax part levied on the 'blades' part of the digital eco-system, to facilitate the 'cashless economy'.
An abridged version of this article was published in The Conversation