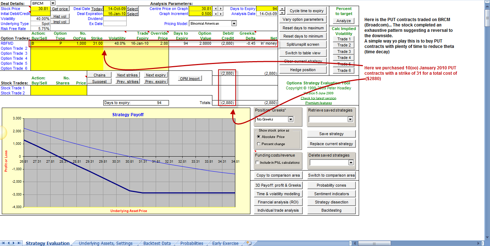 Above is how I played the bearish outlook for BRCM (Broadcom) which I have posted about for the past 2 trading days. I had seen an exhaustion pattern which was bolstered by a divergence indicating a possible reversal in the coming days. Given how weak the volatility has become over the past 6 months during this market rally, I felt the most profitable way to play this possible reversal was to simply by some cheap PUT contracts but allowing for some time for the reversal (should it happen) to play out. I decided to purchase 10(oo) January 2010 PUT contracts with a 31 strike as can be seen in the above pic. Below is a screen shot of my actual trade placed in my IB (Interactive Brokers) account.
BRCM PUT trade screenshot from (IB)
One of the things that I like to look at is exactly how much I can earn based on a percentage pullback of the underlying stock. At the time of the option purchase, BRCM was trading at 30.81/share and I paid 2.88/contract for the Jan. 2010 - 31 PUTS. Lets say I would like to achieve a 25% GAIN on the value of my option which would be a price of $3.60/contract. I can quickly determine exactly where BRCM must fall (because we purchased PUTs) to in order for my option value to jump in value that specific percentage amount. Click on the diagram below to enlarge;
BRCM percentage targets
This is a great tool when determining where you may wish to book all or part of your position. You can also look to the charts to see of there is any previous support or resistance areas in and around your percentage increase objectives. For example, my 1st profit objective is the 25% increase in options value which, as noted above, equates to a price level of about 29.33. I immediately reference the chart to see if that retracement objective is realistic based on chart and technical analysis. As of the writing of this blog, BRCM has fallen to a low of 29.20 which of course is less than my target objective of 29.33, I have closed 5 of my 10 contracts out for the 25% gain in the options value.
I chose a 25 percentage increase in option value but I just as easily could have modeled out higher percentage objectives which would require a greater pullback in the stock, but with this tool you can easily manage your expectations when directionally trading options.
Fulcrum Shift Trading