Dynamic vs. Static Position Sizing part #4
If you notice the above title "Dynamic vs. Static Position Sizing", you're probably wondering exactly when I am going to actually begin to cover that topic (Dynamic vs. Static). Well, how about now? In fact, even though this is the 4th instalment in the blog/web tutorial series, each successive post builds on its predecessor which I felt were pre-requisites. There would be no point in teaching you gamma scalping using options if you don't even know what a call or put contract is and the same can be said when learning proper position sizing techniques.  Allow me to explain. We have covered the concept which tells us that regardless whether you can pay or cover the marginal costs of a trade (futures or shares) you must be in a position to afford the potential loss. Now we are going to compare what happens when you dynamically position size as opposed to static trading but before we do that, you need to know what the difference between the two approaches is. Many of you who will read this already know but for those of you who don't, I can assure you it's one of the easiest concepts to grasp in trading and yet so few traders both novice and professional trader alike, utilize this approach methodically. Most traders I know have some concept of this methodology but have no hard and fast rules that they strictly adhere to and as a result, wonder why their trading accounts never seem to get anywhere. Not consistently anyways. They may have an erratic spike in their trading accounts due to a "long shot" coming in but for the most part their equity curve does not conform to an ideal 45 degree angle.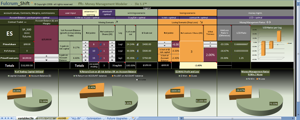 For me, trading is a business and I treat it as such - period.  Guess work, trading by the seat of my pants, emotional highs and lows, hoping rather than planning are what will wipe you out. Usually in short order too. This is fact - not opinion. A good friend of mine was director for a large full service bank/brokerage firm here in Toronto, Canada. His job was to spearhead a new division of the company which decided to enter the overcrowded online brokerage space, trying attract the "do it yourself traders". I will never forget him telling me that these brokerage firms had the business metrics down to a science. He told me for every advertising dollar they spent on attracting a new client it would garner them a new account with an average opening account balance of between $5,000 and $10,000 (usually toward the lower of that range!). That statistic itself wasn't what made me shake my head, it was the fact they knew, with a very high probability, that within 90-120 days (don't quote me on the exact numbers here but I'm close enough) that more that 70% of the accounts would either be completely wiped out or the balance was so minimal, they were unable to initiate any new trades without re-depositing additional funds. Usually at that point they would opt to close the account entirely and have the remaining balance wired back into their bank accounts. Let's not even factor in the cost on commissions they had to pay on this road to ruin. When risk management, position sizing, and probability are addressed properly, in advance of committing your hard earned money, you are stacking the odds greatly in your favour of becoming one of the 30% who make it past 120 days in the world of trading. The m3 Money Management Modeler is the tool to help you realize the ultimate goal  - of becoming a consistently professional trader.
Click the link below to enjoy part 4 of the Dynamic vs. Static position sizing web tutorial and I promise you this latest instalment jumps right into how dynamic position sizing works and how m3 takes it to a new level of "what -if".
http://www.screencast.com/t/GzLsMecPQpN
Fulcrum Shift Trading