Apple has a big moat
Apple's (NASDAQ: AAPL) smart phone market share has been stable for the last 7 years while Samsung's (OTC: OTC:SSNLF) has been growing but it did not take much market share from AAPL.
Figure 1 Smart phone market share per vendor since 2009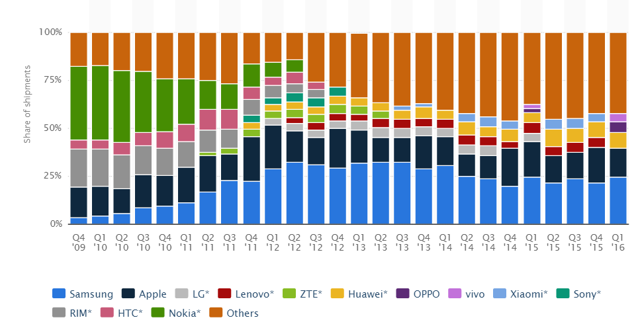 Source: Statista
As behind publicly available data there are various shades and possible explanations I got curious and wanted to see who are the buyers of AAPL products and who are the buyers of Samsung's products. As one of my vocations is teaching I am constantly surrounded by students in their early twenties and their IT purchasing choices show how the above figure sends the wrong message. In a class I have asked my students to raise their AAPL products and they all agreed to do so for the purpose of this article.
Figure 2 AAPL's IT monopoly at the Amsterdam Fashion Institute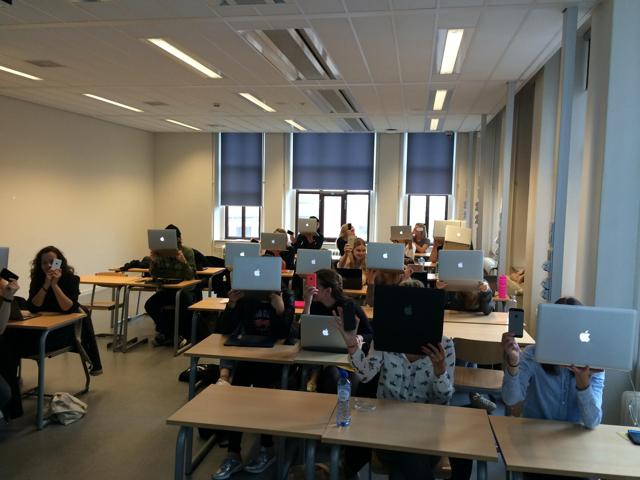 Source: Author
This is what is call a "monopoly" and I assume that is the reason behind the recent Berkshire Hathaway (NYSE: BRK.A, BRK.B) AAPL purchase. When I ask my students if they will continue to buy AAPL's products the answer is a unanimous YES with statements like: "Everything I own is Apple compatible", "Apple is cool", "I want the Apple TV" etc. Such statements are what I call a "moat". Therefore, I assume that in the worst case scenario for AAPL its revenues will be stable as a great majority of the current customers that are using the more than one billion active AAPL devices is going to continue to buy its products in the long term.
Why Samsung cannot compete with AAPL
Let me leave out all the technical comparisons that fill the internet and focus on a simple thing that results in the above described monopoly. The simple thing is that AAPL is cool and Samsung will never be because of adds like the "no wash left behind" add for the Samsung Electronics' new AddWash front loader.
Figure 3 Samsung's no sock deserves to be lonely add

Source: Samsung
Combining the thought of stinking socks to a brand name is not what kids want when showing off their phone or laptop while studying, drinking a beer with friends or watching TV. Samsung has consciously chosen to be a good producer but not the best and most exclusive so it will never really represent a fatal threat to AAPL.
My strategy around AAPL
To add some investing complexity to this article I will explain my still simple strategy around AAPL. If you want to have investment exposure to the latest cool Generation Y trends you can invest in Facebook (NASDAQ: FB) that has one billion of daily non-paying customers and a PE ratio of 73.69 or you can invest in AAPL, that has more than a billion active devices all paid by customers and a PE ratio of 11.16. As we have seen above both have pretty strong monopolies with youngsters, are trendy and as it looks are here to stay. So, in order not to miss that train I decided to invest in AAPL. The strategy is pretty simple, I opened a position in AAPL that is 2% of my portfolio. If the stock drops more and the business stays pretty much the same I will simply add another 2% for every $10 drop in AAPL's price and sell whenever the stock reaches a PE ratio of 15. AAPL is known for being volatile through its iPhone development cycles due to mass exuberance or negativity. Such volatility give great purchasing opportunities.
Figure 4 AAPL's PE ratio in the last 5 years

Source: Ycharts
Just a year and a half ago AAPL's PE ratio was above 18. In the meantime, revenues and EPS grew to a record high but the PE ratio declined to the current 11.09. We can only assume what new interesting product is AAPL developing but if it will be cool the market will quickly get excited and push the PE ratio back to its last 8-year average of 14.97.
Conclusion
My philosophy is that the best investments are simple and right in front of our noses. AAPL keeps turning up wherever I go and therefore I do not see much risk attached to buying at current prices with strong cash flows that enable a 2.27% dividend yield and further returns to shareholders coming from buybacks. There are always threats to AAPL and there will always be but the longer the company manages to stay in its current market leading position the stronger its moat is becoming. Now it is a good opportunity to be a part of the AAPL trend if you aren't already.
Disclosure: I am/we are long AAPL.
I wrote this article myself, and it expresses my own opinions. I am not receiving compensation for it (other than from Seeking Alpha). I have no business relationship with any company whose stock is mentioned in this article.
Additional disclosure: This article was provided for informational purposes only. Nothing contained herein should be construed as an offer, solicitation, or recommendation to buy or sell any investment or security, or to provide you with an investment strategy. Nor is this intended to be relied upon as the basis for making any purchase, sale or investment decision regarding any security. Rather, this merely expresses my opinion, which is based on information obtained from sources believed to be accurate and reliable and has included references where practical and available. However, such information is presented "as is," without warranty of any kind, whether express or implied. The author makes no representation as to the accuracy, timeliness, or completeness of any such information or with regard to the results to be obtained from its use should anything be taken as a recommendation for any security, portfolio of securities, or an investment strategy that may be suitable for you.