I have always admired former British Prime Minister Margaret Thatcher, whose strong leadership and perseverance made her one of the most influential and respected political figures in recent history. She once said of her ability to persevere that she has the "woman's ability to stick to a job and get on with it when everyone else walks off and leaves it."
She was the first woman to lead a major Western democracy, and now, in 2012, businesses worldwide have more women sitting in board rooms and at executive tables "than at any time since 2010," reports Grant Thornton. What is fascinating for global investors is to see how countries differ in the proportion of women in senior management.
According to its study, Grant Thornton found that China leads the world, with 51 percent of senior management positions held by women. This is a sharp increase from the previous year, where only 25 percent of women were in senior management. China's not the only Asian country ahead of the curve. Thailand, Vietnam, Taiwan and Hong Kong also show up on the list below, with 30 percent or more of businesses with senior positions held by women.
Emerging European countries also have "healthy representations of women occupying senior decision-making roles," says Grant Thornton. Poland is a close second to China, with 48 percent, followed by Latvia, Estonia and Lithuania.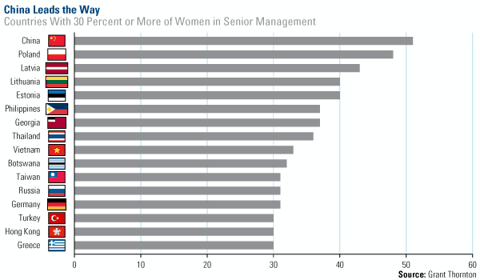 While the growth in women holding senior positions in the U.S. increased in 2012, the country still lags much of the world, with only 20 percent of its senior management held by women. The nation falls to the bottom in the worldwide ranking, alongside Japan (7 percent), United Arab Emirates (11 percent), and several European countries, including Netherlands (11 percent), Switzerland (14 percent), United Kingdom (19 percent), Ireland (21 percent) and Spain (21 percent).
There are many more insightful statistics in Grant Thornton's 12-page report and you can download a copy at their site here.
From Margaret Thatcher to Facebook's Sheryl Sandberg to South Korea's first female president, Park Geun-hye, I believe governments and corporations thrive when they welcome diverse thought-leadership and ideas.
U.S. Global Investors has been at the forefront of this trend, hiring leaders who share our corporate values, including having initiative, a respect for people and teamwork, a focused work ethic and a curiosity to learn and improve. I'm proud that two of three top leadership positions are held by President and General Counsel Susan McGee and Chief Financial Officer Catherine Rademacher. In addition, U.S. Global has several female executives throughout the company who lead departments, including accounting, human resources, marketing and shareholder services.
By clicking the link above, you will be directed to a third-party website. U.S. Global Investors does not endorse all information supplied by this website and is not responsible for its content.