When the University of Texas Investment Management Corporation (UTIMCO) took possession of more than 20 tons of gold worth $991.7 million earlier this year, its gold stockpile became larger than the official gold holdings of about 28 countries combined, based on estimates from the International Monetary Fund (NYSE:IMF). UTIMCO manages the second-largest endowment in the U.S. with almost $20 billion in assets.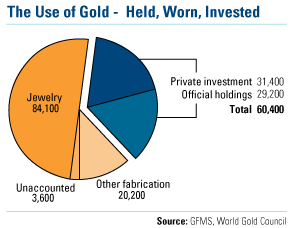 However, UTIMCO's gold holdings pale in comparison to the reserves of the top five countries: United States, Germany, Italy, France and China. These countries hold approximately 19,000 tons combined, about two-thirds of official holdings at the end of 2010, according to the World Gold Council.
Official holdings are just part of gold's demand equation. This chart shows how the world's mined gold is being held, used, worn and invested. You can see that jewelry comprises about half of this market and remains a key driver of gold prices (Read: Jewelry Drives the Gold Love Trade).
If you combine private investment in gold (31,400 tons) with official holdings (29,200 tons), you have what is considered the financial gold market. At 60,400 tons, this market is a little more than one third of the 168,300 tons of gold ever mined on earth.
With the price of gold perched above $1,500, the financial gold market is valued at $2.9 trillion. No small change, considering that's equivalent to the size of the German economy, based on GDP, and larger than that of Russia, Brazil, France and the United Kingdom on a purchasing power parity basis.
The CPM Gold Yearbook 2011 says, "Longer term investors are expected to buy gold almost regardless of price developments in 2011." This appears to be true as emerging market central banks have been building their gold reserves in February and March of this year. Mexico held only 6.9 tons of gold reserves at of the beginning of 2011, but recently increased their holdings twelve times by purchasing 93 tons, according to the IMF. Likewise, Russia and Thailand added 18.8 and 9.3 tons of gold, respectively, in March.
These developments illustrate how investors from pension and endowment funds to central banks continue to demand gold for diversification and potential long-term growth.
Diversification does not protect an investor from market risks and does not assure a profit.