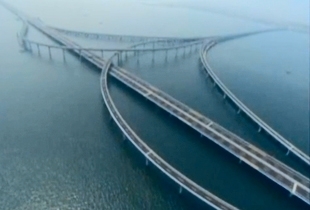 When the new Qingdao Jiaozhou Bay Bridge opened to traffic this week in China, it made the Guinness World Records for the longest cross-sea bridge in the world. The 26.4-mile long and 110-foot wide bridge stretches across the bay, linking the Huangdao district to the city of Qingdao and Hongdao Island.
China spent 17 years planning and designing the engineering marvel to be able to withstand the bay's high salt content and icy winters. Yet, it only took four years to build, with at least 10,000 workers on the construction team. The Xinhua news agency says about $2.3 billion was spent, and 450,000 tons of steel and 81 million cubic feet of concrete were consumed in its construction.
An estimated 30,000 cars are expected to make the trek across the bay each day. Residents already traveling between Huangdao and Qingdao will have their trip cut in half, from 40 minutes to 20 minutes.
According to The Telegraph, Qingdao is one of China's fastest-growing cities. It is among the top ten largest container ports in the world, and is the main port of the Chinese navy. Home to around 8 million people, half live in the metro area of the city. Many people might recognize the city as host of the sailing events during the 2008 Beijing Olympics.
While the bridge made headlines for breaking a world record, it is only one of many major infrastructure projects planned by China. In only a few short years, the country has been redefining urbanization at a phenomenal scale:
From 2005 through 2025, Chinese cities will add more than 350 million people, which is the entire population of the United States.
More than 200 Chinese cities will have more than one million inhabitants. Europe today has 35 cities of that size.
There will be 50,000 new skyscrapers, the equivalent of ten New York Cities.
Many of these urban residents have rising incomes and discretionary income to purchase cars and upgrade their homes in pursuit of a better life—just like the American dream. To accommodate this rapid economic development, rising middle class and growing car ownership, China has been ramping up its transportation system. Similar to our story of China's high speed rails, the magnitude of opportunity is expected to span across many industries, including tourism, restaurants, hotels, construction, property, rail, roads and airlines.
To grasp the immense size of China's newest bridge, watch this short video* from The Telegraph.
Fire up the grill, enjoy the fireworks and celebrate freedom! Here's wishing you and your family a very safe and happy holiday weekend!
All opinions expressed and data provided are subject to change without notice. Some of these opinions may not be appropriate to every investor.
*By clicking the link(s) above, you will be directed to a third-party website(s). U.S. Global Investors does not endorse all information supplied by this website and is not responsible for its/their content.