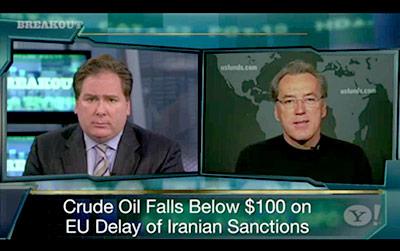 I recently spoke with Matt Nesto, host of Breakout at Yahoo! Finance, about the current climate for commodities and what I expect to see during the first half of 2012. We kicked off our discussion talking about oil's surge above $100 per barrel and what price implications rising tensions with Iran could have if the situation boils over.
I explained that I don't think a European Union (NYSEARCA:EU) ban on Iranian oil imports would have a significant long-term effect on oil prices. The real long-term catalyst is increasing demand for oil from the developing world. Regions such as Africa don't have debt problems like the U.S. and the EU, and the GDP growth rates for many of these economies is around 7 percent.
Matt and I then transitioned our discussion to gold where I explained how the Fear Trade and the Love Trade are driving gold prices. I highlighted the staggering amount of debt that needs to be rolled over by the world's developed economies: $2 trillion in Europe, $3 trillion in Japan, and $3 trillion in the U.S. That's a combined $8 trillion!
To participate in the growth in gold, I discussed how gold miners are attractively priced today with historically low book values and offering abundant cash flows and rising dividends. Watch the interview to hear my picks.
All opinions expressed and data provided are subject to change without notice. Some of these opinions may not be appropriate to every investor. Standard deviation is a measure of the dispersion of a set of data from its mean. The more spread apart the data, the higher the deviation. Standard deviation is also known as historical volatility.
The following securities mentioned in the interview were held by one or more of U.S. Global Investors Fund as of December 31, 2011: Yamana Gold, Randgold Resources, Freeport-MacMoRan, Franco Nevada, Market Vectors Gold Miners ETF.
The J.P. Morgan Global Purchasing Manager's Index is an indicator of the economic health of the global manufacturing sector. The PMI index is based on five major indicators: new orders, inventory levels, production, supplier deliveries and the employment environment.
By clicking the links above, you will be directed to a third-party websites. U.S. Global Investors does not endorse all information supplied by this website and is not responsible for its content.