India is now approaching a per-capita GDP level that may prove to be a tipping point for economic growth and consumption.
At $2,000 per person, India's GDP is only a third of the way to the point at which oil consumption begins to rapidly increase, according to the energy industry consulting firm PIRA.
India is, however, approaching another key level. When China's per-capita GDP reached $3,000 in 2002, car sales more than tripled to 7 million vehicles by 2008, PIRA points out.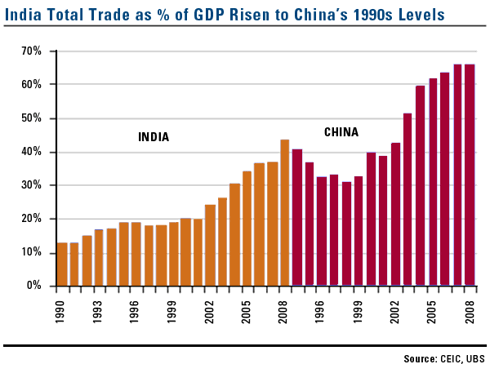 Also important to India's economic growth is its trade with other countries. The UBS chart above shows that India's trade as a percentage of GDP is similar to where China was in 2002.
But to have the same export-led growth seen in China over the past 10 years, India needs to improve in several areas.
A good place to start would be to clear away some bureaucratic red tape to encourage private foreign investment. India would also benefit from an infrastructure upgrade – UBS estimates that India's infrastructure sector provides a $2.7 trillion investment opportunity between 2010 and 2025.
India's young and rapidly growing labor force is a great asset. A modern power grid and transportation network would enhance the productivity of these workers and help India move further down the path of development.
All opinions expressed and data provided are subject to change without notice. Some of these opinions may not be appropriate to every investor.