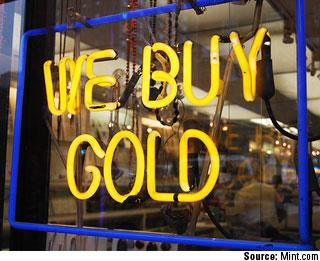 India's deal to buy 200 metric tons (6.4 million troy ounces) of gold from the International Monetary Fund is a huge deal – not just the fact that the New Delhi government is handing over $6.7 billion for the metal, but what it may mean for gold going forward.
India is making a bullish call on gold. The supply of gold continues to decline – the biggest supply is from governments selling their gold to pay for social programs. The IMF is a classic case of this.
What's particularly interesting in this case is that the buyer is a developing economy. I see this as another sign of the wealth shift away from the developed markets of North America and Western Europe toward the emerging world.
China has also been a major buyer – its gold reserves have nearly doubled since the start of 2003, when the price was about $345 an ounce.
Another thing about India is that its government won't be criticized for buying gold because as a nation, Indians have a cultural affinity toward it. It's how they store their wealth, and they can wear it as jewelry.
If the U.S. government went out and spent nearly $7 billion for the IMF's gold, there would be no end to the howling. But in India, the citizens say it's a good move because they are buying gold, too – they believe in it.
The presence of a big bullish buyer may create a big bullish buzz for gold. We're seeing it today – gold is nudging close to $1,100 an ounce – and history suggests it may last a while.
Around this time in 2005, for example, Russia announced that it was doubling its gold holdings from 5 to 10 percent of its reserves. At that time, gold was selling for about $490 an ounce. A year later, the price was up 30 percent.
Of course, Russian purchases weren't the only thing that drove up gold – back then the dollar was dropping, federal deficits were colossal, markets were volatile and investors faced negative real interest rates. 
We have the same conditions now, but on an even greater scale following the credit crisis, steep recession and the massive economic stimulus programs created around the world.
These factors alone tend to be positive for gold and gold investing – adding a vote of confidence by a serious buyer like India may make a good situation for gold even better.
All opinions expressed and data provided are subject to change without notice. Some of these opinions may not be appropriate to every investor. #09-773