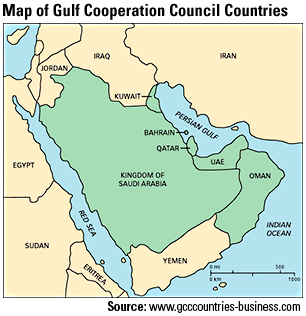 Warren Buffett isn't the only one who sees trains as the transportation of the future. Oil-rich nations in the Middle East are converting their petrodollars to railroads in one of the world's biggest regional infrastructure build-outs.
The Gulf Cooperation Council has plans for a 1,300-mile railway linking all six of its member states (Bahrain, Kuwait, Oman, Qatar, Saudi Arabia and the United Arab Emirates). Combined spending is estimated at more than $100 billion.
That is just a fraction of the amount available for investing to support future growth. Combined assets for the region's four largest sovereign wealth funds (Abu Dhabi, Kuwait, Qatar and Saudi Arabia) total $1.15 trillion, and that's just a portion of the wealth amassed in that dynamic part of the world.
In September, a $7.6 billion rail system was opened in Dubai to try to ease its bumper-to-bumper road congestion. An estimated 1.8 million passengers will use the line each day.
Saudi Arabia is building a $5.3 billion rail line to connect the Islamic holy cities of Mecca and Medina as part of the country's $400 billion infrastructure plan.
And last week, Qatar's sovereign wealth fund signed a $26 billion construction deal with German railroad operator Deutsche Bahn for a local system for Doha, Qatar's capital and largest city, and freight lines to bordering trading partners. Qatar is the world's largest producer of liquefied natural gas, a rapidly growing source of energy.
The population of Doha is expected to double over the next 10 years and the country, which hosted the 2006 Asian Games, is said to be putting together bids for the 2020 Summer Olympics and 2022 World Cup.
A Qatari official hailed the 15-year Deutsche Bahn deal as "the next step in the creation of this visionary Qatari project that will truly revolutionize the ease and convenience by which people travel."
All opinions expressed and data provided are subject to change without notice. Some of these opinions may not be appropriate to every investor.