China wants to set a new record with an infrastructure project that would also link three of the nation's economic engines.
Work began this week on what will be the world's longest sea bridge to physically connect, and strengthen the economic ties between, mainland China and the thriving former colonies of Hong Kong and Macau.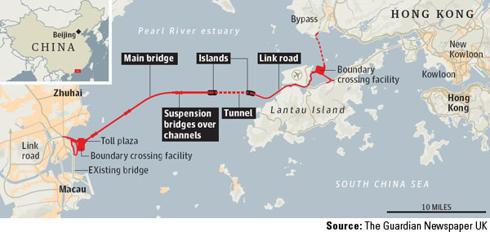 The ambitious $10 billion project includes man-made islands, a 3-mile subsea tunnel and a 23.6 mile bridge. It is scheduled to be finished in 2016.
The exploding gaming industry in Macau (under Portugal's control until 1999)
has made it the Las Vegas of the East – its GDP has tripled in the past decade. Hong Kong (a British colony until 1997) has long been the region's financial center and the Pearl River Delta is a sprawling manufacturing hub.
The Delta region accounts for 40 percent of China's GDP, but it has struggled during the global recession. Once completed, the bridge will provide Delta businesses with easier access to higher-end consumers in Hong Kong and Macau. Some trips that now take three hours would be trimmed to a mere 30 minutes.
According to Reuters, Hong Kong officials estimate the bridge should generate $6.6 billion in economic benefits within the first two decades of use.
All opinions expressed and data provided are subject to change without notice. Some of these opinions may not be appropriate to every investor.