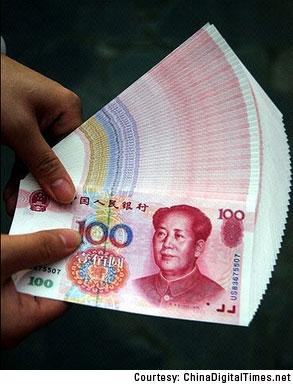 Rapidly rising money supply creates the conditions for inflation, but what if that new money is left sitting on a shelf?
That's what's happening in China, according to Andy Rothman, chief macro strategist at CLSA in Shanghai.
Rothman's view is that inflation will not be a problem in China in 2010 even though M2 money supply (essentially cash, checking accounts and savings accounts) is up 30 percent from a year earlier.
He cites a couple of key reasons for this contrarian opinion: (1) Industrial output is rising, so more renminbi (NYSEARCA:RMB) are chasing more goods, and (2) a lot of the new money is going into the bank.
Rothman says the velocity of money in China – how many times a RMB changes hands in a year – is at its slowest rate in a decade, while at the same time, household savings and business savings are up 16 percent and 32 percent, respectively.
"In other words," Rothman writes, "there are more RMB in China this year, but each RMB is being used less often."
The increased production of goods is bringing down prices, he says. Car sales, for example, were up nearly 50 percent through November, but the average price of each car is dropping.
All opinions expressed and data provided are subject to change without notice. Some of these opinions may not be appropriate to every investor. #09-906