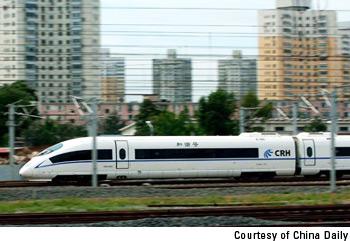 China is literally speeding into 2010.
A brand-new high-speed rail system now connects the important cities of Guangzhou in the southeast with Wuhan in the interior. Trains running the 655 miles of new rails will average more than 200 miles an hour, cutting what had been a trip of more than seven hours down to about three hours.
Wuhan, on the Yangzte River, is the largest city in China's interior (about 9 million people) and is also the region's political, economic and financial center. Guangzhou, once known as Canton, has about the same population. It is a major port and manufacturing center near Hong Kong.
Maximum speeds on the new rail connection can top 240 miles an hour, making these trains the fastest in the world.
Linking Guangzhou and Wuhan is just the beginning of an ambitious high-speed rail network planned for China – more than 40 new lines and 1,000 trains are envisioned by 2012 at a cost of $730 billion.
The key hookup will be the 925 miles separating the political capital Beijing and the business capital Shanghai – work is well along on that project.
Bottom line: China is committed to infrastructure to a degree and on a scale beyond any other country. It's a key reason why we believe so deeply in the long-term global growth theme.
Thank you for visiting us in 2009 – it was quite a year. We wish you a Happy New Year and only the best in 2010.
All opinions expressed and data provided are subject to change without notice. Some of these opinions may not be appropriate to every investor.