While many market forecasters are expecting a slowdown in commodity demand due to a reduction in stimulus around the globe, coal is one commodity that's expected to stand strong.
The reason coal prices are expected to remain buoyant is unprecedented demand from China.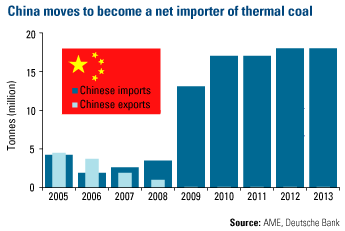 As the chart shows, China moved from a net exporter to a net importer of coal last year and a big jump in the amount of coal imported is expected. The amount of coal imported into China is forecasted to balloon to more than 15 million tonnes in 2010—up from less than 5 million tonnes in 2008.
A recent report from Deutsche Bank says it expects an increase in Chinese demand due to economic growth and a reduction of coal production in the Shanxi province because of safety and environmental issues.
Environmental concerns are important to keep in mind because of the high amount of carbon involved in coal power plants. China is the world's largest consumer of coal—which provides nearly 70 percent of China's power—and demand for power has been skyrocketing. Any global legislation regarding carbon emissions could certainly have a big focus on China.
According to CLSA, China has accounted for 40 percent of global power and heat generation since 2002. Over this time, China's power demand has more than doubled while the rest of the world had declined around 25 percent as of 2007.
This increase has put China in second place—just behind the United States—in terms of electricity demand.  More telling of what the future may hold is the fact that China consumes four times as much electricity per dollar of gross domestic product (OTC:GDP) than the U.S. does, according to a story from BusinessWeek citing International Energy Agency (IEA) estimates.
China has bold plans to diversify its power—including big plans for nuclear we wrote about recently—but coal will be the major beneficiary of increased power demand until these additional sources are brought online.

All opinions expressed and data provided are subject to change without notice. Some of these opinions may not be appropriate to every investor.
Disclosure:
No positions