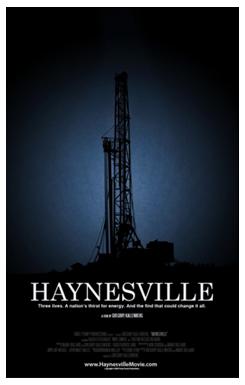 What would you do if someone offered you $1 million for the right to drill for natural gas under your land?
That's the sort of Jed Clampitt scenario playing out in the piney woods of north Louisiana, under which lies the Haynesville Shale, perhaps the largest natural gas field in North America.
What happens when cash-poor landowners hit the natural resources lottery is a theme in the documentary Haynesville, which make its North American premiere as the main feature at next week's South by Southwest (SXSW) Film Festival in Austin.
Along with the social aspects, the film also discusses the environmental and financial impacts that the Haynesville and similar shale deposits may have while supplying the U.S. with desirable clean energy in the decades ahead.
Haynesville may contain as much as 250 trillion cubic feet of gas. The documentary pegs its regional economic impact at $1.75 trillion over its lifetime – as one person says in the film, "Now that's a gas field!"
Shale fields (notably the Barnett in north Texas, the Eagle Ford in south Texas, the Marcellus in eastern Pennsylvania and the Haynesville) now account for 20 percent of U.S. natural gas supply.
A study released this week by energy consultancy IHS CERA sees cleaner-burning gas becoming more important for electric power generation – 19 billion cubic feet per day now becoming 35 billion cubic feet daily by 2035 as plants burning coal and other fuels are replaced.
The documentary's director said he tried to reflect the many facets of a modern-day gold rush tale.
"What I had to do was walk a very fine line. It's the line of not being preachy and not being pro-industry," Gregory Kallenberg told the Houston Chronicle. "This is a piece that shows in a very balanced way where energy comes from and what effect it has on the people at the ground level. We all use energy, and using energy, it's important to know how we get it."
You can watch the trailer for Haynesville at www.haynesvillemovie.com.
All opinions expressed and data provided are subject to change without notice. Some of these opinions may not be appropriate to every investor. By clicking on the link, you will be redirected to the Haynesville movie website. U.S. Global Investors does not endorse all the information supplied by this website and is not responsible for its content. #10-179
Disclosure:
No positions