The dollar index is at a crucial juncture. The index is below its long term 10 month moving average. A break down of dollar index below $92 will cause a fall further that can go till $86. Emerging markets and EU equities in local currency terms will enjoy both currency gain and any local market gain.
Let us look at the long term dollar index chart (Graph source: barchart)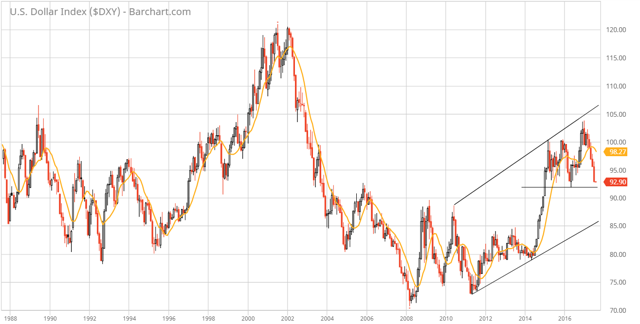 Joining the support and resistance on the long term chart, we find that there is a strong support around $92-$93 range. The index started falling from the beginning of this year.
The $92.9 currently represents the first major test. A break down can happen if it goes below $92 level.
The next point you see on the chart as a base line is $86 level (which represents roughly a 7% fall from current level)
Currencies have a mean reverting property and a strong/weak dollar generally last for years
What it means for your international exposure?
This is probably the worst time you can currency hedge. If you own international equities or single country international ETFs in local currency then you would gain the 7% + any market gain if the dollar index breaks down below $92 level. So who said there is no free lunch on wall street? A look at chart below tells you how emerging market equities and dollar strength are complete opposites.
Graph Source: Google Finance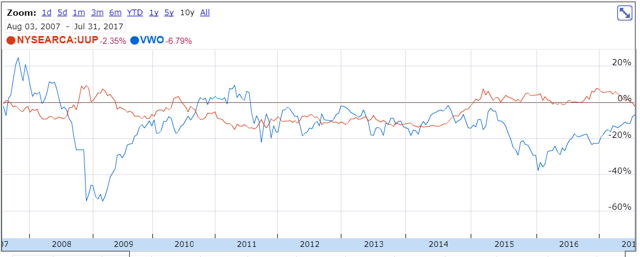 Why macro forces are playing a key role?
A currency is backed by the worthiness of the country that issues it. When it comes to buying/selling a currency, it is generally a relative term with some other currency. The strong surge in dollar index was due to the fact that US picked up pace ahead of other EM/EU countries after the great recession. Now that other nations are picking up steam and US is relatively weak, the forces contribute to a weaker dollar. Furthermore, the current political landscape is strongly supporting these forces in the US.
What does this mean for your international transfers or travel?
If you are thinking of booking a flight in an international airline, reserving hotels or sending money outside the US; you should send it right away if the index breaks $92 level. This way you don't get less for your dollars.
Summary:
A lot of forces are acting strongly against the dollar (EU picking up, policy by administration etc.). Currencies have a long tendency to mean revert, we experienced one of the great upsides in dollar index from 2011 to 2017. Now, it might be high time for the mean reversion to weak dollar.
Disclosure: I/we have no positions in any stocks mentioned, and no plans to initiate any positions within the next 72 hours.
Additional disclosure: I am long single country EM/EU etfs