On Thursday, the S&P 500 closed at 893.07, up 1.0%.  The S&P 500 snapped a three day losing streak, but internally things are starting to break down.  Despite a reprieve in the financial sector and semiconductor stocks outperforming, yesterday was a quiet day. 
 
Over the past two days two sectors have broken TRADE - Technology (NYSEARCA:XLK) and Consumer discretionary (NYSEARCA:XLY).  Importantly, both sectors were one of the first to turn positive on TRADE to the upside on March 16, 2009.  While we have now lost two sectors to TRADE, there's another higher low now in the rear view mirror; positive TRADE and TREND (819) remains for the S&P 500.

Yesterday, the Labor Department reported that initial claims increased 32K to 637K for the week ended 9-May; consensus was looking for the 610K level.  The four-week average rose by 6K to 630.5K.  In addition, the unemployment rate among those eligible for benefits rose to 4.9%, the highest level since 1982.  As we said in our post (Bear Hunter Claims - www.researchedgellc.com ) - this morning's jobless claims report was what it was - fundamentally bearish, on the margin.Bearish for what? Is the question however.If this acceleration in both the week-over-week and 4 week moving average is bearish for the US Dollar - then you know what that means for stocks - it's bullish.

The dollar finished down 0.3% on the day and the S&P was up!  Right now the Research Edge models suggest that there is 1.5% downside and 4% upside in the S&P 500.  Also the Research Edge quantitative models continue to flash that every sector in the S&P 500 is positive on TREND and seven of nine sectors are positive from TRADE duration.  At the time of writing, U.S. stock futures were pointing to a lower open.
 
Despite general employment concerns, declining home prices, retail sales, the H1N1 virus and the general feeling that things are still bad, the Oracle of Obama and the Dow at 8,300 appear to be bolstering consumer sentiment in May.  Shortly we will learn that consumers are becoming more confident and that there is a chance for a strong economy over the next six months. The preliminary May reading of the University Michigan will suggest that confidence has risen to the highest level in six months.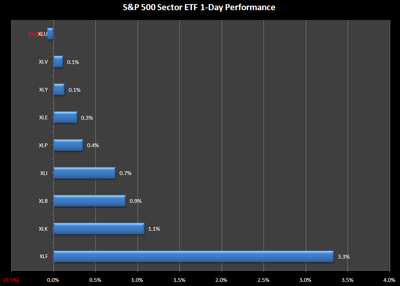 The XLV (Healthcare) underperformed on a relative basis, closing up 0.1% to 25.53. There was no beta for Healthcare yesterday (because it doesn't have beta!); positive TREND (24.67) and TRADE.  
 
The XLF (Financials) significantly outperformed, rising 3.3% to 11.77.  Yesterday, the XLF was the best sector on the market today, solidifying that the TREND (9.29) and TRADE remain bullish.   

The XLE (Energy) underperformed on a relative basis, closing up 0.3% to 48.05.   With the dollar down, sector up; the XLE is bullish TRADE and TREND (44.94). 

The XLB (Materials) performed in line with the market, closing up 0.9% to 25.74; still a bull on both TREND (22.32) and TRADE. 

The XLK (Technology) slightly outperformed the market, closing up 1.1% to 16.80.  Yesterday, the XLK was the 2nd best sector, reminding the shorts that merger Mondays happens on Mondays; the TREND (15.60) remains bullish.    

The XLP (Consumer Staples) underperformed on a relative basis, closing down 0.5% to 22.58; bullish TRADE and TREND (21.52). 

The XLY (Consumer Discretionary) significantly underperformed on a relative basis, closing up 0.1% to 22.29.  Yesterday, Consumer Discretionary broke down through the TRADE line (22.56) this week, now that's resistance.  We are long the XLY for a TRADE.
 
The XLI (Industrials) underperformed, closing up 0.7% at 21.79; the TREND (19.67) and TRADE remain bullish. 

The XLU (Utilities) underperformed the market, closing down 0.8% to 26.57; the TREND (26.26) and TRADE remain bullish. The SAFETY TRADE remains a factor, but not on up days.

Howard Penney
Managing Director