For those of you that have made it this far, I would like to thank you for any contribution you make to my article. Like many of the readers here on SA, I have learned so much from the contributors that spend copious amounts of time digging into these businesses to provide the best insight possible. My goal in writing this article is to provide another avenue of conversation to improve my portfolio and, by proxy, improve others' portfolios.
INTRODUCTION
My name is Christopher Reeves and I'm 26 years old. I own a growing rental property business and work full-time as a Financial Analyst. I have been focused on retirement ever since my mother had me listen to Dave Ramsey after picking me up from school. This truly fed my passion for saving and investing and I am forever thankful for that. Fast forward to today, I actively contribute to my 401k as well as fully funding both myself and my wife's Roth IRAs and am focused on creating a growing passive income stream to allow me to retire at a young age. Below, I will lay out the combined portfolio of our IRAs and would love to know what you all think.
PORTFOLIO
This year, I shifted our portfolios to a combination of Value and Dividend Growth Investing. Having just completed my final purchase of AT&T (T), I believe the transformation is complete. My main focus is to invest in businesses that typically have an above average dividend yield or an above average dividend growth. To me, I have little concern whether the business pays a 1% dividend but has 10% yearly growth or a business that pays a 6% dividend but only grows at 5% per year. At the end of the day, I'm focused on purchasing businesses at below or at fair value that continuously grow their earnings and are focused on returning that value to shareholders in the form of dividends. Here is a list of the stocks we currently own:
| | | | | |
| --- | --- | --- | --- | --- |
| Ticker | Shares | Amount Invested | Cost Basis | % of Total |
| KRG | 135 | $2,651.40 | $19.64 | 5.4% |
| T | 78 | $2,836.86 | $36.37 | 5.8% |
| TGT | 45.1582 | $2,303.97 | $51.02 | 4.7% |
| WPC | 39.7013 | $2,340.39 | $58.95 | 4.8% |
| KR | 301 | $6,919.99 | $22.99 | 14.1% |
| O | 354.6272 | $19,327.18 | $54.50 | 39.5% |
| CLDT | 631.2177 | $12,563.30 | $19.90 | 25.7% |
To start, I understand that I am heavily weighted to Realty Income Corp (O) and Chatham Lodging (CLDT) currently and I intend to slowly divest portions of these positions and purchase positions in other businesses that I believe are fairly valued. But at the price, I couldn't find better Value and Quality for my money to allow me to sleep well at night. Also, I expect to maintain a larger than average position in both of these fantastic companies as I believe they can and will continue to be the foundation of a great dividend portfolio.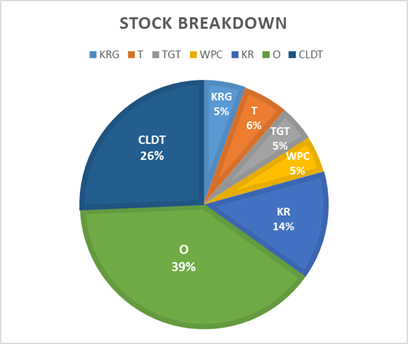 STRATEGY
            As I alluded to before, I am a Value and Dividend Growth Investor. With roughly 20 years before I intend to look at retirement, I have time on my side and I intend to use it to my advantage. As Albert Einstein said, "Compound interest is the eighth wonder of the world. He who understands it, earns it…he who doesn't…pays it." In my humble opinion, there is no more important lesson to learn about investing than the wise words of Einstein. My hope is that 20+ years of compounding interest will pay off in the form of early retirement without ever having to touch the principal. Moving forward, each sale and purchase will be used with that particular focus in mind. The question I continue to ask myself as I delve into these companies and determine which to purchase is, "Will this decision put myself and my wife on a stronger path to retirement than we had before?" It's truly that simple. While the research is far more complicated, the ultimate decision is driven from that question alone.
CURRENT INCOME
Our current yearly dividend income sits at $2956.10 with a combined YOC of 6.04% mainly being driven by my large position in the ~6.5% yielding CLDT. While I expect this yield to drop as I invest into other businesses, I understand that diversification within a portfolio gives me the best chance of long term success. While this hardly covers our yearly expenses today, I am confident that with the right management and with the wonderful insight provided from both you all, the readers, and other contributors that this portfolio will grow into a dividend income machine that will more than supplement our retirement needs.
CONCLUSION         
To wrap up, I would just like to thank you again for taking the time to read this article. My hope is to inspire others to work towards a stronger financial future and to encourage healthy debate amongst the investors here on SA. I'd like to know what you all think about my portfolio. Do you have any questions about my reasoning in the investments that I currently have? What moves could I make to better diversify? Do you have recommendations as to what I can do better as a writer? As I progress in my articles, I intend to delve deeper into each purchase and provide color and clarity to how I make my decisions. If you are interested in following me along this journey, please hit the follow button at the top of the article and I intend to be active in the comments. Lastly, I also would like to give special thanks to the Seeking Alpha contributor, Brad Thomas. His insight into REITs have influenced multiple purchase decisions in my portfolio and provided me with a wealth of knowledge I don't believe that I would have had without his assistance.
Disclosure: I am/we are long all stocks mentioned.