We've been enjoying summer and hope you have too.
As the market creeps slowly higher towards an inflection point we've had little interest and nothing to offer herein. Now we finally enter a new position.
FAZ has broken a considerable downtrend, so we're going long without a stop level for the time being. This is an effective 3x levered short on the U.S. financial sector.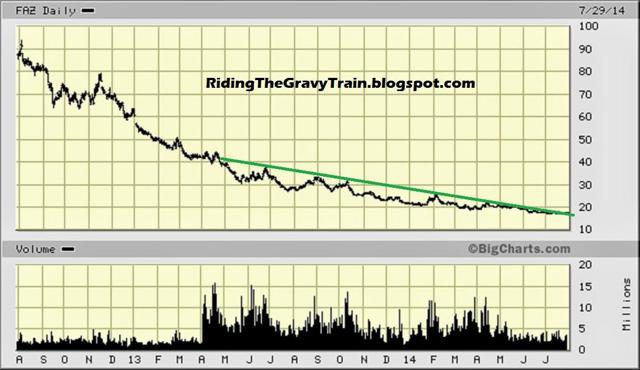 We displayed the charts below in a post dated March 15 2014 titled History Repeats, Shorting Commodities.
Based on these charts, we expected a turn lower in equities roughly two months later circa May of this year. It's now July and the DJIA is a mere 400 points higher, a gain that can easily be erased in 2-3 days. While the market has gone higher and past our target date, we'd say that if we're off by 2 months on a cycle that's roughly 4 years in duration that's a direct hit.
All technical indicators we rely on have become more bearish from sentiment to momentum, so it seems an ideal time for equities to drop. Click the charts to view larger versions.


At the time we wrote: "There hasn't been a two-month drop in the DJIA since late 2012, and in that case the 2nd month was barely lower. The last time there was a significant drop in two successive months was at the end of the 2007-2009 market plunge in February 2009. A significant two-month drop will probably happen again this year."
We stick by that call emphatically.
Disclosure: The author has no positions in any stocks mentioned, but may initiate a long position in FAZ over the next 72 hours.