Late in 2015 we reiterated our bearish outlook for equities several times:
December 14 - "Reasons To Remain Bearish"
December 16 - "Margin Debt At An Extreme"
December 19 - "All Wrong, And Gold. UCO Update"
Over the month since then, the DJIA is down roughly 2300 points or 13%. This has been the worst start to a calendar year in all of stock market history.
On a short-term basis, and only on a short-term basis, equities are now oversold. On a long-term basis stocks are nowhere near oversold. The DJIA also may be at some forms of technical support as shown on the charts below.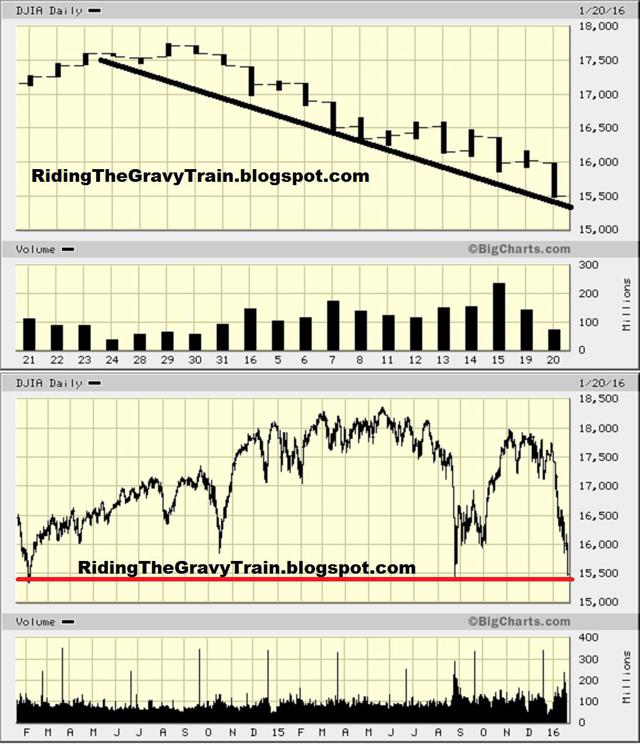 With that stated, we're prepared to speculate.
Of NUGT, in the December 19 post linked above, we wrote; "It may take awhile to get the entry right, however once we do it'll be very memorably profitable."
We entered the position a few days later at $25 with a stop that was hit at $22 a few days ago for a loss of 12%. It's now down to $18 as of this writing and we're going long again with a stop on an intra-day basis at $16
UCO we purchased two days later at $12.20, losing almost 6% when our stop was hit at $11.50 It's much lower now at $6.50 and we're going long again with an intra-day stop at $5.50
OKS currently yields 13.9% and we're going long as it too may be at or near some technical support. Certainly it's bullish that while many of its peers, including our holdings of WPZ and ETP, are far below where they were in mid-December and at risk of cutting their dividends, OKS is still above its mid-December lows in large part because it reaffirmed its dividend for 2016.
While there are certainly no guarantees and all market exposure is speculation, that press release is a welcome assurance in this dire market environment - especially within the oil and gas sector. No stop on OKS, as we're looking to hold for long-term dividends and hopefully capital appreciation.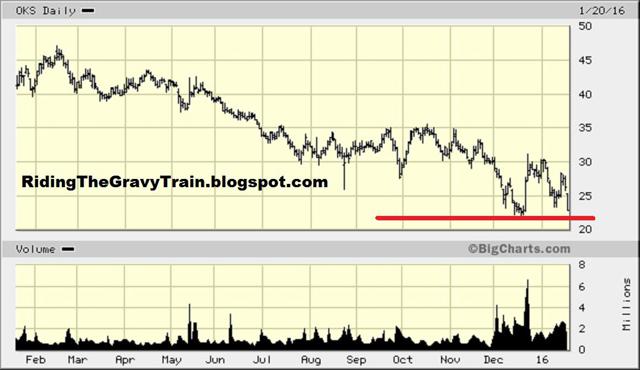 Disclosure: I am/we are long NUGT, OKS, UCO.