Equities appear to have begun at the very least a significant retracement of the rally since mid-February and quite likely a protracted drop to new lows for the year.
Recently we bought VXX to effectively enter a levered short on general equities. We still do not have a stop level for this position.
VXX: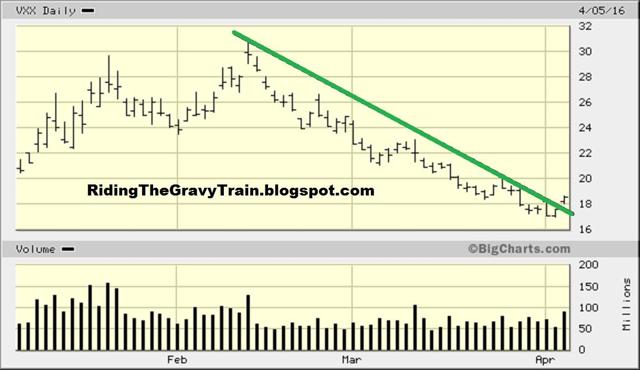 Now we add a long position in FAZ, which is a levered short on financials. Initial stop at $41 on an intra-day basis.
FAZ: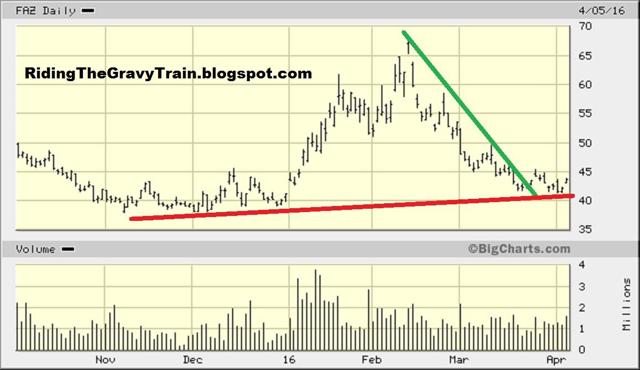 We're also shorting LinkedIn Corp. (LNKD).
To say we don't believe its business model is a good one going forward, and that its prospects don't support its market valuation, is an understatement.
When's the last time you heard this company mentioned? Do you know anyone who uses it, or claims to derive any benefit by doing so? We're not here to make a logical or fundamental case however, as we trade based on technicals.
At its low of early February it had dropped 64% from its all-time high a year before. It has since bounced and looks like a good short sale to us, as general equities and this stock in particular are over-valued in our estimation so we expect LNKD to mark all-time lows at some point this year and to continue lower from there. If so, this may turn out to be a long-term holding but we'll let the market and our stop level decide that.
LNKD closed today at $113.69 We'll place an initial stop at $119.50 on an intra-day basis in an attempt to limit our initial risk to roughly 5%.
Those with greater risk tolerance may wish to place their stop above $125 per the black line in the chart below.
LNKD: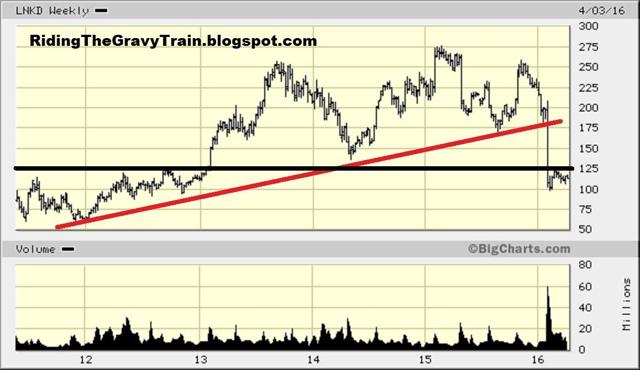 Supporting Documents
Disclosure: I am/we are long VXX, FAZ.
Additional disclosure: We're also shorting LNKD.