Han Seng's AH Premium Index dropped 5% overnight and closed at 116.71, only 0.71 above the historic low at 116.01. AH Premium Index was launched in 2007. The August 2007's article New Indexes Track 'Two Chinas' by Index Universe in Seekingalpha gave a detail description on this index. For the people who are interested, you can go to Hang Seng China AH Premium Index. As indicted in the website, the index measured the differences between the market capitalizations (in USD) of dual-listed companies, the capitalizations in A shares on the nominator and H on the denominator.
| | |
| --- | --- |
| AH premium Index | 116.71 |
| change | -5.49 |
| change (%) | -4.49% |
| Today High | 121.98 |
| Today Low | 116.71 |
| Previous Day Close | 122.20 |

In spite of the recent rebound, Shanghai dropped from 3400 to 2999.17 on September 16. As shown in the graph, Han Seng Index and Han Seng H Shares closely tract the US market. Han Seng H shares closed at a yearly highly at 12,525.72 overnight.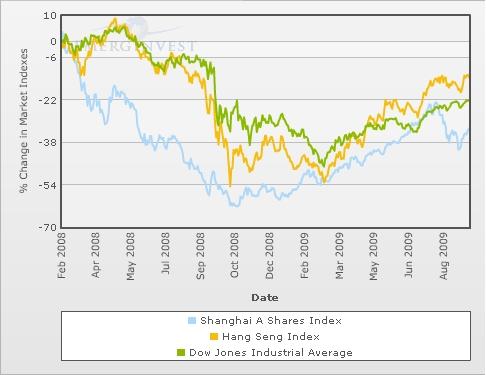 The continue divergence on A shares and H shares narrowed the premiums between dual-listed companies near its historic low and provided valuable pair-trading opportunities. For a example, despite China Life (NYSE:LFC) reported a double-digit decline on insurance premiums, its H shares rose 2.34% while A-shares down 2.3%, which put its AH premium rate at -8.55% (exchange rate: HK$1=CNY ¥0.88107). Similarily, the AH premium rate of PingAn of China was at -11.11%.
China Southern Airline (NYSE:ZNH) announced 33% increase on passenge traffic in August. Its H share was up 1.23% while A share was down -2.32%. Its AH premium rate was at 52%. Air China also annouced the largest monthly increase on passenge volume in 2009 and lower fuel costs. A share was down 2.31% while H share was up by 3.85%. AH premium rate narrowed to -2%. 


 source: http://www.emerginvest.com/WorldStockMarkets/BRIC/Markets.html
              http://finance.qq.com