Namibia Rare Earths Targeting Heavy Rare Earth Elements
Please Note: Blog posts are not selected, edited or screened by Seeking Alpha editors.
Namibia Rare Earths Inc. (TSX: NRE) is commencing its initial drill program at its 100% owned 740 square kilometer district size Lofdal Rare Earth Project in north western Namibia. Lofdal is unique among competing rare earth projects as it is a new project, with no drilling to date, where sampling has revealed significant grades with high percentages of heavy rare earth elements. The scope of the project, with successful geotechnical work and sampling, places the Lofdal Rare Earth Project in the position of becoming one of the most important rare earth discoveries in years, and presenting an opportunity for investors.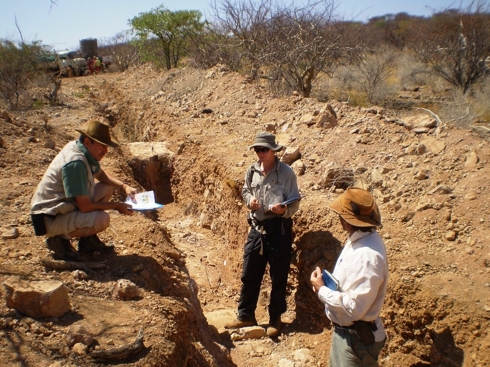 Geologists inspecting trench at Lofdal
Source: Namibia Rare Earths
The project area is easily accessible by paved roads, 450 kilometers from Windhoek, the capital of Namibia. The property was not systematically explored for rare earth elements until 2008. The project was originally held by Etruscan Resources and advanced under the leadership of its CEO Gerry McConnell and VP of Exploration Don Burton. Etruscan was later acquired by Endeavor Mining Corporation (TSX: EDV) and the Namibian assets were spun out in an initial public offering of Namibia Rare Earths in April of 2011. Endeavor maintains a 38.5% ownership interest in Namibia Rare Earths. McConnell is currently the CEO of Namibia Rare Earths and Burton is its President. From 2008 to 2010, Burton and his team completed geotechnical surveys and mapping of about 3,700 samples at the project.
The first phase of drilling includes 18 targets within 25 square kilometers of the 200 square kilometer Lofdal Carbonatite Complex. This initial phase will include two drill rigs with a goal of completing 7,500 meters of drilling over three months. The program will focus on areas of heavy rare earth enrichment to identify zones with potential to develop into a mineral resource. The plan is to follow up with a 15,000 meter drill program over the following eight to twelve months to complete an NI 43-101 compliant resource. Namibia Rare Earths raised C$28.75 million as part of its initial public offering and is adequately funded to complete this major drill program with good prospects for discovery.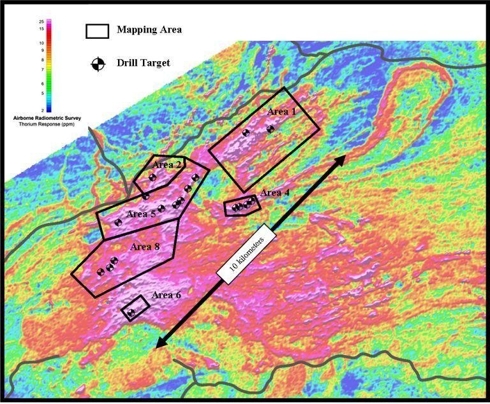 Drill Targets at Lofdal Carbonatite Complex
Source: Namibia Rare Earths
Namibia has a positive mining history. Interestingly, the metamorphic rock underlying the mineralized carbonatite rock hosting the mineralization is about two billion years old. It is believed that the carbonatite structures were initially mineralized with light rare earths by an early hydrothermal event, followed by later events bringing in the heavy rare earths. Highlighted areas targeted for drilling include an 800 meter east-west trending structure known as Area 4, where there are heavy rare earth elements with heavy rare earth enrichment of 96% carrying up to 4,400 ppm dysprosium. An additional highlighted target known as Area 5 is a 1.6 kilometer trend, with samples having heavy rare earth enrichment of 72% carrying up to 3,540 ppm dysprosium. While there are an abundance of targets, these two alone provide a competitive exploration profile relative to its peers.
Rare earth projects are among the most complex to understand in the mining sector. The component size, grades and composition of elements of rare earth projects vary leading to a complex economic matrix. The US Department of Energy has identified five rare earth elements (four of which are heavies) critical for "clean tech" applications. They are neodymium (Nd), europium (Eu), terbium (Tb), dysprosium (Dy), and yttrium (Y). All of these elements are anticipated to be a shortfall of production through to 2015.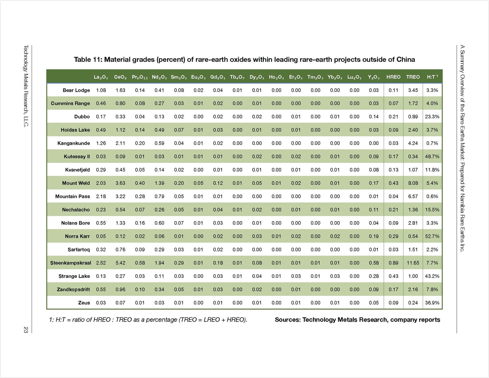 In Namibia Rare Earths' press release dated May 18, 2011, they provided the table above of rare earth projects outside of China. Should drill results resemble the grades indicated in sampling, with a preponderance of heavy rare earths, Namibia's project may compare favorably with its peers. As consumption in China, the leading producer of rare earth elements, exceeds supply in the coming years, coupled with their restrictions on rare earth exports, it is anticipated that investors should seek out the most viable projects. The table provides a good representation of the most advanced projects including the percentage of component rare earth elements and the percentage of heavy rare earth elements out of the total rare earth element grade ("heavy rare earth enrichment"). The relatively high enrichment of heavy rare earths (72-96%) sampled in two of Namibia's primary targets relative to competing projects demonstrates the high level of interest which the Lofdal project should generate.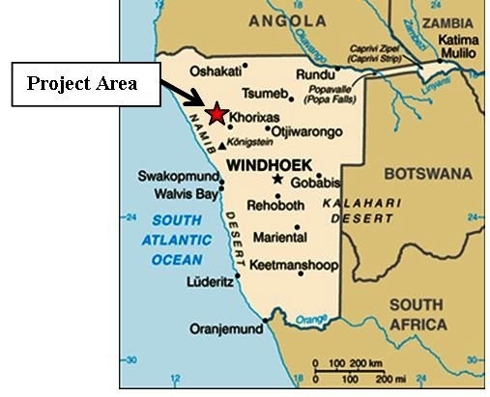 We have not completed due diligence or visited the Lofdal project, but we have visited Etruscan exploration projects in Africa with Don Burton, and have followed his efforts for several years. We are also impressed with Gerry McConnell's devotion to Africa and his record of working with government leaders. It is also notable that one of Namibia Rare Earths' directors is employed by Molycorp, Inc. (NYSE: MCP), and the relatively low percentage of heavy rare earths at its Mountain Pass project in California.
  Enthusiasm for rare earth companies has increased, and for investors interested in this niche in the resource industry, Namibia Rare Earths is worth investigating.
Seeking Alpha's Disclosure: Past performance is no guarantee of future results. No recommendation or advice is being given as to whether any investment is suitable for a particular investor. Any views or opinions expressed above may not reflect those of Seeking Alpha as a whole. Seeking Alpha is not a licensed securities dealer, broker or US investment adviser or investment bank. Our analysts are third party authors that include both professional investors and individual investors who may not be licensed or certified by any institute or regulatory body.