We visited Kiska Metals Corporation's (
OTC:KSKTF
) Whistler project 150 kilometers northwest of Anchorage, Alaska. We were very impressed with the recently constructed exploration camp and a small army of well organized geologists and support personnel. This was made possible by the completion of an ice road earlier this year. Kiska moved in heavy equipment and supplies to build a year-round camp to house over 50 employees and an air strip capable of accommodating a Douglas DC-3.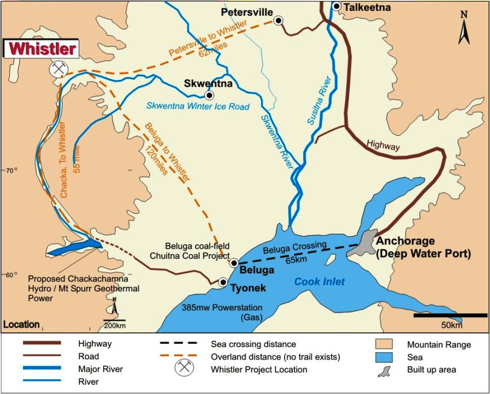 Source: Kiska Metals Corporation 
 
The Whistler project comprises 527 square kilometers and is located near the Iditarod trail between Anchorage and Nome. The project is in the same geologic belt as Northern Dynasty Minerals Ltd.'s (NYSEMKT:
NAK
) Pebble copper-gold porphyry (81B pound copper, 107M ounce gold, and 5.6B pound molybdenum). Kiska has identified a gold equivalent gold-copper-silver resource at its Whistler Zone of 5.6 million gold equivalent ounces. They also have at least 20 exploration targets and are well prepared to complete a 31,000 diamond drill program in 2011 with five drill rigs on site. 
This should be a transformative year for Kiska. We suspect that review of past drill programs on the Whistler deposit should lead to a more complete understanding. It may be possible to either increase or upgrade the Whistler deposit with additional select drilling. Kiska has also enjoyed good success on its Island Mountain target, 23 kilometers to the south-southwest of the Whistler deposit. In our opinion Island Mountain has good potential to double the resource at Whistler.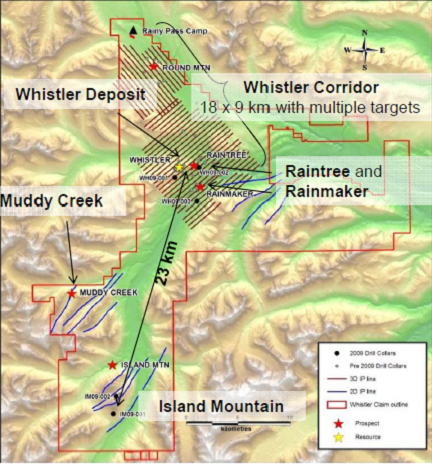 Source: Kiska Metals Corporation
Kiska may also complete enough drilling in the Whistler orbit, including Rainmaker and the Raintree areas, to set the stage for additional resources.  During the recent winter months, Kiska completed a 6,575 meter 53 hole drill hole program on a grid in the Whistler orbit. They are also selecting drill targets at the prospective Muddy Creek target, 15 kilometers southeast of Whistler, with the potential to declare an additional discovery. 
It is interesting that while these targets appear widely spaced, it is apparent flying through the valley between Muddy Creek and Island Mountain north to the Whistler deposit and Rainmaker and Raintree zones, that there may be as much as a decade of exploration targets to investigate.