GoGold on Path of Gammon Gold's Success in Mexico
Please Note: Blog posts are not selected, edited or screened by Seeking Alpha editors.
Seeking Alpha Analyst Since 2009
Mike Niehuser is the founder of Beacon Rock Research, LLC which produces research for an institutional audience and focuses on precious, base and industrial metals, and substitutes, oil and gas, alternative energy, as well as communications and human resources. Mr. Niehuser was nominated to BrainstormNW magazine's list of the region's top financial professionals in 2007. Mr. Niehuser was previously a senior equity analyst with the Robins Group where he was a generalist and focused on special situations. Previously he was an equity analyst with The RedChip Review where he initially followed bank stocks but expanded to a diverse industry range from heavy industry to Internet and technology companies. Visit his site: Beacon Rock Research (http://www.beaconrockresearch.com/)
GoGold Resources Inc. (OTCQX:GLGDF) appears to be repeating the success of Gammon Gold's, now AuRico Gold Inc. (AUQ), 4.4 million ounce gold equivalent Ocampo gold-silver mine (with annual production of over 100,000 ounces of gold and four million ounces of silver annually) in Chihuahua State, Mexico. On February 15, 2011, about six months ago, GoGold announced the acquisition of the San Diego project in Durango State, Mexico. In our opinion, the opportunity to repeat the success at Ocampo reminds us of our investment idea pick of ATAC Resources Ltd. (C$1.15 per share as of September 9, 2009 reaching a high of C$10.34 per share on July 25, 2011).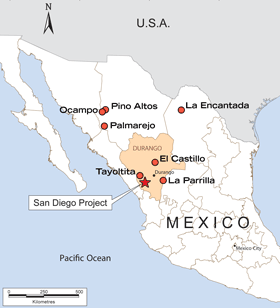 GoGold President and CEO Terry Coughlan was a co-founder and former director and Vice President of Gammon Gold. Brad Langille, former CEO and also a co-founder of Gammon Gold, is a Strategic Advisor to GoGold. Following the discovery and development of Ocampo, Langille, with 15 years of business experience in Mexico, pulled together the San Diego gold-silver project which was brought into GoGold in April of 2011. We believe that GoGold has the potential, with the proven experience of the co-founders of Gammon Gold, to retrace the steps of the success at Ocampo. Upon the announcement of the acquisition, Terry Couglan commented that:
"This is a significant milestone for us, based on my experience in Mexico, the work the MDD (Minera Dorango Dorado S.A. DE C.V., 100% owned by GoGold), team has completed over the past two years, with regards to consolidating such a large group of claims is highly commendable. The area is reminiscent of when I first visited Ocampo in 1999 where we developed one of the largest gold mines in Mexico which now employs over 3,000 people."
The San Diego Project in Durango State, Mexico
The San Diego project has many similarities to Ocampo. Both projects are in highly altered low-sulfidization epithermal systems with gold and silver mineralization in the Sierra Madre Occidental gold-silver belt. Like Ocampo, San Diego appears to have the potential to host a number of large, lower-grade areas amenable to open pit mining, and higher-grades with potential for underground mining. The Ocampo project covers about 15,000 hectares, compared to the district-sized San Diego project including over 70,000 hectares (with a strike length of 35 kilometers and 25 mineralized targets). GoGold plans to rapidly build a million ounce gold equivalent resource in the San Diego North (Area A), focusing on the Breccia Hill zone, with the expectation of identifying multiple potential resources in other areas.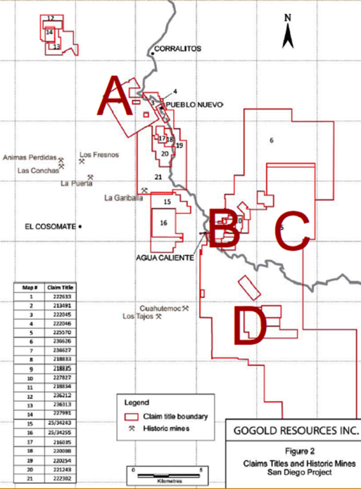 Prior to Brad Langille pulling the disparate properties together, the San Diego project had not been explored with systematic mapping or modern mining methods. The project area includes evidence of numerous historic past producing hand-dug mines, reportedly dating back to the 1700's. San Diego has been mined by numerous artisanal miners over the decades, many of whom are now working for GoGold. Langille was directed to the San Diego project area by both the then current Governor of Durango State and the Mining Minister, and continues to enjoy encouragement by the government and local community.
The project area benefits from the excellent availability of existing infrastructure. It is currently possible to drive by road to Breccia Hill, GoGold's most advanced target at San Diego North. The local terrain is generally forgiving for exploration geologists. The project is easily traversed in low areas between significantly altered hillside outcrops. The project is about a three and a half hour drive from Durango City, Mexico, and management reports that the project is located near a planned highway. There is adequate water and a transmission line provides power to a nearby town. 
San Diego North (Area A) – Breccia Hill
GoGold has taken thousands of samples from outcrops, trenches and historic underground workings at San Diego. The Breccia Hill has attractively exposed alteration over a several hundred meter hillside. The area of interest is generally defined in an area 400 meters in length, 160 meters wide and vertical relief of 150 meters. The weatherized outcroppings readily visible over 100 meters, with numerous historic workings, is attractive for exploration testing, and possibly mining. The exposed hillside suggests a low strip ratio, which should be viewed positively in future economic assessments.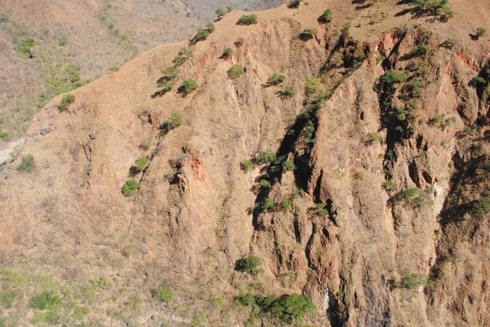 GoGold's stock price reflects early enthusiasm for their district size project and a successful rock sampling program at Breccia Hill. GoGold has taken
918 samples within the San Diego North Breccia Hill Open Pit Target, with an arithmetic average of 1.52 g/t gold equivalent (1.23 g/t gold and 13.15 g/t silver)
. Notable trench samples include
L-004, over sixty meters grading 1.26 g/t gold equivalent (0.68 g/t gold and 26.7 g/t silver)
and
L-008, over 29.9 meters grading 3.56 g/t gold equivalent (2.63 g/t gold and 43.1 g/t silver)
.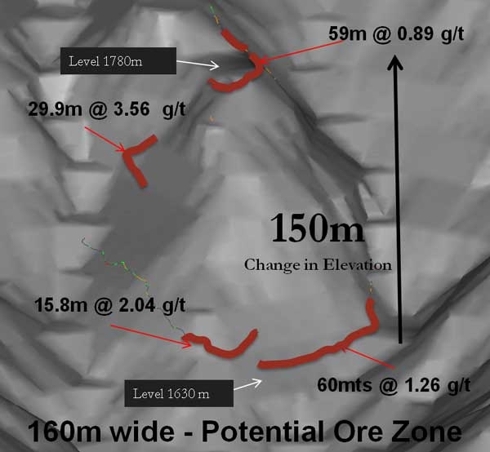 They have completed a substantial amount of underground sampling over wide intervals, also suggesting potential for mining lower grades by open pit. Highlights include
SDL-07, over 49 meters grading 0.44 g/t gold equivalent (0.33 g/t gold and 5.01 g/t silver) plus higher grades over 36 meters of 3.12 g/t gold equivalent (2.81 g/t gold and 14.32 g/t silver)
and
SDL-31, with 27.4 meters grading 1.44 g/t gold equivalent (0.78 g/t gold and 30.55 g/t silver)
.
Some shorter intervals with higher grades than normally expected for open pit mining may suggest further potential for underground mining. Highlights include
SDL-52, over two intervals grading 30.19 g/t gold equivalent (23.86 g/t gold and 291.33 g/t silver)
. High grades with slightly higher intervals minimizing dilution include
SDL-28, over 7.84 meters grading 13.25 g/t gold (12.51 g/t gold and 34.12 g/t silver)
,
SDL-13, over 5.3 meters grading 14.17 gold equivalent (12.68 g/t gold and 68.5 g/t silver)
, and
SDL-26, over 5.82 meters grading 9.75 g/t gold equivalent (8.66 g/t gold and 50.5 g/t silver)
.
San Diego East (Area C) – Chispa De Oro
In addition to the successful sampling programs at San Diego North, GoGold recently released sampling results at San Diego East (Area C) at its Chispa De Oro target. GoGold believes that they have discovered a 2,500 meter by 750 meter area with wide spread gold and silver mineralization. Within this area, GoGold mapped a 1,000 meter by 750 meter area, and has taken
1,380 samples with a weighted average of 0.40 gold equivalent (0.205 g/t gold and 9.20 g/t silver)
. While these assays at Chispa De Oro are below that of Breccia Hill, with additional exploration success these results may add to the potential for Chispa De Oro to represent another large bulk tonnage target within the San Diego Project.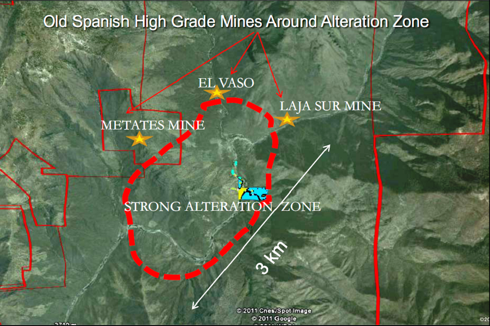 Like Breccia Hill, Chispa De Oro may have a higher grade component that may accent wide-spread low-grade gold and silver mineralization. GoGold noted one structure sampling over
24 meters of 9.72 g/t gold (7.62 g/t gold and 96.48 g/t silver)
. The true width of this interval is
2.0 meters, and one sample, is 65.20 g/t gold equivalent (57.16 g/t gold and 369.97 g/t silver)
. Understanding of Chispa De Oro is early with the potential to add both low and high grade resources.
The release on initial sampling at Chispa De Oro is also only the first release of results on San Diego East. We anticipate that GoGold will learn as they go, and there is the opportunity for the company to complete a program at San Diego East, that when combined with San Diego North, offers investors an improved perspective for future exploration. 
Our Early Assessment of GoGold Resources
We believe the comparison to the upside of ATAC at the time of our investment idea report in 2009 is representative of the investment opportunity with GoGold, but the side-by-side comparison should prompt readers to apply additional scrutiny to our opinion. At the time of the report, ATAC had completed a significant number of drilling and metallurgical studies. While ATAC at the time of our report was more advanced than GoGold, both companies have indications of high grades over wide intervals, with a large land positions and potential for mineralization along trend, and are in political jurisdictions that are very friendly to resource exploration and the mining industry.
We believe GoGold has some advantages over ATAC. The level of infrastructure, including water, power, and road access, is superior to ATAC, which should allow a more rapid and year-round exploration. They are also without the recognized constraints facing ATAC of remoteness and harsh winter weather conditions. In addition, investors may recognize similarities between Ocampo and San Diego, and readily visualize the potential for GoGold's team to repeat their success with a similar project in a similar geologic mineral belt in Mexico.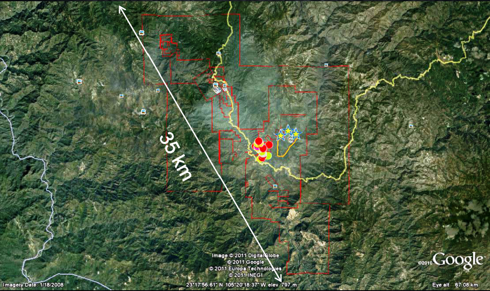 Having not completed any drilling as of yet, GoGold should be recognized as early but with interesting potential. The Breccia Hill and Chispa De Oro areas comprise a very small portion of GoGold's total land position, leaving open the opportunity for discovering additional areas of higher-grade mineralization at San Diego. GoGold has plans for drilling 11,000 meters, with drill results and new flow accelerating in September with the expectation of completing the first resource estimate early in 2012. Should drill results support sampling programs, GoGold may be well on its way to building a promising resource with momentum to explore the balance of the district size land position.
[GoGold reports only 55.9 million shares outstanding (59.7 million diluted) with 47% insider ownership and 37% by institutional investors. As of March 31, 2011 GoGold reported C$6,275,682 in cash. Typical of resource exploration companies, GoGold will complete additional equity offerings to complete an appropriate level of exploration at its San Diego project.] 
Seeking Alpha's Disclosure: Past performance is no guarantee of future results. No recommendation or advice is being given as to whether any investment is suitable for a particular investor. Any views or opinions expressed above may not reflect those of Seeking Alpha as a whole. Seeking Alpha is not a licensed securities dealer, broker or US investment adviser or investment bank. Our analysts are third party authors that include both professional investors and individual investors who may not be licensed or certified by any institute or regulatory body.