Tintina Resources Inc. (TINTF.PK) announced completion of a second resource estimate, the Lower Copper Zone (LCZ), at its Sheep Creek copper-cobalt-silver project near White Sulphur Springs, in central Montana. In addition to a 366 million pound Inferred copper resource in the Upper Copper Zone (UCZ), additional resources in the LCZ add an additional 255 million pounds of Inferred copper resource in the Strawberry Butte area.  Altogether, Tintina is about two thirds of the way to reaching its near-term goal of establishing a billion pound copper resource at Sheep Creek.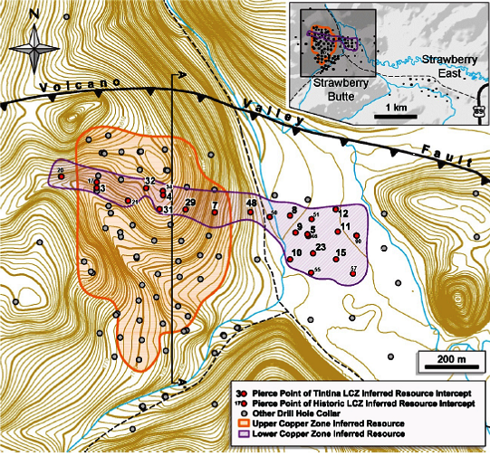 Similar to previous work contributing to completion of a resource in the UCZ, Tintina followed up exploration programs by Cominco American Inc., BHP, and Utah International, carried out between 1985 and 1989. This previous drilling at Strawberry Butte in the LCZ consisted of ten historic drill holes totaling 4,668 meters. Tintina completed an additional 15 drill holes, totaling 6,979 meters, confirming historic drill results leading to completion of the resource estimate.
The new resource at Sheep Creek in the LCZ has only one third the tonnes of the UCZ, but is about twice the grade than the resource in the UCZ. The new Inferred Resource in the LCZ is 2.5 million tonnes grading 4.71% copper, 0.06% cobalt, 5.1 g/t silver, and 0.35 g/t gold, containing 255.6 million pounds of copper. The UCZ has an existing Inferred Resource estimate of seven million tonnes grading 2.4% copper, 0.12% cobalt, and 12.3 g/t silver, containing 366 million pounds of copper. (Both resource estimates assumed a 1.50% copper cut-off grade and copper price of $2.50/lb.)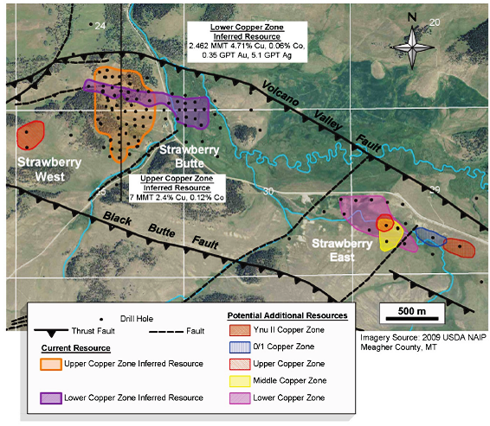 Having established a resource in both the UCZ and LCZ at Strawberry Butte, Tintina is now turning its drill focus on the Strawberry East area about 2.5 kilometers to the east. Tintina has drilled only eight holes totaling 5,300 meters in the Strawberry East area. The most important hole in the Strawberry East program was
SC10-006, discovering the Middle Copper Zone (NYSEMKT:MCZ), intersecting 46.62 meters grading 2.56% copper
. Management plans to complete an additional 8,000 meters of drilling in Strawberry East in 2011, providing additional data for a resource estimate at the end of the year.
Altogether, work begun early in 2011 and proceeding through year end should transform the company's investment profile. In summary, this may include an upgrade of the Inferred resource in the Strawberry Butte UCZ and a Preliminary Economic Assessment, providing an overview of the economics on the existing identified copper-cobalt-silver resource. In addition, we may anticipate the completion of an Inferred resource in the MCZ and LCZ of the Strawberry East area. As of June 30, 2011, Tintina had about $32.5 million in cash, which is more than sufficient to complete the 2011 exploration and development program at Sheep Creek.
The Sheep Creek project is located about 17 miles north of White Sulphur Springs, within two miles of U.S. Highway 89 along a well-maintained gravel road. The Sheep Creek property consists of approximately 12,225 acres of fee simple lands and mining claims.  Tintina continues to evaluate several tabular mineralized zones along a four kilometer strike length.  Tintina has two drill rigs on site and will continue drilling through 2011.
The Sheep Creek project, developed as a high-grade underground mine, should have a small footprint relative to other non-mining commercial, agricultural or recreational developments. From our perspective, having visited Revett Minerals Inc.'s (TSX:
RVM
) Troy mine, a copper-silver deposit mined by the room and pillar method, the Troy mine provides a good example of a comparable mine (silver-copper) operating in Montana with an excellent record of environmental compliance.

[Barrick Gold Corp's (NYSE: ABX) acquired Equinox Minerals (TSX: EQN), with copper reserves of about six billion pounds, in a deal valued at C$7.3 billion. Barrick acquired Equinox's total copper resources at $0.50 per pound, or 12% of the market value of the in-ground resource; or Equinox's copper reserves only, at $1.28 per pound, or 30% of the market value of in-ground reserves. Presently, and assuming a copper price of $4.00 per pound, Tintina's market capitalization is about 3% of the now identified Inferred resource. From another perspective, one billion pounds of copper may be roughly equivalent to a 2.7 million ounce gold deposit. Importantly, investors should note that Inferred resources may not be proven to be economic and may never be mined.]