We were pleased with the appreciation results of our precious metal developer picks in the first quarter of 2009.  While the quarter end appreciation average was about 52%, for each pick the closing price at the end of March was not the high for each company in the first quarter, and each high was above the closing price for 2008.  Resource developers require effective credit or capital markets and bear a higher than average amount of risk.  The absence of willingness and ability of banks to lend or invest in November and December of 2008 pushed resource developers to extreme lows regardless of their underlying assets or management's success in creating value.  This was, no doubt, exacerbated by the "January effect" or tax loss selling.
We observed that certain precious metal developers may have provided an above average opportunity for return in 2009 given the extreme low prices.  Holding less risky assets, ranging from short term U.S. Treasuries or even physical gold and silver, clearly was a less risky way to preserve principal but with more modest returns.  While many resource developers may not be viable, companies with good assets and prospects for eventual development stood a good chance of survival.  As some of these were trading near cash, at levels below book value, or excluding credit for other assets, in many instances the break up value was above the observed market price.  This was attractive to contrarians and "smart money."  Almost all of our picks successfully raised capital or attracted strategic investors or partners in the first quarter, and even with ensuing dilution, the actions were well received by investors as stock prices rebounded.  This reassured us that markets were still functioning, rewarding prospects for improving fundamental value, and providing a place for stock picking.
On a macro level, our investment thesis was predicated on the Irving Fisher Money Equation and the idea that the increase in money supply without complimentary economic growth (with resumption in the velocity of money) would lead to inflation and higher precious metal prices in 2009.  In addition, we believed that slower economic growth and reduced demand for base metals would free up industry resources and bring down costs for developing and operating precious metal projects.  This would suggest expanding margins for metal producers and increasing demand to develop projects.  While higher precious metal prices partly came to pass, the increase in precious metal prices to date appears modest given the financial press on potential inflation, international monetary anxiety, and promotion by gold and silver bugs.  In fact, the increase does not appear out of proportion with the anticipated seasonal appreciation resulting from various holidays in Asia and the Middle East.
There appears to be a growing consensus of higher precious metal prices in 2009.  We have a somewhat more moderate and possibly less popular position, that the velocity of money will remain subdued in 2009 and mounting inflationary forces may remain caged.  This appears evident by many economic forecasters suggesting an upturn in late 2009 or 2010.  In our opinion, a sustained upturn would require a less risky lending environment characterized by stable or a reduction in regulations, taxation, or "change."  Recent comments by government officials of perceived opportunities and to not let a "crisis go to waste" provide unbearable levels of risk and uncertainty for long term investment even with "public-private partnerships."  Should we be incorrect and inflation increase, we may expect costs to accelerate as well.  In any event, we optimistically believe margins on average will be preserved, allowing for selection of companies with above average potential for development.
The appreciation of the six precious metal developer picks appears to be recognition by investors that these companies should remain viable and have good assets and prospects.  We remain confident that each should have prospects for demonstrating improving fundamentals in 2009.  For each company, we anticipate additional drilling and completion of economic or engineering studies, which should provide a greater level of clarity in determining feasibility and development timeline.  Regardless of our sanguine perspective on metal prices, we suspect that against the backdrop of current events, investment in precious metal developers with good prospects should remain of interest to investors.
Summary of Company Progress in the First Quarter of 2009
NovaGold Resources Inc. (NYSEMKT:NG) has one of the largest resource bases of any small to mid-cap gold company with 50% interests in two of the world's largest gold and copper-gold projects.  NovaGold completed a $75 million private placement in early January with a private equity firm and three existing shareholders, providing strategic working capital to cover their programs for 2009 and 2010.  The final documentation is underway on the Feasibility Study for the Donlin Creek project, in a 50-50 joint venture with Barrick Gold Corporation (NYSE:ABX), which is expected in early 2009.  Barrick has already released its updated resource showing nearly 36 million ounces of the Measured and Indicated resource within the conceptual pit, so we anticipate a significant reclassification of this resource to Proven or Probable reserves.  Completion of the Feasibility Study on Donlin Creek should provide improved visibility on project scale, capital requirements and timeline.  Completion of a positive Feasibility Study on Donlin Creek should result in an upward revaluation of NovaGold as the project moves into the permitting phase. Also we would anticipate Barrick highlighting the project more as the project proceeds toward a production decision.  Presently, NovaGold has nearly 22 million ounces of gold (plus 4.5 billion pounds of copper and 62 million ounces of silver) in the Measured and Indicated classification.  NovaGold's other assets include the world-class Galore Creek copper-gold project and the Rock Creek gold mine.  NovaGold does not appear to be getting any value for these other significant assets in the current market.  Based on their 50% share of Donlin Creek alone, at $45 per ounce (based on more conservative post correction acquisition levels), NovaGold may be valued at more than $6 per share not including its other assets.
Seabridge Gold Inc. (NYSEMKT:SA) incorporated drill results at its Mitchell zone at its KSM project, increasing the Measured and Indicated gold-copper resource to 30.8 million ounces of gold and 6.0 billion pounds of copper (plus an Inferred resource of 8.4 million ounces of gold and 1.6 billion pounds of copper) from an Indicated only gold resource of 16.3 million ounces of gold and 2.9 billion pounds of copper (plus an Inferred resource of 13.3 million ounces of gold and 2.2 billion pounds of copper).  Seabridge subsequently incorporated drill results increasing the Indicated resource at Sulphurets to 2.0 million ounces of gold and 520 million pounds of copper (plus an Inferred resource of 3.3 million ounces of gold and 603 million pounds of copper).  As we anticipated, the project appears more economic with additional drilling within the pit converting waste to ore.  Also, with the potential link-up of the pits for the Mitchell and Sulphurets zones, excess waste is reduced.  The connected pits may also provide a more direct path for conveying ore from the Sulphurets zone through the Mitchell zone for processing.  This does not include the nearby Kerr zone, with an Indicated gold resource of 1.7 million ounces of gold and 2.0 billion pounds of copper (plus an Inferred resource of 405,000 ounces of gold and 601 million pounds of copper).  Prior to the increase in the resources of the KSM project, we justified a $54 per share valuation for Seabridge based on its two primary assets (not including copper resources).  Seabridge's gold resources total about 61.5 million ounces, or about 1.6 ounces of gold per diluted shares.  Seabridge is scheduled to complete an updated economic study on the KSM project in the first half of 2009, which should provide additional clarity on the potential of the KSM project.
Exeter Resource Corporation (NYSEMKT:XRA) incorporated drill results into its first (interim) resource estimate at its Caspiche gold-copper porphyry project in northern Chile.  The project is well situated between Kinross' Refugio mine with 6.2 million ounces of gold, and the Barrick/Kinross Cerro Casale project with 25 million ounces of gold (grading 0.69 g/t gold and 0.26% copper).  Barrick acquired 51% of Cerro Casale for $775 million in October of 2007.  Caspiche has an Inferred estimated resource of 182.9 million tonnes for 8.73 million ounces of gold (grading 0.60 g/t) and 2.1 billion pounds of copper (grading 0.25%).  Exeter still has 4 drill rigs turning at Caspiche and intends to announce a second resource estimate in September 2009.  Given that much of the new drilling is outside of the drilling pattern that led to the 8.7 million ounce interim resource, there is considerable scope for an expansion of their resources.  Interestingly, the resource includes an oxidized cap containing an estimated 1.3 million ounces of gold.  This is likely to provide a boost to its economics, with the potential for low cost heap leach early in the project's mine life.  Exeter is currently working on environmental, metallurgical, and engineering studies for incorporation into higher level economic studies.  Exeter has one of the most prospective land positions in Argentina and Chile, and is well capitalized, having $22 million in cash on its balance sheet as of the end of its third quarter and having recently completing a bought deal with gross proceeds of $25.2 million.
Limosna Ridge, Malku Khota Project, Bolivia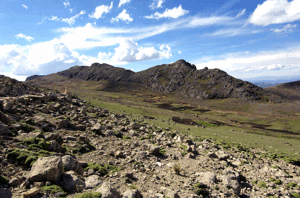 Source: South American Silver
South American Silver Corp. (SOHAF.PK) completed a preliminary economic assessment on its Malku Khota project in Bolivia.  The study estimated a base case, pre-tax net cash flow of $1,233 million (NPV of $326 million at a 10% discount rate) and an internal rate of return of 50.7%.  The study suggested a 20,000 tpd acid heap leach operation with a mine life of 36 years.  The Malku Khota silver-indium deposit is one of the largest silver discoveries in the current metal cycle with an Indicated Resource of 144.6 million ounces of silver and 845,000 kg and an Inferred Resource of 177.8 million ounces of silver and 968,000 kg of indium.  Indium is an important industrial metal used in flat screen televisions and solar panels. The deposit has good exploration upside, as the resource covers only 3.5 km of the project's 15 km strike length.  South American is reasonably well capitalized, with cash and cash equivalents of $7.4 million as of the end of 2008.  We continue to believe that the international relations may stabilize or improve with the change in administrations in the U.S.
Alexco Resource Corporation (NYSEMKT:AXU) is proceeding with underground development at its high-grade silver and base metal Bellekeno project (Inferred resource of 537,000 tonnes containing 1,016 g/t silver, 13.5% lead and 10.7% zinc) in its wholly owned Keno Hill silver district in the Yukon Territory.  Alexco recently announced completion of a non-brokered private placement, with gross proceeds of $6.0 million.  Construction should be fully funded by the transaction with Silver Wheaton Corp. (NYSE: SLW).  Bellekeno is anticipated to be a modest but high-grade and highly profitable operation, fueling development of the district.  Keno Hill may be early in its production history, having produced over 217 million ounces of silver between 1921 and 1988, and having been explored to depths of only several hundred meters.  We believe the district has the potential to rival Idaho's Silver Valley, which has produced over a billion ounces of silver, and mined to depths of over 5,000 feet.  Underground development should lead to a positive mine decision and revaluation of company shares.  In addition, we anticipate that along with production at Keno Hill, Alexco should commence work under its environmental contract with the Yukon Territory, which should also increase cash flow and development of the district.
Etruscan Resources Inc. (OTC:ETRUF) has attained full commercial production at its Youga gold mine in Burkina Faso.  The project should benefit from higher than anticipated gold prices and future connection with the power grid.  Etruscan has completed a Feasibility study on its Agbaou project in Côte d'Ivoire and commenced a Feasibility study on the Finkalo project in joint venture with Resolute Mining Ltd. in Mali.  They have increased the resource at Youga by 350,000 ounces of gold and have made a rare earth discovery in Namibia.  Etruscan has the largest land position of any mining company in the region, and is well positioned for further exploration and development.  We anticipate that with the recent placement, Etruscan may be in an improved position to optimize operations at Youga and expand or prioritize exploration opportunities.
The author is long NG, SA, SOHAF.PK, AXU and ETRUF.PK.   An affiliate of the author's employer provides corporate advisory services to NG, AXU and ETRUF.PK.