The U. S stock market has been on fire these past few weeks even after the results of the Brexit and the continuation of the slow growth seen in the global markets. While it was great for all investors who had their investment in the stock market, from a contrarian point of view, the recent rise in the stock market was concerning. Every investors' goal should be to make money in the stock market. That is why we invest in the first place, but is now the right now to jump into U.S stock market? This article will provide justification and rationale on why average investor should not buy into the market at these levels.
First, we look at the growth rate of companies within the U.S. Below showed the U.S GDP Growth Rate for the past 10 years according to Trading Economics.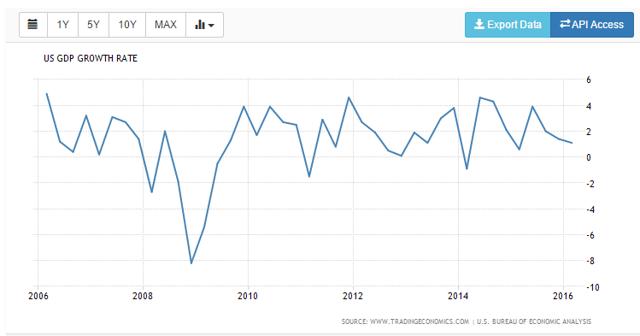 Source: tradingeconomics.com
What this showed was that the growth of the U.S has been steady at around 6% to -2% growth rate for the past 6 years. The only time the U.S growth rate was below -2% was in 2009. While many great financial gurus out there preach that you cannot time the stock market, Warren Buffett has said repeatedly that an investor should not be jumping into the stock market unless it looks attractive. He said, "the stock market is a no-called-strike game. You don't have to swing at everything - you can wait for your pitch". At current market levels, the S&P500(NYSEARCA:SPY) is positive 4.21% since beginning of the year while the Dow Jones Industrial Average (NYSEARCA:DIA) is positive 4.14% for the year. Plain and simple, this is not a buyer market, it's a seller market. Now sure, there are bargain out there such as Wells Fargo (NYSE:WFC), Warren Buffett's favorite holding, but we do not know the true impact of Brexit will have on Wells Fargo profitability and operation. It's selling at a discount for a reason. Now, long term investor can look at this as an investment opportunity and look to buy Wells Fargo. But for average investor who do not have time follow each individual companies and want to invest safely in an U.S stock market index fund, the yearly performance and the U.S recent growth rate trend showed that now is not a time to buy. In hindsight, the time to buy was during 2008 when GPD dropped to -6% but many investor did not see that during that time. What we can do is to be at least better educated and prepared for when the next opportunity is presented to us.
The second reason why it is not time to buy into U.S stock market is due to current economic condition. Last Friday, we received great job report and the U.S unemployment rate is currently at 4.9%. CNBC reported in an article recently that the U.S created 287,000 jobs in June which massively exceeded analyst estimates. The recent news showed that the U.S economy continued to run healthy and performed at an outstanding level. Looking at CNN tool to measure greed or fear, the gage currently reads 78 on the scale of 100 for extreme greed. For these reasons, average investors should be worried since their investment is in an overvalue market. As a average investor with some funds in the savings account, I'm waiting for either when the U.S is in a recession or we have a market correction of 10%. Now, we cannot predict when the U.S will be in a recession or when the market will pullback, but you have to asked yourself, why would you invest your money right now in the stock market. What are the buy reasons? Most investors missed the opportunity to take advantage of the 2009 crashed was because they had majority their money invested in the stock market. The smart and intelligent investor made sure they had a portion of their money available and ready to take advantage of market irrational behavior. So if you have a 401K that is set up to invest automatically in the stock market or an investor looking to invest, now is a time to ask yourself if the stock market is presenting a buying opportunity.
Lastly, we take a look at the housing market condition as it relates to the U.S stock market. Although they are two very different industry, in context, they are tie together to give us a sense of how things are looking in the U.S economy. I recently checked my home pricing estimated and found that it was priced around the same price as it was before the U.S housing crash in 2009. From a homeowner point of view, this is great but as an average investor who is looking to buy a future home to create a better future for his or her family, the pricing does not present a buying opportunity. Does that mean the recent housing recovery indicates another housing crash? The answer is that there is no way to tell. We do not know what the future holds. What we do know is that the housing crashed had a direct impact on stock market. According to CNN recent article, the average household $53,657 a year while according to the recent U.S housing census, the average price of home sold in April 2016 was around $378,000. Using a Zillow's mortgage calculator, for an average household with a $53,657 salary, the monthly mortgage payment would be approximately $2000 if they took a FHA loan with 3.5% down payment. That means half of a household salary would go to paying for the mortgage. This proved that an average household in the U.S cannot afford to buy a home and live comfortably.
Now, intelligent people would argue and say that this time around is different and the U.S future should be bright. They would say we learned on our past mistake and are better prepared for potential market bubbles in credit/loan markets and internet stocks. While this is 100% true, but the truth is that we do not know where the next bubble will come from. Some have said the next bubble will come from the students loan since the data showed student loan debt at 1.2 trillion dollars and climbing. But again, we do not know where the next bubble will come from and what industry it will hit. Warren Buffet recent interview with Charlie Rose confirmed that the U.S will have future bubbles, recessions and stock market corrections. The safest route an average investor can take is to prepare for the bad times by saving more to be able to advantage of the next market pullback.
In conclusion, at the current levels of the U.S stock market, the average investor would be wise to stay on the sideline and wait for better investment to present itself. When you look at the current market and the housing pricing level, you can conclude that now is not a time to buy. Right now, it is a great time to make your list of stocks you would like to buy when we do have a pullback in the stock market. Also, it would not hurt to reevaluate your currently holdings to see if there are any overvalue equities that can be sold to take advantage of the market record high.
For more stock analysis, visit my site.
Disclosure: I am/we are long WFC, DIA, SPY.