Spectrum Pharmaceuticals is like the "Little Train that Could" story. The company and its shareholders are full of optimism and hard work. Anyone familiar with the newly reorganized company must pay their respects to Rajesh Shrotriya , M.D.,

the company's CEO and President. Dr Shrotriya took the failing

NeoTherapeutics and turned it around into an emerging biotech that unarguably has the most sound financial footing in the small cap industry with a whopping $150M cash on hand. The interesting question is what with they do with the money? There have been rumors of buyouts, but I have to believe that Spectrum is looking for new drug candidates. Rather than look for a new candidate, why not obtain a whole new pipeline. I'm talking about SOLIGENIX formally DOR Biopharma. SOLIGENIX is actively looking for partners or a merger. They have a pipeline that's every bit as exciting as Spectrums, and they need money. I especially like their government contacts and contracts as well as their biodefense pipeline. Now there's a honey-pot Pooh! 

Michael Vlaicu at Biomedreprts.com  has written a complete description of the potential of SOLIGENIX
at Biomedreports.com here. I won't repeat his excellent research, but I will join him with the same enthusiasm for the company and its prospects. The combined Spectrum-SOLIGENIX pipeline would read like a major pharmaceutical, and that would get investors excited about the combined company.

Real quickly, I want to mention today's technical chart for Spectrum. The company has seen a full 100% retracement from the August 17 low leading up to the Zevalin approval. In other words the market has completed discounted Zevalin. That's a good thing for those just getting in. Speaking of getting in. Look at the money flow index. It's as low as it is possible to get without a flood of buyers getting in on good news.  Remember to sell when it hits 80 if you are swing trading.
 
The discounting of Zevalin means there's a lot of upside potential regardless of the Fusilev approval. It will take a quarterly report showing Zevalin sales growing to make the market stand up and take notice. Once that happens, all bets are off. This is what Spectrum has been working for. If they follow through, the company will earn a great deal of respect.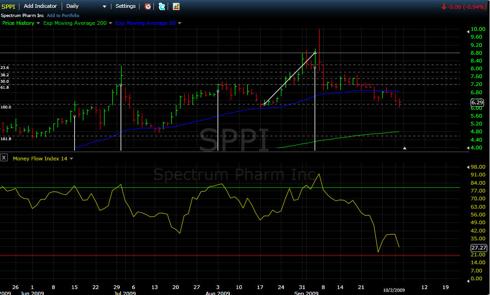 The Fusilev approval is not an item of interest to me with regards to earnings. If you use Justin Hall's figures for expected sales of 200,000 units along with my own research indicating $50 for each 50 mg vial, we can expect revenues to increase by $10M next year. Don't get me wrong, I like a solid $10M added to the top line, but as far as the expected pop in share price, I don't expect it to add more than $1. That puts my estimate for the post approval share price at $7.50. Oh wait, that number rings a bell? That's exactly what the institutional buyers thought it was worth. It's funny how smart those guys are sometimes. It's a fair price for a good company with lots of potential.