It was dissapointing today to say the least.  We had two Fibonacci
levels to move towards.  The approval would have sent the stock to
$7.23.  We didn't get the approval.  The stock went to $6.23 which is
the 100% retracement level.  In other words the stock has reached the
low before the Zevalin approval.  That means all of the value of the
Zevalin approval has been discounted.  If you are in for the long term
you should buying.  The stock sits at a precipice.  The next Fib level
down is $4.95.  Those of you that are long remember the last time we
were there. It's not entirely out of the question, however, if the
stock moves there, it would be a great buying opportunity. I don't
think it will happen since there is $4 cash on hand.  A delay might
cause a drop below $6.23, but it would be followed by a gradual move
up to the present $6.23 level. The reason I say this is that  the level of the money flow index (the bottom graph below) is screaming at us to buy.  It's buying time when that number hits the red line. Sell when the stock price goes over the green line. It's not rocket science.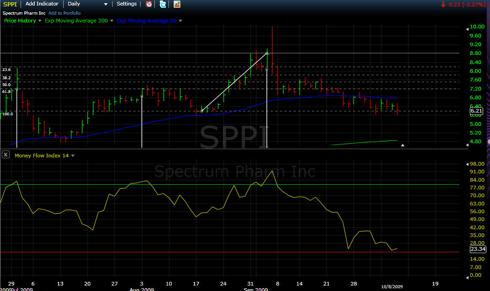 There are several 4Q announcements to look forward to.  Theres a
November sit down with the FDA to go over the design of the fast track
for Eoquin.  Theres the expected concurrence from the EMEA for the BCG
failure study.  Theres the closing of the enrollment for the 2 phase 3
studies for Eoquin.  Theres the closing of enrolment for Ozarelix.  There is the announcment of an Asian partner. There is the 3rd quarter results that will very likely show growth in  both Zevalin and Fusilev.  This can be predicted this by linearly extrapolating the last 4 quarters revenues for both drugs.  

Position: none..probably long tomorrow on the initial dip