As the markets have moved off of their lows the past 4 weeks, a number of positives have revealed themselves on the charts of the major indices. In particular, it has become apparent on the charts that the NASDAQ 100 index via the QQQQs look to become the initial leaders of the next bull cycle, with the Dow and S&P 500 ultimately lagging behind.
The QQQQs have now been above their 50-day simple moving average (NYSE:SMA) for the past 18 days. This is the longest continuous stretch above the 50-day SMA since August of last year. While the 50-day SMA is still flattening out on the Dow and the S&P 500, the QQQQ's 50-day SMA has finally turned up, moving up 6 cents a day to its current reading of $29.47.
A look at the chart below shows how the QQQQ's are only 5.7% below its declining 200-day SMA, while the S&P 500 is still 13.8% below its 200-day SMA and the Dow is 13.2% below this long term moving average.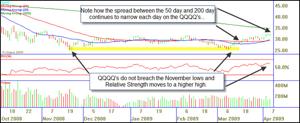 Note how the QQQQ's held above the November lows and how the RSI has now made a higher high, two other positive technical divergences of significance.
While it is impossible to discern when a true bottom will be made on all of the indices for this bear market cycle, the QQQQ's technical strength points to this index as being the first that will move to a higher high later this year, confirming a move into a new bull market ahead of the other respective U.S. indexes.
Disclosure:  The author does not have a position in any QQQQ related instruments.