For the fifth year running, Fortune China has published its "25 Most Influential Business Leaders in China 2008" list, the feature article in the April issue. As in the past, selection was based on "leading executives influential within their corporation and industry, and capable of changing things on a wide scale," both in China and internationally, said the syndicate.
A sign of the times, the 2008 list pays notice to executives promoting an environmental, social, and governance (NASDAQ:ESG) corporate culture in China more than in years past. Chief among the leaders in this category was publicly traded solar panel manufacturer Suntech's (STP) SHI Zhengrong and rechargeable battery-cum-electric automaker BYD's (HKSE:1211) Chairman WANG Chuanfu.
UK daily Times Online likewise included WANG Chuanfu and his cousin and co-founder, LU Xiangyang, as top "eco-barons lead[ing] the way" on their published Green Rich List. Known for his gumption and leadership of a company with big green ambitions, it is no great surprise that Fortune and the Times have singled Wang out as an executive to watch. But does his company, BYD, exhibit equal promise from an investment point of view?
Focus on BYD

With a CEO who likes to carve out an egde in the market, BYD is a company with big ambitions. Until recently, BYD was known as a battery maker. It supplies the big cell phone companies – Nokia (NOK), Motorola (MOT), Samsung, and Sony Ericsson – with more batteries than any of its competitors; and has scooped up contracts to supply iPod and iPhone batteries, rising to the top of its class. In January of this year, BYD entered a new league, stepping up its proposition substantially by unveiling a Chinese contender in the electric vehicle market: the F3DM (DM stands for "dual mode").
BYD's story begins like most tales of Asian ingenuity. The company's founder, Wang Chuanfu, set out in 1995 to build a cheaper alternative to Japanese and South Korean batteries. He spent a decade engineering a better battery (and succesfully fighting off copyright infringement suits from his competitors) to emerge as the world's second-biggest producer of lithium-ion batteries.
In 2003, Wang bought a bankrupt Chinese state-owned car company. Though he knew little about cars, he set out to be the best in his field and – as with batteries – succeeded. Last year, the BYD F3 sedan was the bestselling sedan in China, beating out previous cars of the people: Volkswagon Jetta and Toyota Corolla.
Over the past years, Wang has grown revenues by roughly 45% annually. 2008 revenues reached $4 billion in 2008.
Each of BYD's business units - batteries, mobile-phone components, and autos - was profitable in 2008, though not immensely so. Overall, net profits reached roughly US$187 million. BYD, which is traded on the Hong Kong exchange, has a market value of about US$3.8 billion. Though that number is below Ford's (F) market value – which stood at US$7 billion in early April – it's higher than General Motors (GM) US$1.3 billion.
So far this year, BYD has had record sales - selling 32,087 vehicles in March (a 35% increase from February sales), which made it the best-selling domestic automaker in China. That same month, BYD enjoyed 231% year-on-year growth.
A Look at F3DM

BYD's electric hybrid model, F3DM, has most of the whistles and bells needed to make it a major contender in the EV market. Equipped with a 1-liter back-up gasoline engine, the F3DM is capable of being charged using a simple home electrical outlet. It can last 62 miles on a single battery charge, or 360 miles in hybrid mode, which compares favorably with the all-electric 40 mile range of the Chevrolet Volt.
The car uses a proprietary lithium-iron-phosphate battery (liFePO4) that has a 600,000 km, or roughly 10 year, lifespan. Wang says the battery is safer than the lithium-ion models, which have not penetrated the market considerably on account of their relatively high price, limited durability and safety concerns.
Finally, the F3DM comes in much cheaper than its competitors. Whereas a Prius will set you back at least US$36,500, Wang expects to price the F3DM at around US$22,000. The Chevrolet Volt is likely to be priced at around US$40,000 when it hits the market in late 2010.
How does BYD's Wang do it?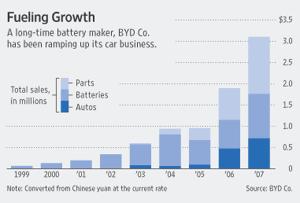 Cost Advantage
 
Unlike most automakers, Mr. Wang is not ashamed of his labor-intensive carmaking style. He has publicly stated that BYD's advantage stems from his choice to replace some of the automated steps of the manufacturing process with inexpensive Chinese labor. Today BYD's 11 factories (eight are in China, and the other three in India, Hungary, and Romania) employ a workforce of 130,000 people.
Every BYD Battery Has a Green Lining
BYD is beginning to emerge as a leader in sustainability, one of few Chinese companies to seriously consider how to integrate environmental best practices into their supply chain. One case in point is Wang's quest to produce a battery that is 100% recyclable. So far, BYD has developed a nontoxic electroyle fluid, which Wang has proven safe by personally drinking it.
While other manufacturers in China have seized environmental opportunities without embracing the principles of corporate responsibility – reports found last year that a polysilicon supplier to China's top PV panel maker, Suntech, was dumping toxic biproduct directly into Chinese waterways – Wang is clear in his determination to avoid making environmental technologies that create new environmental problems.
Warren Buffett is Convinced
Last September, Warren Buffett bought a 10% share of BYD to the tune of US$230 million. He had tried to obtain 25% stock in the company, but was denied by Wang, who saw the Berkshire Hathaway association as a way to build the brand and get a foot in the door in US markets, but did not want to let go of too much of his own company. Buffett has said it "was a good sign" that Wang "didn't want to sell his company."
Buffett and his partners have been practically oozing with admiration for Wang and BYD. Berkshire Hathaway (BRKB) partner Charlie Munger told Fortune that Wang "is a combination of Thomas Edison and Jack Welch - something like Edison in solving technical problems, and something like Welch in getting done what he needs to do. I have never seen anything like it." Believing that BYD has a shot of becoming the world's largest electric automaker demonstrates an investor confidence in BYD that cannot be shaken.
Barriers to Growth
Despite BYD's promising position, the company still faces considerable hurdles in domestic and foreign markets. First, China's lacking battery-charging network is a market barrier for individual car buyers. That may soon change, however, as Beijing has already ordered the state electricity grid to build charging station infrastructure in Beijing, Shanghai, and Tianjin. Second, while F3DM's sticker price is below its competitors, it's still well above what even middle class Chinese can afford. 
Finally, China's car industry – with BYD as no exception – has heretofore captured only a limited slice of foreign markets on account of lacking quality. So far, BYD's vehicles have been exported primarily to Latin American and Southeast Asia, whose fuel emissions and safety standards are less stringent than the EU and the US. However, Wang signed an agreement in 2008 with Dutch dealer Autobinck, to distribute its cars in the Netherlands and Eastern Europe.

Diversified Revenue Stream
Wang remains undeterred by these obstacles, perhaps because he is confident that BYD can remain competitive even if it's hybrid electric model cannot. His contingency plan centers around maximizing sales of what he knows best: batteries.
On March 31, WSJ reported that BYD is in talks to supply its batteries to car companies in Europe and the US. Wang revealed that the discussants include one US and two EU automakers, but refused to identify the companies by name.
Market Advantage

China has surpassed Germany and Japan to become the world's second largest car market. But with over 100 domestic carmakers, BYD faces steep competition. That could soon change, as new policies (both already in place and in the works) aimed at increasing EV market penetration create a market advantage for producers like BYD.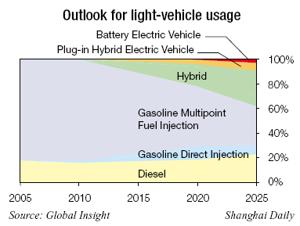 Beijing hopes to raise annual hybrid and all-electric vehicle production to 500,000 by 2011. In order help EV manufacturers more competitive, the Chinese government has earmarked US$1.5 billion in funding for development and deployment of EV technologies, much of which will be given directly to automakers like BYD.
On the consumer side, the government has pledged nearly US$9,000 in subsidies for hybrid or all-electric vehicle purchases by fleet owners, such as taxi companies and government agencies, in 13 major cities, in order to create a domestic market for EVs.
 
While Wang is not the only luminary capturing the media's attention, as Fortune China's "25 Most Business Leaders in China 2008", listed in full, below, illustrates, BYD's success so far proves he is doing something right, and will likely continue to impress onlookers.
 
NAME                

COMPANY
CODE      

TITLE
AGE
INDUSTRY
OWNERSHIP
1
REN Zhengfei
Huawei
--
Founder
65
Telecom
Private
2
YU Liang
Vanke
 
SZ:000002
CEO
44
Real Estate
Private
3
DONG Mingzhu
Gree
SZ:000651
General Manager
55
Home Appliance
SOE
4
YANG Yuanqing
Lenovo
SEHK:0992
CEO
45
Computing
Public
5
MA Weihua
China Merchants Bank
SEHK:3968
President
59
Banking
Public
6
HOU Weigui
ZTE
SEHK:0763
Chairman
67
Telecom
Public
7
WANG Jianzhou
China Mobile
NYSE:CHL, SEHK:0941
Chairman & CEO
60
Telecom
SOE
8
ZHANG Jindong
Suning
SZ:002024
Chairman
46

Electrical appliance retailer

Private
9
MA Huateng
Tencent
SEHK:700
Chairman
38
Online service provider
Private
10
WANG Chuanfu
BYD
SEHK:1211
Chairman
42
Rechargable Batteries / Auto Manufacturing
Public
11
HE Xiangjian
Midea
SZ:000527
Chairman
67
Electrical appliance
Private
12
YU Minhong
New Oriental
NYSE:EDU
Principle
47
Education
Public
13
FU Chengyu
CNOOC
NYSE:CEO, SEHK:0883
Chairman & CEO
58
Oil & Gas
SOE
14
SHI Yuzhu
Giant
NYSE:GA
Chairman & CEO
48
Online Gaming
Public
15
LIN Shaoyong
China Eastern Airlines
NYSE:CEA SEHK:0670
Director
50
Airline
SOE
16
WANG Linxiang
Erdos
--
Chairman
58
Cashmere
Private
17
REN Jianxin
Chem China
--
General Manager
51
Chemicals
SOE
18
NING Gaoning
COFCO
HKSE:506,
HKSE:606
Chairman
51
Food processing & trading
SOE
19
CAO Guowei
Sina
NASDAQ:SINA
Director & CEO
44
Internet
Private
20
Jack MA Yun
Alibaba
HKSE:1688
Founder
45 
Internet
Public
21
LI Ning
Li Ning
HKSE:2331
Founder & Chairman
56
Sportswear & Sporting goods
Private
22
SHI Zhengrong
Suntech Power
NYSE:STP
Founder & Chairman 
46
Photovoltaics
Public
23
HAN Sanping
China Film
--
Chairman
56
Chinese cinema
SOE
24
CHENG Baijiao
Belle
HKSE:1880
CEO
57
Footwear
Public
25
ZHOU Chengjian
Metersbonwe 
SZ:002269 
Chairman
44
Clothing retailer
Private
 Disclosure: No Positions