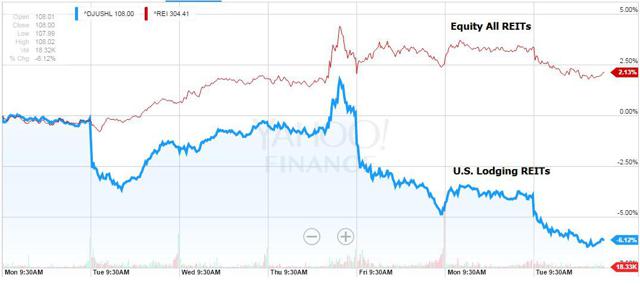 In year-over-year results, the U.S. hotel industry's occupancy decreased 1.4% to 70.7%; its ADR was up 3.6% to $122.32; and its RevPAR increased 2.2% to $86.46.
Sourced through Scoop.it from: www.hotelnewsnow.com
Lodging claimed our number one spot for the worst performing year to date Real Estate Investment Trusts (REIT) investments last week. Although the Fed's decision prompted a buying spree amongst most REIT stocks, it did not positively affect the lodging segment. All of the lodging REITs that we track were painfully singled out and crushed by Mr. Market last Friday. In fact, lodging even took over Timber as the worst performing REIT category in 2015.
Lodging was one of the hardest hit... READ MORE>>
Disclosure: I/we have no positions in any stocks mentioned, and no plans to initiate any positions within the next 72 hours.