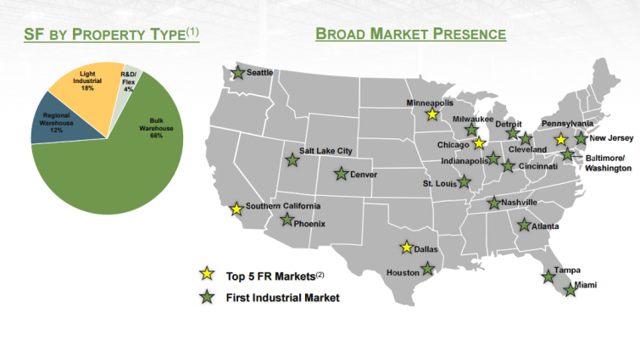 Two industrial companies have surpassed expectations in our Q2 US equity REIT ranking. Without further ado, they are First Industrial and Terreno Realty. Please note that Prologis, the largest pure play REIT in the industrial sector, deserves attention from investors based on the company's strength, tenant diversity, and robustness of their results.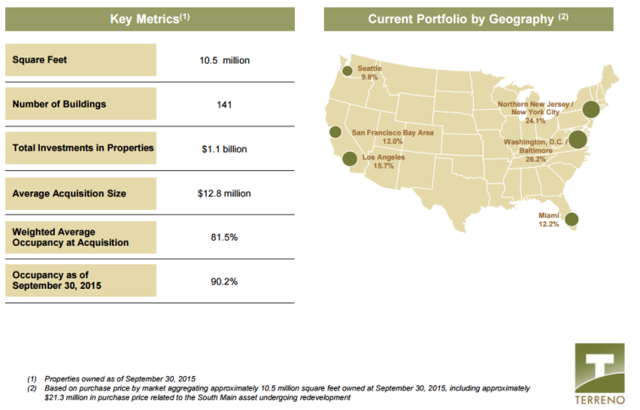 That being said we typically tend to explore additional options by highlighting companies that are outperforming their peers, regardless of size. That is why we featured Terreno Realty's robust Q3 results last week. Today we will compare their results with First Industrial to answer the question of which company has performed better in Q3.

Terreno Realty is certainly on the lower end of the small capitalization spectrum with a market cap of approximately $1.0 billion. In comparison, First Industrial enjoys a market cap of $2.4 billion, and has a larger footprint with 629 properties containing 64 million square feet in gross leasable area. Terreno owns 141 properties with a total of 11 million square feet.
Regarding location, First Industrial's top three markets, as calculated by rental income, are Southern California, Pennsylvania, and Chicago representing about 30 percent total. On the other hand, Terreno has a far more concentrated portfolio because they focus on six major coastal markets only. All of the company's properties have been distributed within those markets, with Northern New Jersey/New York City and Washington, D.C./Baltimore accounting for almost half. Both REITs tend to invest in warehouses.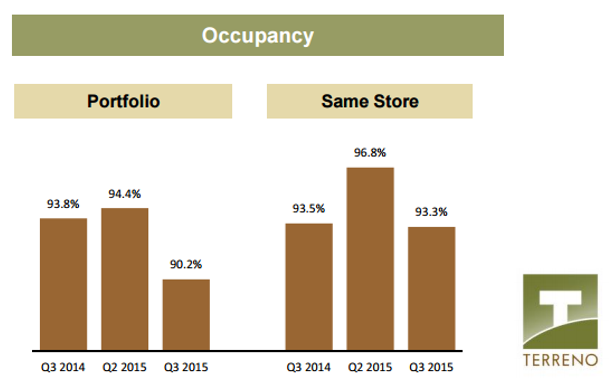 Both companies have been performing well in different areas due to their size and life stage. For example, Terreno's year over year growth in revenues has been at an extraordinary level, showing 46 percent in Q2, and 37 percent in Q3 respectively. The company also has a strong FFO per share growth, which is one of the metrics that is closely related to dividend distribution potential. Terreno has been on an acquisition spree recently that is comparable to STAG Industrial's. They plan to become as large as First Industrial in the mid term.
First Industrial has enjoyed a more tamed approach to their revenue growth rate that falls between 7 and 8 percent in Q2 and Q3 (year over year), but a stronger FFO per share growth rate and increased dividends. The company mainly invests in development along with a few selected acquisitions. Terreno does not engage in ground up development.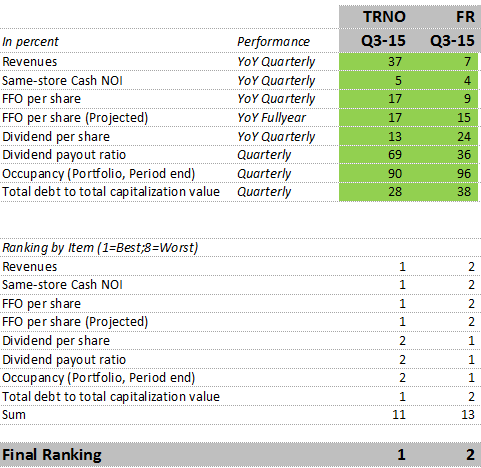 First Industrial and Terreno Realty have been two of the few stocks in the industrial sector that performed in a positive manner year to date. For example, STAG Industrial has decreased by 22 percent this year, Terreno has returned a positive 6.4 percent and First Industrial has returned a positive 3.2 percent. Terreno's total return is at 11 percent while First Industrial is at 7.1 percent, both strong figures.
Both companies have a strong debt profile. Although First Industrial's total debt to total capitalization is greater than Terreno Realty's (38 vs. 28 percent), they are within the sector range. Three credit agencies have rated First's senior unsecured notes as investment grade.
This is what Standard & Poor's said about First Industrial's recent upgrade in September,
"We are raising our corporate credit rating on First Industrial to 'BBB-' from 'BB+', driven by strong recent operating performance and improving credit metrics, which we believe are sustainable based on favorable industrial real estate demand."
Also in September, Terreno closed a large private placement of $100 million in senior unsecured notes at average interest rates lower than First Industrial's.
Investors have been underwhelmed by First Industrial's lower dividend yield of 2.4 percent. This is not much greater than a ten-year yield, and is far below the sector median's 3.7 percent.
On the other hand, First Industrial does have one of the most conservative dividend payouts in the segment. This translates into the fact that the company could easily position itself on par with their peers. First Industrial has kept their dividend payout to Adjusted FFO under 50 percent all along.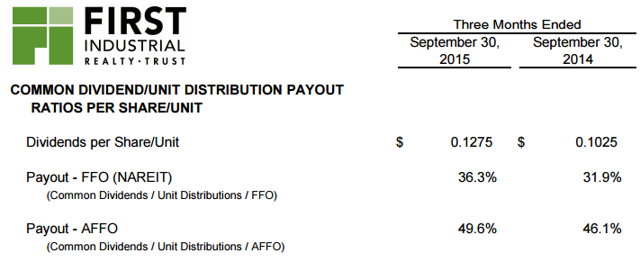 In addition, First Industrial has shown generosity by increasing growth rates since it reinstated dividends in 2013. The Q3 dividend is 24 percent higher than the same quarter last year. Still, investors wonder whether management has failed to be generous enough. The company did not make any dividend distribution from 2009 to 2013.
In the end, we have yet to detect a clear winner, although our scorecard has shifted towards Terreno. If you are willing to take a larger risk for the potential reward of a higher yield, then Terreno may be the way to go.
Source: First Industrial Realty Trust (NYSE:FR), Terreno Realty Corporation (NYSE:TRNO), STAG Industrial (NYSE:STAG), Standard & Poor's
Disclaimer: This newsletter is not engaged in rendering tax, accounting, or other professional advice through this publication. No statement in this issue is to be construed as a recommendation to buy or sell any security or other investment. Please do your own due diligence before making any investment decision. Some information presented in this publication has been obtained from third-party sources considered to be reliable. Sources are not required to make representations as to the accuracy of the information, however, and consequently the publisher cannot guarantee accuracy.
Disclosure: The author has no positions in any shares mentioned, and no plans to initiate any positions within the next 72 hours.
Source: First Industrial Realty Trust , Terreno Realty Corporation
Disclosure: I/we have no positions in any stocks mentioned, and no plans to initiate any positions within the next 72 hours.