Introduction to Oramed Pharmaceuticals Inc.
The oral insulin capsule has been the Holy Grail for many pharmaceutical companies. None of these companies have been able to create it. Yet a small pharmaceutical company called Oramed Pharmaceuticals Inc. (NASDAQ:ORMP) has successfully created this insulin pill and has advanced the drug into Phase IIb trials. They have successfully treated several hundred people with several thousand doses with no negative complications. The market for insulin is estimated at 20 billion dollars in 2013 and is projected to grow to 47 billion dollars by 2020.
The Recent Licensing Deal for China - $50 Million and 10% Royalties
Sinopharm Capital Management Co, Ltd and Hefei Life Science & Technology Park Investments and Development Co, Ltd. signs letter of intent for $50 million Investment and an exclusive licensing deal in China. This transaction allows 10% of Royalties for China sales of oral insulin for Oramed Pharmaceuticals and a 10% stock sales of Oramed shares valued at 12 million dollars and 38 million dollars cash-- 18 million dollars will be paid on signing the deal and another 20 million dollars will be paid following the completion and release of results of the current Phase IIb trial in the U.S.
Oramed Pharmaceuticals Inc Phase IIb Trial
On June 30th 2015 Oramed enrolled its first patient in its Phase IIb oral insulin study. The Phase IIb study is designed to give enough data for safety and efficacy endpoints. The secondary endpoints are evaluating changes from baseline in fasting blood glucose (-FBG), morning fasting serum, c-peptide and triglycerides. The double blind, randomized study will recruit 180 patients at 30 U.S. sites. The patients will take oral insulin pills for 28 days while they are being evaluated. Oramed CEO Nadev Kidron said "This pivotal study is a huge step for Oramed, as it will enable us to demonstrate the potential of our oral insulin capsule in a large clinical study. We look forward to completing the study and presenting the data collected." (Oramed press release June 30th 2015) If this study is successful then Oramed will advance its oral insulin capsules to a Phase III study that is required for its FDA approval and eventual marketing.
Oramed Pharmaceutical's Technology
Oramed's patented technology involves three steps. The first step is an Enteric Coating that helps get the insulin safely through the stomach. The Enteric Coating will degrade in the small intestine. The second step is protection by Protease Inhibitors that prevent the drug-insulin from degrading in the small intestine as the insulin is released. The final step is Absorption Enhancers that assist the insulin into the bloodstream. Once in the blood stream the insulin travels to the pancreas and liver where it reduces your blood glucose level.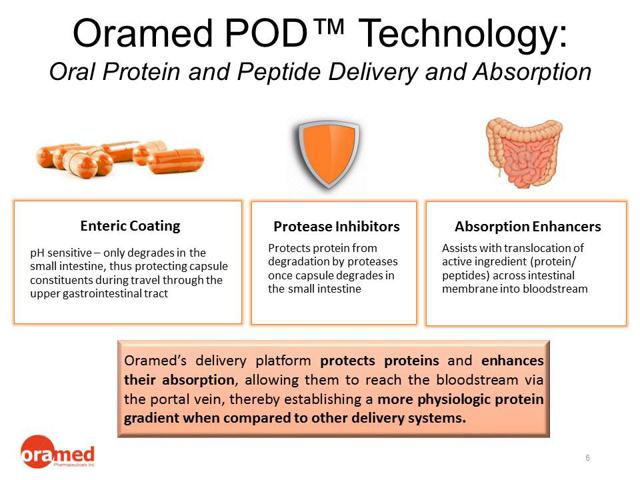 Oramed Pharmaceutic's Financial Condition
Oramed's finances are exploding upwards with the 50 million dollar deal. This is a fortune for a company that just financed a 6-million dollar stock deal. Oramed has kept their costs extremely low - about 2 million dollars a quarter. The company will have 50 million dollars in cash and they are currently valued at 68-million dollars (yahoo finance numbers). Oramed has the potential of more deals in their future - India and Japan come immediatley to mind. They will also need a U.S. deal and an European deal. I think Oramed may have hit the Jackpot with their Oral Insulin Capsules.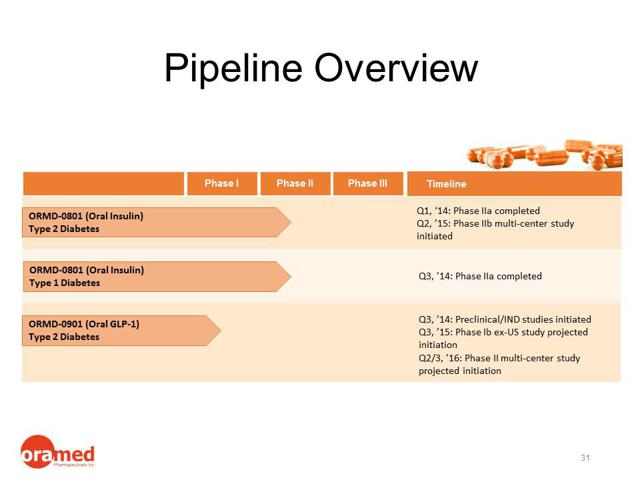 About Oramed Pharmaceaticals
Oramed Pharmaceuticals Inc. engages in the research and development of solutions to make orally ingestible capsules for the delivery of polypeptides and proteins. Its product portfolio includes ORMD-0801 which is their oral insulin capsules and ORMD-0901 which is an analog for GLP gastrointestinal hormone which is in trails for type 2 diabetes. Thinly traded Oramed has a Buy rating and a $30 price target by MLV & Co coverage. Zacks also has published Strong Buy rating with a $28.50 price target.
Disclosure: I/we have no positions in any stocks mentioned, but may initiate a long position in ORMP over the next 72 hours.
I wrote this article myself, and it expresses my own opinions. I am not receiving compensation for it. I have no business relationship with any company whose stock is mentioned in this article.