Please see my revised Chart 1 from my recent article on OXLC seekingalpha.com/article/3994561-oxford-lane-return-normalcy. In the revised chart I included the issuance of common shares and the repurchase of preferred shares in my calculations. I am revising my chart for two reason (NYSE:X) to show the impact on OXLC's FV NAV and Intrinsic Value NAV of their issuance of new common shares (I purposely did not include in my original article because I did not have enough color into their transaction) and (NYSE:Y) to include the impact of the announced repurchase of preferred shares will have on their asset coverage test (quite frankly I was so focused on their portfolio matrices, I simply forgot about the announced repurchase).
As the reader can see the issuance of common shares improved OXLC's FV NAV by $0.18 and ther repuchase of the preferred shares (at par) increased the asset coverage ratio to 2.53x, which is significantly better than my original projection of 2.1x.
I am not assuming any changes to my projected NII simply because I don't know when the common stock was sold and the preferred shares were repurchased. I did include roughly $20 million of new investments during the quarter, which may be a little aggressive so my new guess would be between $0.30 - $0.35 but it really depends on their investment activity in the quarter.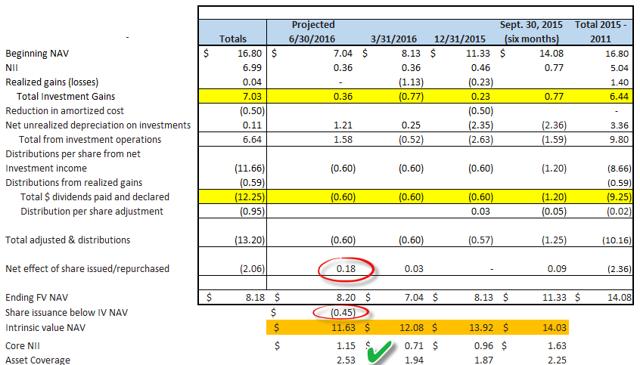 While the issuance of shares was accretive to OXLC's FV NAV, it destroys $0.45 of Intrinsic Value NAV since the shares were issued below $12.08. I hope this revised chart helps my readers to understand the impact that OXLC's decision to include ROC in their dividend has on its NAV.
Assumptions:
Common Share issuance:
Shares Issued: 2,667,000
Share price: $9.00
Net share price (after fees): $8.50
NAV @March 31, 2016: $7.04
Net Share Price less NAV: $1.46
$ raised in excess of NAV: $3,893,333
Total CS Outstanding: 21,383,274
Preferred Shares repurchased:
Shares repurchased: 612,249
Purchase price: $25.00
Shares Outstanding After Repurchase: 5,034,880
Outstanding Par Value of O/S Preferred Shares: $125,872,000
Disclosure: I am/we are long OXLC, ECC.