When investing in high beta stocks its important to get rewarded accordingly in higher risk/higher volatility stocks. I do not believe in investing in a bucket of biotech stocks hoping for the diamond in the rough to shine. There are a number of great biotech companies to invest in as well as big mines waiting to sink your hard earned money. 

Two Biotech Stocks to Double!
Two highly favored stocks to invest in that could double in the next 3 months. It is very important to follow clinical data results and expected data announcements. This is what I do. I personally don't like to let money sit in small biotech companies unless I am aware of a positive catalyst. 
First up is Myokardia (MYOK). 
Pipeline: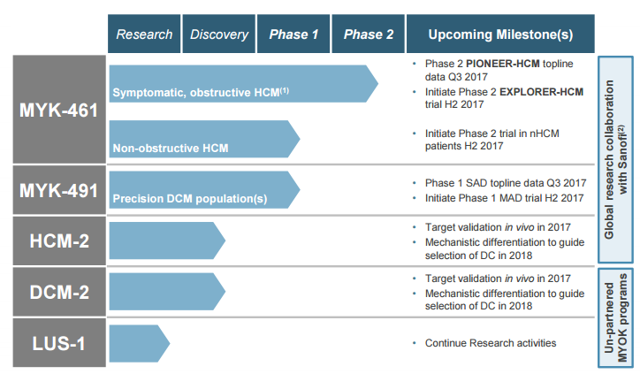 This company remains off the radar for most as it's a fairly new company only being public less than two years. MYK-461 is the most advanced in the pipeline and represents a very important part of the company. MYK-461 is an orally administered drug that is intended to reduce left ventricular contractility. In Phase 1 clinical trials the drug was very well tolerated. In 2016 the FDA granted Orphan Drug Designation for MYK-461 to treat symptomatic obstructive hypertrophic cardiomyopathy.
Phase 2 results expected by 8/31/2017. I expect this to be a positive result and considering the heart disease market the stock could easily double. The company boasts a healthy balance sheet with $117.31 million in cash. The cash burn per quarter was $18.28 million. The company is well funded into late 2018 before needing another cash infusion. This stock has solid data and design that will help it go higher. This is a strong buy given the near term catalyst by end of August.
Second up is Dynavax Technologies Corporation (DVAX).
Pipeline:
The company has a Hepatitis B Vaccine HbsAg-1018
They are in early stages of Cancer Immunotherapy with promising early results.
Using SD-101 with Merck's Keytruda provided better results in treating advanced melanoma. This is very positive for the company considering Keytruda could be used in a number of different cancers.
Catalyst for Dynavax
Dynavax has a Advisory Committee date set for early August for the Hepatitis B vaccine. This vaccine has shown better protection than the current market gold standard with a shorter dosage schedule. Based on the clinical data there is a high expectation the FDA will approve the Hepatitis B vaccine sending the stock price significantly higher.
As of 6/30 the company cash was $37.67 million. There will be an expectation of more share dilution as positive results push shares higher. A positive result from the advisory panel will push the stock up 40-60% and an approval will take the stock to above $20 a share doubling in a short period of time. This is a strong buy.
Two Biotech Stocks to BUST!
First up is Zynerba Pharmaceuticals (ZYNE).
Pipeline: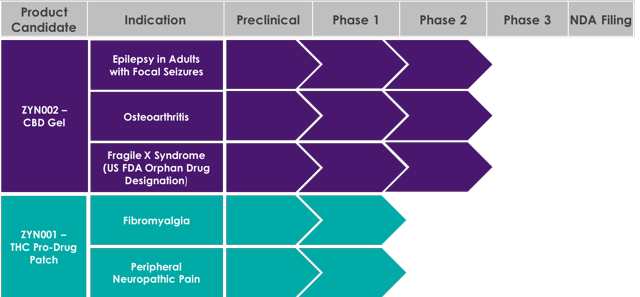 Zynerba Pharmaceuticals is developing synthetic cannabinoids administered via a patented transdermal patch that allows the gel to be absorbed into the skin. By using the transdermal approach the company hopes to avoid any psychological side effects of taking a systemic drug.
There are three catalysts expected in the near term. First up will be results of the ZYN002 CBD Gel in Adults with Epilepsy with Focal Seizures. Next is the Osteoarthritis study, followed by the Fragile X Syndrome. Out of the three studies only the Fragile X Syndrome received an Orphan Drug Designation.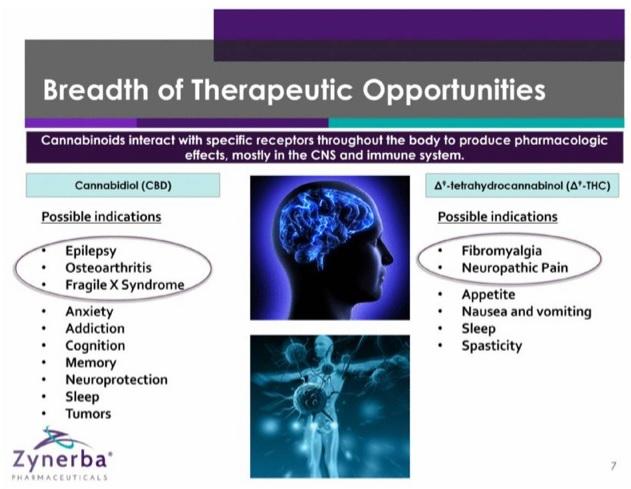 I am highly skeptical of the company approach using a patch. Using a dermal patch works well when used with certain drugs like Fentanyl which is used to relieve pain. There are a number of published literatures on transdermal delivery systems of drugs. One major implication of efficacy is on the size of the molecule. Molecules less than 500 Da with high lipophilic are readily absorbed into the skin. This is why Fentanyl works well in transdermal patches with a molecular weight of 286 Da. CBD can range from 700 to well over 1000 Da in molecular weight. For that reason I do not expect positive results via a transdermal approach. If the Epilepsy study reports negative results then the stock will be doomed and the unlikely to show any positive results in any of the remaining studies.  
There are a number of people touting CBD treatments but I believe there is more risk than reward in this specific stock. This is a very speculative company and I recommend selling it. Data expected for the three studies to be released by 9/30/2017. 
Second up is Neuralstem, Inc (CUR). 
Pipeline:
NS-189 is being studied for Major Depressive Disorder in Phase 2.
NSI-566 is being studied in Amyotropic Lateral Sclerosis in Phase 2.
NS-189 is being studied in preclinical data for Angelman Syndrome, Cognitive Impairment, Irradiation-Induced Cognition, Diabetes-Related Neuropathy, and Ischemic Stroke.
NSI-566 is in an early study for Chronic Spinal Cord injury, and Ischemic Stroke in China.
Neuralstem has had a long history of disappointment in stock price and clinical results and I expect this to continue. Looking at the clinical trials and the lack of progress the company is grasping for straws to stay afloat. This stock is worthless in my opinion. As of June 30 the company held only $6.44 Million in cash. It has a quarterly cash burn of $5.24 million over the previous quarter. The company has reverted to multiple dilutions in the past and reverse stock splits. I expect more to come soon as the company struggles for cash. This is a strong sell.
Recommending buy on (DVAX) and (MYOK) 
Disclosure: I am/we are long myok, dvax.