Arena Pharmaceuticals, Inc. (ARNA) is a biopharmaceutical company. The Company is focused on developing small molecule drugs across a range of therapeutic areas. The Company has three primary investigational clinical programs: etrasimod (APD334) in Phase II evaluation for ulcerative colitis, APD371 entering Phase II evaluation for the treatment of pain associated with Crohn's disease, and ralinepag (APD811) in Phase II evaluation for pulmonary arterial hypertension (PAH).
The Company's drug, Lorcaserin, is approved for marketing in the United States and South Korea for the indication of weight management. The Company's drug candidates in clinical development include APD334 for autoimmune diseases, ralinepag for vascular diseases and APD371 for pain. The Company's programs under collaboration include nelotanserin for dementia-associated psychosis, temanogrel for thrombotic diseases, and an undisclosed orphan GPCR for central nervous system.
Arena Pharmaceuticals released Q2 financials. The company recently reported positive Phase 2 clinical data. They are now working with the FDA on phase 3 design for Ralinepag for pulmonary arterial hypertension.
The company has more clinical catalysts in 2018.
APD371

Pain associated with Crohn's disease

Phase 2

Phase 2 data due year-end 2017 or 1Q 2018.

Etrasimod

Ulcerative colitis

Phase 2

Phase 2 data due by end of 2017 or 1Q 2018.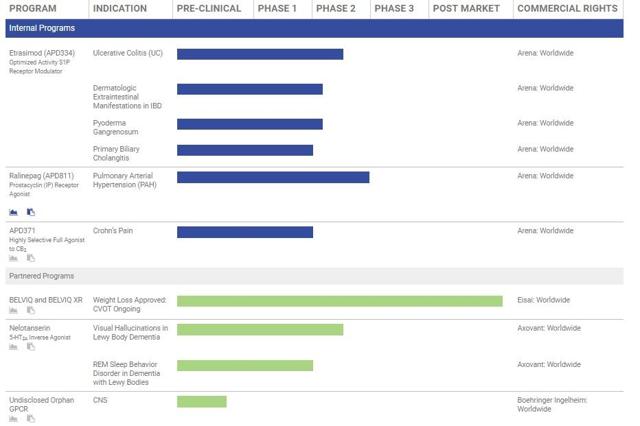 Source: Arena Pharmaceuticals Pipeline
Arena recently completed raising capital with a stock sale of 6.25M shares priced at $24 per share. The stock price is currently trading below $21 per share. This is a good entry point into the company for long term outlook into 2018. Recommend buy.
Sarepta Therapeutics, Inc (SRPT) is a biopharmaceutical company that is focused on the discovery and development of ribose nucleic acid RNA targeted treatments for neuromuscular disease in particular Duchenne muscular dystrophy (DMD). The stock price has been capped at the $35 level.
Pipeline focused on DMD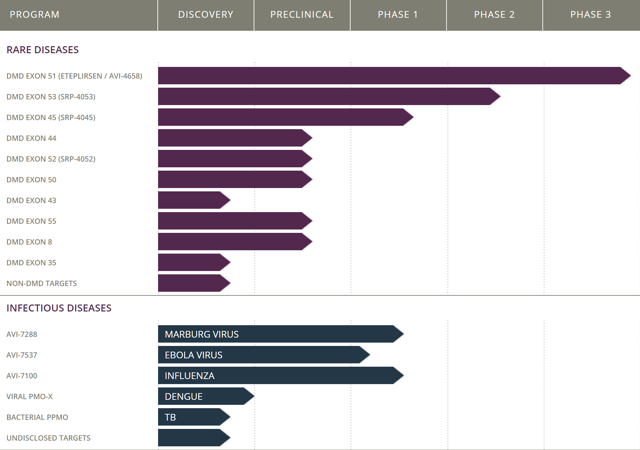 Source: Sarepta Therapeutics
On June 21, 2017 Sarepta Therapeutics and Genethon entered into a research collaboration to treat Duchenne Muscular Dystrophy. Under this agreement will be responsible for the early development work and will take on a significant investment in the long term research. This is especially positive news since any company entering into research collaboration like this will have done their due diligence and seen firsthand what is happening behind the scene with Sarepta Therapeutics. Genethon is making an investment in Sarepta Therapeutics and the success of their pipeline and that should translate in positive outlook for the stock price long term.
Ahead of the earnings report this company is very attractive. The street is expecting an update on clinical trials for DMD and the collaboration would not have taken place if the news was negative. Expect more positive clinical data in the near term on their DMD treatment. It is likely to get an update at the quarterly earnings report or later in the year.
Financials look healthy with $390.31 million in cash and short term investments ending 3-31-2017.  The company cash burn fluctuates quarter to quarter but averages $61.57 per quarter ending 3-31-2017. The company is well financed for the remainder of 2017. A stock dilution could follow in 2018. Continue to reiterate a buy on this stock as it will continue to provide strong long term potential. Recommend to buy.

Recommendations:      BUY (ARNA), (SRPT)
Disclosure: I am/we are long ARNA, SRPT.