In spite of strong research and due diligence, investing in biotech can scare even the most seasoned of investors. This article is a lesson that illustrates how a great biotech pick can fall prey to market overreaction.
Jigsaw looks better on the big screen than in your trading portfolio. The nature of biotech trading can sometimes be very scary for new investors. Horror movies are exciting but not for everyone. I doubt anyone would enjoy a bag of popcorn while watching their trades bounce wildly from day to day.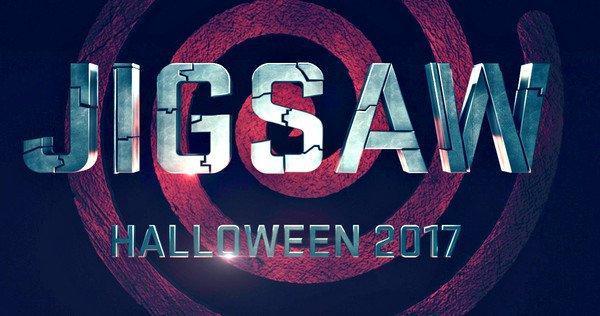 Source: Movieweb.com
There is nothing like a good scare to get the blood pumping. Horror movies can elicit a lot of emotions including excitement and fear. Much like biotech stocks, especially the ones with an early pipeline.
It can be very frustrating at times even for seasoned professionals that trade this space. There are a number of great companies with an outstanding pipeline but I don't recall any that have a smooth chart up. That's because biotech investors are opportunists. Understanding when to buy in and when to get out is a much bigger lesson than buying the right company.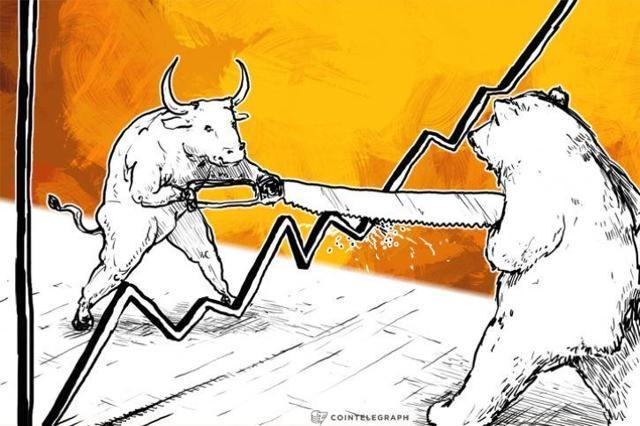 Source: Cointelegraph.com
Most people avoid biotech because of the fear of the unknown. They don't have any clue what is a good biotech buy over another. Furthermore, they don't know how much a stock will jump if its clinical data is positive.
This is where due diligence is important. Biotech is a different animal and you must approach every company with care. Some people like to jump in after positive data which works some of the time. Then the opportunists will see a short term top and start to exit bringing your position to a losing one.
Safety in Numbers
I encourage those interested in biotech to consider the large ETF's like the (IBB) and the (XBI). If you have a long outlook you will do well. It is important not to chase the biotech sector because it's a fickle animal. It can climb relentlessly for weeks then turn and give up those gains in days. For this reason any entry into biotech has to be calculated.
The IBB and XBI still have not stabilized. I suspect we are close based on technical charts. I will update on that as soon as I can.
Five Prime Therapeutics 
This is an example of a young pipeline biotech company with great potential.
Five Prime Therapeutics (FPRX) is a clinical-stage biotechnology company focused on discovering and developing protein therapeutics. The Company's product candidates include Cabiralizumab (FPA008), which is an antibody that inhibits colony stimulating factor-1 receptor. FPA144, which is an antibody that inhibits fibroblast growth factor receptor initially developing to treat patients with gastric (stomach) cancer. FP-1039, which is a fusion protein that traps and neutralizes cancer-promoting fibroblast growth factors, involved in cancer cell proliferation in clinical development to treat patients with malignant pleural mesothelioma. Its preclinical programs include FPA150, FPA154 and FPT155.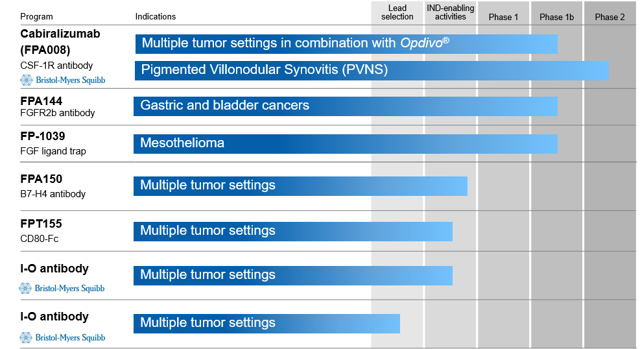 Source: Five Prime Therapeutics
Five Prime Therapeutics traded earlier this year as high as $60 per share. This is an early biotechnology development company with a strategic research partnership with Bristol-Myers Squibb (BMY).
The company is well funded and will end the year with roughly $300 million. Company is expected to announce data update on Phase 1b Cabiralizumab (FPA008) and Opdivo (nivolumab) for solid tumors. Data expected Nov 11.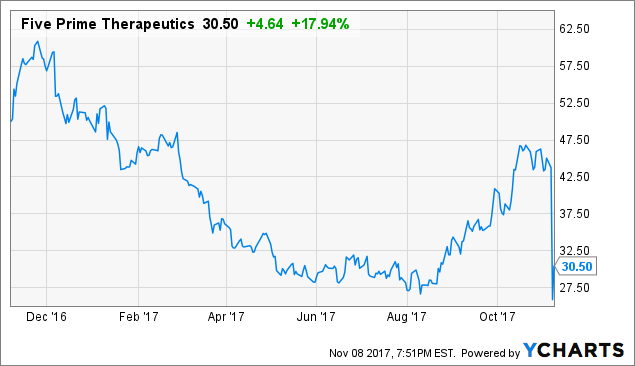 FPRX data by YCharts
On November 7th the company took a nose dive hitting the stock by 40%. 
What Happened?
On November 6 the company, which focuses on immuno-oncology protein therapeutics, reported Q3 results. Company costs increased to $42.7 million from $23.9 million from Q3 2016. Total cash burn for the quarter was $43.3 million. 
Cash Guidance: "Five Prime expects full-year 2017 net cash used in operating activities to be less than $120 million. The company estimates ending 2017 with slightly less than $300 million in cash, cash equivalents and marketable securities." 
The company is well funded but the rate of cash burn for a young pipeline is concerning. The company is dedicated to a developing a number of pipeline candidates and has a number of pipeline collaborations with BMY. 
Typical Catalyst Play
I mentioned biotech investors are opportunists. It is normal to see a stock price rise ahead of key catalyst data readout that would appreciate the stock price higher. You can enjoy the ride up and exit when most appropriate. The early data from this company coupled with a strong collaboration with BMS equaled good potential.
Many investors sell into good news or take profit shortly before news breaks. Unless the data readout was something close to a miracle cure, it's not unusual to see a selloff in the stock days or weeks after positive data. This highlights the importance of positioning and entry into biotech companies. 
Wait.. Data Readout on Nov 11. Right?
If the data readout was the main catalyst what in the world caused a massive selloff days before? The data was set to be released at the Society for Immunotherapy of Cancer (NYSE:SITC) on November 11, however the information was published on the SITC website prior to the presentation. The data was encouraging but concerns and panic about three deaths triggered massive selling. 
The company moved quickly to explain and set a press conference the following day. The main focus of the study was safety. Clearly if the drugs tested are causing deaths then its damaging news. It's not uncommon to see a stock jigsaw within days up and down and up again. 
The Clinical Data
The leaked presentation shows safety and early efficacy for Phase 1a/1b trial in combination of Cabiralizumab/OPDIVO for use in pancreatic cancer. Pancreatic cancer is the 4th most common death causing cancer in the US. Patients are usually diagnosed late in the disease process. In the advanced stages of pancreatic cancer the 5 year survival is dismal with standard therapy.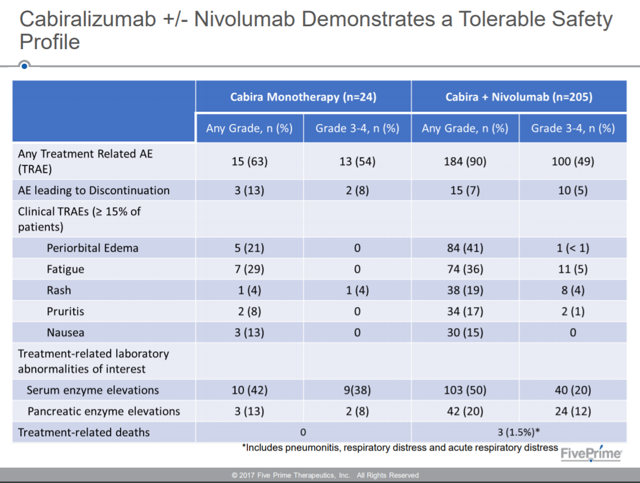 The panic was from the three deaths in the presentation from the combo treatment. The company did confirm that those deaths were not in any way related to the drugs being studied. 
The simplest way to understand the mishap here is that this trial is testing safety and efficacy with very sick patients that have already been heavily pre-treated with poor outcomes. The company reported no cases of pneumonitis or that it's a side effect. They concluded that the treatment did not increase safety concerns over standard monotherapy. 
A durable clinical benefit was observed with 16% of patients with a 10% confirmed ORR. This was a positive result since the focus to proceed was safety. BMS and Five Prime will advance the study and recruit an additional 30 patients to properly asses the efficacy. 
The study was essentially a success with promising efficacy results and good safety results. The full presentation will still take place on Nov 11.  
Trading FPRX Going Forward 
The data leak was very damaging to the share price. The daily back and forth swings could make anyone panic and crack under pressure. This highlights the volatility in biotech stocks and how quickly they move. Data can often be misinterpreted especially when leaked. These scary moves in biotech are a big reason some investors stay clear.
Despite positive results at this point since its an early clinical phase the stock is unlikely to regain its share price from a week ago roughly $45. A good entry point to help minimize scary events like this one would have occurred months ago when the stock bottomed. A safe window is 3 months ahead of a catalyst. You can enjoy the ride into the binary event and exit based on your risk tolerance. 
At this point I would expect positive outlooks from the analysts covering Five Prime based on the data. This will be a company I will revisit as they progress their pipeline and approach another catalyst event. Since I am an opportunist, given the company cash burn, and no other major event in site I will take a seat on the side line.
This is a great company with a strong management team, and will likely make many milestones and bring promising cures to market. In the mean time I am recommending a HOLD on this company. I expect after the official presentation any price action will be followed with opportunists selling to move on. 
 Recommendations:      HOLD on FPRX